Yay – I finally found the Corning plates I was looking for!
I've been looking for years for a few more Grab-It plates from CorningWare to add to my collection.
But they're discontinued and impossible to find.
Well I finally found them…. on Amazon!
Grab-Its (P-150) debuted during 1977 and were included in the Microwave Set. They were also placed among Centura's Corning Ware accessories, but in this context they were called a "Porringer" instead. Grab-Its were also offered in pairs and in Corning Ware boxed assortments. During their first year on the market they were sold uncovered, with no glass or plastic lids. ~Corelle Corner
Corningware Grab-It Plates
Why am I so crazy about these plates???
Because they're just so darn HANDY!
They're little square plates with a tab (or handle) and they're just perfect for single-serve items and snacks — all those times when you don't need a full-size dinner plate. They were originally sold as part of Corning's Heat 'n Eat line. Yep, I use them in the microwave all the time.
Plus, these plates are indestructible! They are made of the triple-thick glassware from Corningware; not their thin stuff. They're so durable… almost indestructible. You can literally drop these Grab-It plates on the floor (learned this by accident) and they won't even chip!
I highly recommend them, if you're looking smaller snack-size plates for you and yours. These are the best snack plates around.
Corningware Grab-It Bowls
By the way, I also own a set of the matching Grab-It bowls from Corningware. Love these too — for all the same reasons.
The bowls came with optional glass lids (that pretty much just rest on top; they don't lock on in any way) or soft plastic lids (which also don't seal to the rim of the bowl at all).
I have both styles of lids. I don't use the lids though.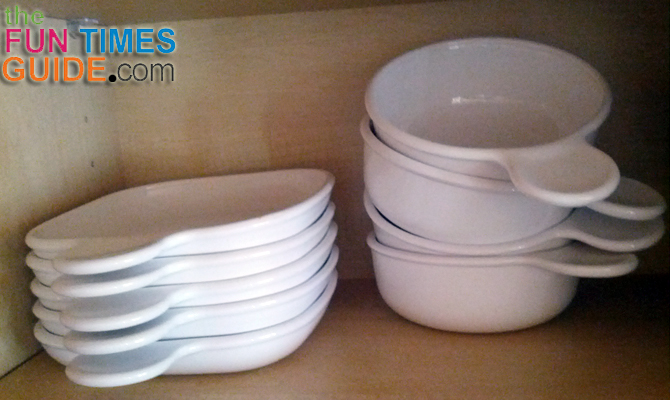 TIP: If you  happen to live near a Corning Outlet Store (I used to), you can find these Grab-It plates and bowls by the dozens in large bins… and they're cheap!
...