This post may contain affiliate links. If you buy thru these links, we may earn a commission at no additional cost to you.
---
I think most people who've tried Poo Pourri spray either:
Bought it as a gag gift (but had to try it out first).
Received it as a gag gift (and never thought they'd actually use it).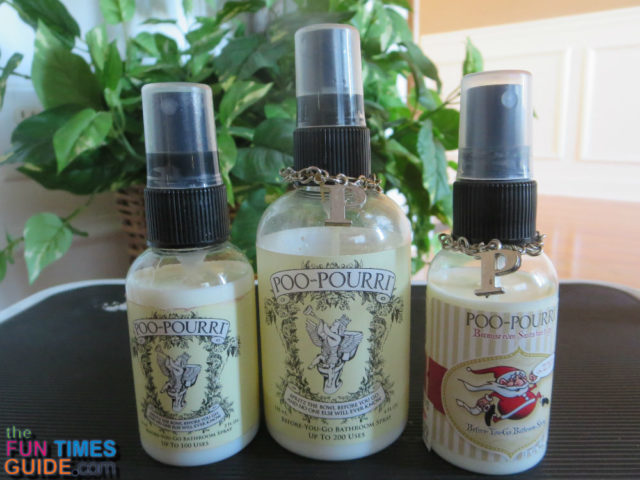 I am probably one of the few who bought this poop spray for myself because I actually looked forward to using it at home and when traveling.
Seriously. I can't stand the smell after using aerosol air fresheners in the bathroom. And I'm not crazy about that light, sticky film that lingers on everything in the room after spraying aerosols into the air either.
In case you don't already know… what makes the Poo Pourri spray different than most bathroom air fresheners is the fact that you spray it directly into the toilet bowl before you go, rather than spraying it into the air, after the fact.
Here's how it works:
---
I knew that the inventor of Poo Pourri toilet spray was onto something when she created this one-of-a-kind bathroom deodorizer. And I was even more impressed when I learned about the Poo Pourri ingredients. It's primarily made from all-natural 100% pure Essential Oils!
Here's the story behind Poo Pourri toilet spray:
---
Now, here's where it gets fun…
Starting with the Poo Pourri scents included in the original spray bottles, you can now make your own poop spray that works (and smells) very similar!
Following are some tips for finding the DIY Poo Pourri recipe you like best.
Good To Know Before Trying Homemade Poo Pourri Recipes…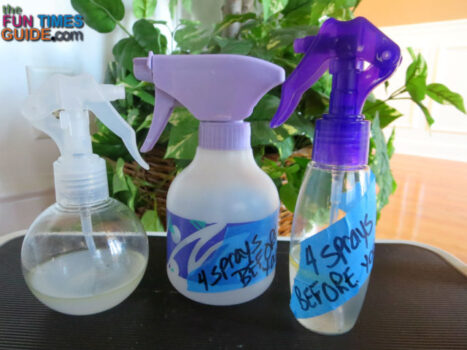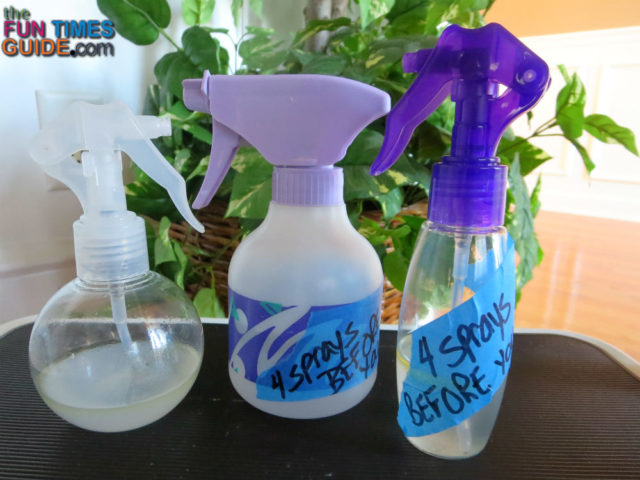 Use distilled water (or bottled water) as the base of your Poo Pourri recipe for best results. Of course, tap water works too, but it contains other minerals that could ever-so-slightly affect your recipe. Fortunately, distilled water is budget-friendly… a gallon jug is just 99 cents at most grocery stores.
Use rubbing alcohol (or witch hazel or vodka) as a stabilizer. It turns the liquid into a white, milky substance — much like the original Poo Pourri spray. It also helps the water and oils mix better, although you still need to shake before each use.
For the best results, use 100% natural Essential Oils, rather than synthetic blends that are made in a lab. Even some of the "popular" Essential Oil brands create oils that are NOT 100% pure and natural. (Here's a list of my favorite Essential Oil companies that sell 100% legit Essential Oils.)
The exact number of drops and which Essential Oils you use is completely up to you. Each variable you change will change the scent and its strength to some degree. Experiment and find the combination you like best. Below I share my favorites, plus some popular scent combinations from the original Poo Pourri scents.
In addition to Essential Oils, the original Poo Pourri toilet spray also has a little bit of low-foaming detergent in it. According to Linda: "The original also contains a surfactant (soap/detergent) that emulsifies fat/oil, and absorbs odors such as sulphur. Also keeps the bottle from clogging and the bowl from getting an oily ring-around-the-bowl, and keep the plumbing pipes clean. Large sewage treatment plants use surfactants in their processing. Some surfactants are environmentally-toxic, some not. My guess is a little detergent would work. Pick one that doesn't foam up too much. You can low-foam shampoos and body gels at any health food store." Pure Castile Soap may have the same effect. NOTE: I plan to experiment further by adding vegetable glycerine or Dr. Bonners pure castile soap to see if the water and oils will mix even better and create an even stronger "oil barrier" in the toilet bowl than the rubbing alcohol alone does.
If you want to be able to see the oil barrier of protection in the toilet bowl itself, you can add a few drops of blue food coloring to your DIY Poo Pourri recipe.
Ideally, you should store your homemade Poo Pourri spray in a small glass spray bottles — because Essential Oils break down and become less effective when exposed to light. However, I'll be honest, I'm using small plastic spray bottles (like the original Poo Pouri comes in). I like the ones with a trigger sprayer best because they hang nicely on the side of the toilet paper holder that I have on the back of each toilet in our home.
One great idea — especially when traveling — is to fill a small, refillable atomizer with Poo Pourri spray. (These bottles are intended for perfume, but they'll actually work with any liquid!) I've done this with both the homemade version and the original Poo Pourri. It just needs to be in some sort of spray bottle first — because that's how a refillable atomizer works. You take the push-top off the spray bottle, place the atomizer on top of the bare tube, and pump. The spray magically transfers from the larger spray bottle into the smaller atomizer bottle! I got the idea to do this after receiving the small spray bottle of Poo Pouri seen here as a "bonus" item when I purchased several bottles of it on QVC.
Instead of making a homemade poo spray, you could make toilet drops instead — similar to many of the Poo Pourri knock-offs. Just store your Poo Pourri recipe inside a small eyedropper bottle. Then shake well and place a few drops (instead of a few sprays) into the toilet bowl before you go each time. Small dropper bottles may be easier to store, and definitely easier to travel with! You could even reuse old eye drops bottles to hold your homemade Poo Pourri recipe. I reuse small glass dropper bottles that I've saved from old eye serums and Essential Oils I've purchased through the years.
Truthfully, you could combine any oil with water in a bottle, mix well, and spray into the toilet bowl before you go for the same effect — because it's the film of oil covering the surface of the water that prevents odors from escaping the bowl. The end result would be no scent at all. Keep in mind, different types of oil (Almond oil, Mineral oil, Essential oil, Cooking oil, etc.) would work differently, based on their density and how many drops you use.
My Favorite Original Poo Pourri Scents
These are the original Poo Pouri sprays that I've purchased myself, and I like best:
My Favorite DIY PooPourri Recipes
These are the homemade Poo Pourri recipes that I've made myself, and like best:
Sandalwood + Lemon + Lavender
Eucalyptus + Peppermint + Lavender
Peppermint + Lemon
Bergamot + Lemongrass + Grapefruit
How To Make Your Own Poo Pourri Recipe
Find a clean 2 oz (or 4 oz) spray bottle.
Combine 10 (or 20) drops of Essential Oils and 1 (or 2) tablespoons of Rubbing Alcohol in a small spray bottle first.
Shake to mix thoroughly.
Next, add water to the spray bottle, enough to almost reach the rim.
Shake extremely well — until you're confident that all of the different liquids are dispersed evenly throughout.
DIY Spray Instructions For Your Guests
Since most people are only familiar with a bathroom deodorizer that you spray into the air, it's important to have some instructions nearby informing your guests how to use the Poo Pourri spray.
Some DIYers make cute little labels for their bottles of homemade Poo Pouri spray. Others make a DIY 5×7 sign, frame it, and leave it in the bathroom spelling out the instructions.
For now, I'm just using a Sharpie marker to write on a piece of blue painter's tape and stick it onto the bottle itself. It's not "cute," but it works. I'm currently on the hunt for a fun frame to hang in each bathroom with the instructions.
This is the wording used on the original Poo Pourri bottle:
Spritz the bowl before you go and no one else will ever know!
This is the wording I use on my DIY Poo Pouri bottles:
Shake well.  Lift lid.  5 sprays before you go!
Reasons To Buy The Original Poo Pourri Spray
While I'm now making my own DIY poop spray at home and refilling the small bottles in my bathroom each time, I still recommend (and do) purchase the original Poo Pourri sprays on occasion.
The reasons:
No matter how close you get to the original recipe, nothing works as well and smells as great as the original Poo Pourri toilet spray.
Essential Oils can be expensive to keep repurchasing. For me, aromatherapy and mixing Essential Oils is kind of a hobby, so I always have a number of Essential Oils on hand. But if you don't use Essentials Oils a lot, it may seem like a chore to keep them on hand (and stored in a dark, cool area of the house at all times).
The original Poo Pouri spray makes a nice gift for a traveler… and will always be a fun gag gift at a party. For gifting purposes, you can't beat the original packaging and labeling that comes with it! Homemade versions are good enough for your own home, but when giving it as a gift, I stick with the original every time.
Any time I find it on sale (which is rare), I grab it! Three of the best places to look: Amazon, QVC, and Bed, Bath & Beyond (especially when you use their 20% off coupon).
And for my guest bathroom, I even bought one of these dark colored stainless steel toilet paper shelves to hold the Poo Pourri bottle:
A friend of mine has this toilet paper holder shelf in her bathroom and it looks really great because it's "rustic".
In case you're wondering, here's what it says on the original bottle of Poo Pourri Before You Go Toilet Spray:
This Before-you-go blend of Natural Essential Oils creates a barrier to embarrassing bathroom odor. 
Shake well. Lift toilet lid & seat. Spray directly onto the surface water (4-6 sprays). Proceed to use as usual.
Made in the USA. Never tested on animals. Biodegradable. No Parabens or Phthalates.
Here's a fun FAQ from the folks at Poo Pourri!
Like this post? Save it to read again later… or share with others on Pinterest!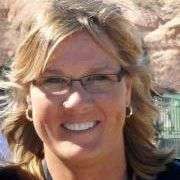 I like to help people find unique ways to do things that will save time & money — so I write about "outside the box" Household Tips and Life Hacks that most wouldn't think of. I'm super-organized. And I LOVE to clean! I even enjoy doing laundry (but not ironing). I'm also a lifelong dog owner — so I often share my favorite tips for living with dogs inside your home (like smart home design choices and dog-friendly cleaning & decorating ideas). Career-wise, I've been sharing my best ideas with others by blogging full-time since 1998 (the same year that Google started… and before the days of Facebook and YouTube). Prior to that, I worked in Higher Ed over 10 years before switching gears to pursue activities that I'm truly passionate about instead. For example, I've worked at a vet, in a photo lab, and at a zoo — to name a few. I enjoy the outdoors via bicycle, motorcycle, Jeep, or RV. When I'm not cleaning, organizing, decorating, or fixing something… you'll find me at the corner of Good News & Fun Times as publisher of The Fun Times Guide (32 fun & helpful websites). To date, I've personally written over 200 articles about cleaning, organization, DIY repairs, and household hacks on this site! A few have over 2M shares; many others have over 100K shares.