This post may contain affiliate links. If you buy thru these links, we may earn a commission at no additional cost to you.
---
Every time hubby goes out of town, I use that time to dive into some serious spring cleaning — no matter what time of year it is.
This time, it was easier because I have added 2 new dusting tools to my arsenal of housecleaning gear.
They are:
See how I found the best dusters for cleaning ceiling fans and mini-blinds, and why I think these are 2 of the best dusting tools around. (Especially the ceiling fan duster!)…
In Search Of The Best Duster For Window Blinds
When was the last time you dusted your window blinds? I mean REALLY dusted them?
I always do it right after I move into a new place. But then I get lazy. Or actually, I just forget about it.
Well, let me tell you, the longer you "forget about it," the worse that dust and grime gets!
I'll be honest, after eagerly cleaning our blinds a couple times after we first moved into a home that we built several years ago… I only did it once or twice after that. And we lived in that home for 7 years. They still looked okay, but I'd rather have replaced those blinds than personally clean each slat — which was the next step at that point. No flimsy window blind cleaner is going to work on mini-blinds that haven't been cleaned in years!
In case you're wondering, my method of dusting the window blinds In the past was simply to use a regular feather duster. I would close the blinds, then brush haphazardly all across the surface of the closed blinds. Then, I would pull the cord all the way the other way (so the blinds are still closed, but facing the opposite direction), and dust the other side of the blinds that way.
But now, we're in a new house and I'm vowing to add "dusting the blinds" to my quarterly deep-cleaning rituals around the house. So far so good. We've been here one month, and I just removed a thin layer of dust from these 2-year old blinds. It feels good.
But it got me thinking… This house is 2 years old, and (oddly enough) someone only lived here for a period of 6 months during that time. So I doubt the blinds ever got dusted or cleaned before this. Now I'm wondering if every 2 years would be a reasonable timeframe for dusting mini-blinds.
Does anyone have any feedback or personal experience with this? How often do YOU dust your window blinds?
The Best Mini-Blind Duster
My new favorite tool for dusting the blinds is that oh-so-familiar mini-blind duster that I'm sure you've seen at home improvement stores.
I use this one, and I love it! It works REALLY well. I think this is why:
it's extremely lightweight
it's got 7 "arms" that wrap around the tops and bottoms of the slats
each arm is extremely soft and won't scratch the blinds
And the bonus: it's cheap! At less than $5, you can afford to try this product to see if you're going to like it. Plus, it won't cost an arm and a leg to replace it whenever the dusting arms eventually get full of dust.
TIP: To make this mini blind duster last longer, I use my nozzle-shaped vacuum attachment to clean the dusting arms whenever it seems like they're leaving some dust behind on the blinds.
How To Use A Mini-Blind Duster
To make the task of dusting mini-blinds with this type of blind duster a bit easier, I do this to keep the blinds from getting "stuck" in the blind duster:  With my left hand, I hold the blinds loosely in place within the window frame while, at the same time, with my right hand I move right to left along that section of the blinds with one long swipe.
I dust each set of mini-blinds in 4 steps:
Working from the top, I start to the left of the threads that hold the blinds together, and swipe the slats 3 or 4 at a time until I reach the bottom one.
Then, I move to the right of those threads and swipe (again, from top to bottom) all the way to the NEXT set of threads that holds the blinds together.
Repeat this with the next to the last set of threads.
And finally, I work top to bottom dusting the rightmost side of the blinds.
Do you do it differently?
I'd love to hear if there's a more time-saving way to dust mini-blinds!!! For example, I've never used any sprays or cleaners on my mini-blinds. Not even water. Is there a benefit to doing so? How often do you dust your mini-blinds?
Now, onto my all-time favorite way to clean all of the ceiling fan blades in the house…
In Search Of The Best Ceiling Fan Duster

I've been looking for quite awhile now for a ceiling fan duster that is actually capable of "grabbing and holding" dust — rather than just scooting it off the fan blade and onto the floor below.
I really like the moleskin dusters — simply for the fact that they're extremely soft (and they seem to grab even the lightest dust particles). But all the ones I've seen are simply long-handled straight and stiff dusters (like for shelves, knick-knacks, etc). Even though they are marketing these as ceiling fan dusters and they're found in the ceiling fan aisle at home improvement stores, I don't see the ease of using them to clean ceiling fans.
So I kept looking.
I wanted a ceiling fan duster that was soft (wouldn't scratch) and that wrapped around the ceiling fan blade a bit.
The most common ceiling fan duster I kept seeing was the oval-shaped ceiling fan brush. But it's made of prickly bristles — similar to a toilet brush! The packaging says it's an "electromagnetic duster," but I'm not buying it. That phrase alone does not make for a great ceiling fan duster, in my opinion. Instead, it's a combination of things: the type of material, the shape, and the ability to hold onto dust.
So I just couldn't imagine how all of these oval ceiling fan brushes I was seeing would be able to do anything other than push the bigger pieces of dust off the edge of the fan blade and onto the floor! Plus, I felt confident that the bristles would leave tiny brush marks where they had touched the blade (or dust!) and where they hadn't. That was the biggest problem with this type of ceiling fan duster, as I saw it… not touching every part of the blade with a soft enough material to actually grab the dust.
It [this ceiling fan duster] doesn't hold that much dust and dirt, and instead causes it to fall to the ground in clumps. It also needed to be washed after doing just 2 fans because of it's limited capacity to hold dust. So, it was then soaking wet and needed a day or two dry out before it could be used again. Source
So I kept looking.
The Best Ceiling Fan Duster
Even though I had scoured the store shelves at both Lowe's and Home Depot for months, "the perfect ceiling fan duster" finally appeared at my local Home Depot one day.
It's similar to this microfiber ceiling fan duster. Also very similar to a microfiber dusting mitt that I've been using for baseboards and trim.
I've liked the material for picking up dust in those places, so I figured it should do a similar job on ceiling fans as well. I was right!
(By the way, the microfiber hand dusting mitt is also commonly marketed as a car washing mitt. We've used one to wash the car, and it does work well for that too.)
This specially-shaped ceiling fan duster that I found at Home Depot combines the best features from both of the above examples. Only this one is made just for dusting ceiling fans, because it's kind of L-shaped.
It's definitely the ultimate ceiling fan duster, in my opinion. Here's why:
It's shaped such that it hugs the fan blade.
It grabs the dust and traps it within its many soft "fingers".
It's WASHABLE and therefore will last a long long time!
It fits on the end of any telescoping pole (we already had one for changing hard-to-reach lightbulbs).
The only downside: it's kind of expensive at $10 (with no pole). But it's sooooo worth it, if you ask me. Especially since it's washable. That alone makes it seems like a brand new ceiling fan duster every time you use it!
Have you used a different type of ceiling fan duster? Why do you like it, or not like it? I'd be interested in hearing your thoughts.
UPDATE: See how I use my Shark Navigator vacuum attachments to clean window blinds sometimes.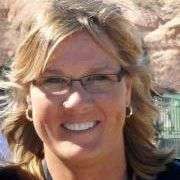 I like to help people find unique ways to do things that will save time & money — so I write about "outside the box" Household Tips and Life Hacks that most wouldn't think of. I'm super-organized. And I LOVE to clean! I even enjoy doing laundry (but not ironing). I'm also a lifelong dog owner — so I often share my favorite tips for living with dogs inside your home (like smart home design choices and dog-friendly cleaning & decorating ideas). Career-wise, I've been sharing my best ideas with others by blogging full-time since 1998 (the same year that Google started… and before the days of Facebook and YouTube). Prior to that, I worked in Higher Ed over 10 years before switching gears to pursue activities that I'm truly passionate about instead. For example, I've worked at a vet, in a photo lab, and at a zoo — to name a few. I enjoy the outdoors via bicycle, motorcycle, Jeep, or RV. When I'm not cleaning, organizing, decorating, or fixing something… you'll find me at the corner of Good News & Fun Times as publisher of The Fun Times Guide (32 fun & helpful websites). To date, I've personally written over 200 articles about cleaning, organization, DIY repairs, and household hacks on this site! A few have over 2M shares; many others have over 100K shares.