What do you use to clean your grill each time?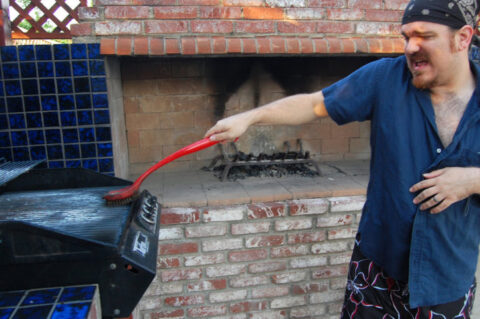 Instead of using those wire brushes which wear down so quickly after scrubbing the grates of your grill just a few times, consider this:
The Grillstone makes your grill shiny and looking like new again!
The Grillstone Grill Cleaning Starter Pack contains an abrasive stone block that is attached to a sturdy raised handle to keep your hands far from the crud, plus a cloth for wiping off the residue when you're done scrubbing.
Another reason I like the Grillstone is that it's lightweight and compact, so it can easily be packed for camping, RVing, and picnics.
Some key points from the Grillstone website:
Grill cleaning 4 times faster than with wire brushes
Non-toxic, odorless, contains no harmful chemicals
Safe to use around children, pets and food
May be used on hot or cold grill surfaces
Will not damage porcelain-enamel grates
Keeps your grill free from bacteria attracted by food residue
Will not clog like wire brushes
Outperforms wire brushes and scrub pads for grill cleaning
The best part: It's inexpensive! The starter kit costs $6 (or, get a 4-pack for $19). Replacement stone blocks cost $4 each (or, get a 6-pack for $19).
The coolest part: After a few strokes, the stone takes on the shape of your grill grate, so you're not just scrubbing the top of the grate, but also the sides. Here's how to use it.
The easiest part: Check out this online video featuring the Grillstone in action.
You can find the Grillstone at Lowes and other home supply stores, as well as through the manufacturer's own website.
Reviews of the Grillstone Grill Cleaner
Check out these testimonials from others who have used the Grillstone Grill Cleaner.
Here is a very thorough review from one user.
...