This post may contain affiliate links. If you buy thru these links, we may earn a commission at no additional cost to you.
---
One of the craziest things we ever did… (also one of the best things we ever did!) was to purchase 2 sets of down pillows from Hilton Hotels.
Yep, they're the same pillows they use in their hotels… plush, and huge, and over-stuffed. Ahhhh!
Here's how it all happened and why I like these pillows so much…
My Husband Actually Has Good Taste
Jim is actually the one who fell in love with these pillows in the first place. He's had a lot of experience with the Hampton Inn pillows, since he's been staying at Hampton Inn hotels on business trips lately.
The hotel snob that he is, you know… When he came home from those trips, he first started raving about the hotel bedding — especially the Hampton Inn bed and how soft it is.
"It has just the right amount of firmness… I get the best night's sleep on that bed… There's just something about Hampton Inn bedding that I like… Blah, blah, blah." (But it's true…. that Cloud 9 experience is really something.)
Then recently, the conversation switched to how the Hampton Inn pillows are "the best!" He'd go on and on… and on. I just brushed it off thinking, "Beds are beds and pillows are pillows. Whatever."
However!… Oddly enough, not long ago we got to talking about how cool the bed and pillows are at Hampton Inn hotels with our General Contractor, believe it or not. (Yep, the one who's building our log home.) I know… kinda weird. But he travels a lot and Jim travels a lot, and they both like Hampton Inns.
Okay, so the conversation came full circle when he said, "Did you know you can actually buy those Hampton Inn pillows online?"
It's not often that a guy (and for that matter, two guys!) is so passionate about bedding in my presence. So I figured these pillows must really be something! Perhaps, we should try them…

Before You Buy Hampton Inn Pillows Online
I quickly found that you can get those pillows from the Hampton Inn hotel site online, which we did.
But…
When our pillows arrived, I noticed that the tag on each pillow says Pacific Coast Feather Company.
This wasn't a switcheroo or anything. It's just that Pacific Coast makes all of Hampton Inn's pillows …as well as lots of luxurious bedding that is used in other premier hotels.
See all of the Pacific Coast hotel pillows for sale — along with the rest of their hotel bedding collections.
Had we known this ahead of time, then we could have been more selective in the type of Hampton Inn pillow we ordered. (Plus, they're much cheaper if you buy directly from Pacific Coast — rather than ordering through the Hampton Inn website.)
You see, we ended up with the Down Around "soft" pillows. They're great — and we are very happy with our Hampton Inn pillows. But at the Pacific Coast website, there are actually a total of 4 different styles and 3 different firmnesses for each that you can choose from! Not so at the Hampton Inn website. So I'd encourage you to order from Pacific Coast instead — to get the exact firmness you want!
They sent us the "soft" version of the Double Down Around pillows. But, if I would've had a choice, I would have opted for the "medium" version instead. Because ours are sooooo soft and "moldable" (since there's so much down in them) and I'd actually like just a tad more support.
As an example… our pillows definitely need to be "re-fluffed" every morning, otherwise they look like flat pancakes. (They're that soft!)
The Double Down Around pillows are their best-selling pillows. They come in soft, medium and firm and feature a "pillow-in-a-pillow" design. There's an inner pillow of small feathers to provide resilient support, and a fluffy outer pillow of double the down which "cradles you in luxurious comfort".
We ordered 1 Standard size set and 1 King size set — for a total of 4 down pillows.
Our Hampton Inn pillows have: 230 thread count, 100% cotton, 525 fill power — it's a hyperclean Pacific Coast down and feather pillow.
You can machine wash and dry them.
They also come with an allergy-free warranty, and a 5-year warranty.
A Little Too Excited About Pillows?
I must say, a couple days after ordering our Hampton Inn pillows online, they arrived — much faster than expected. And they were individually packed in clear, zippered pillow bags.
Excited about my new high-quality (and very expensive, compared to the ones we're used to sleeping on) pillows, I immediately went out and bought 4 new pillow protectors. I started treating these down pillows like they're part of the family. I want to do everything in my power to make them last a long, long time — because, well, they cost so much more than I'm used to paying for "regular" pillows!
But they're worth let, let me tell you! We've had them for about 6 months now and they're just like new. We love 'em. It's a great pillow.
In fact, we like these pillows so much, now in the back of my mind I'm thinking when we get a new mattress, we'll probably consider the Hampton Inn bed, too!

Other Things I've Learned About About Hotel Bedding
My friend showed me how to make a bed quickly like hotels do! See how to do triple sheeting and eliminate the need for a duvet cover.
That same friend also did her own comparison study to find the best way to dry bed sheets in the dryer without a tangled mess.
CNN did a review of the best hotel beds and where to buy them.
If you travel as much as my husband does, then you might be interested in these little-known perks of being a Hilton rewards member.
For what it's worth… our dog also enjoys our Hampton Inn pillows. He thinks they're the cat's meow!
In addition to these Hampton Inn pillows, another hotel item that I'm madly in love with is the Holiday Inn showerhead!
So, To Summarize…
What pillows do hotels use? Pacific Coast
What kind of pillows does Hampton Inn use? Pacific Coast
Why are hotel pillows so comfortable? Because they're filled with down
How do you get the best price on luxury hotel pillows? Get them from the Pacific Coast site instead of the hotel's own website
UPDATE:
After 10 years of enjoying these down-filled hotel pillows from Hampton Inn, we got our next set of down pillows from Cuddledown — to see if there was any difference in where you get hotel quality pillows from.
Like this post? Save it to read again later… or share with others on Pinterest!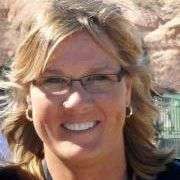 I like to help people find unique ways to do things that will save time & money — so I write about "outside the box" Household Tips and Life Hacks that most wouldn't think of. I'm super-organized. And I LOVE to clean! I even enjoy doing laundry (but not ironing). I'm also a lifelong dog owner — so I often share my favorite tips for living with dogs inside your home (like smart home design choices and dog-friendly cleaning & decorating ideas). Career-wise, I've been sharing my best ideas with others by blogging full-time since 1998 (the same year that Google started… and before the days of Facebook and YouTube). Prior to that, I worked in Higher Ed over 10 years before switching gears to pursue activities that I'm truly passionate about instead. For example, I've worked at a vet, in a photo lab, and at a zoo — to name a few. I enjoy the outdoors via bicycle, motorcycle, Jeep, or RV. When I'm not cleaning, organizing, decorating, or fixing something… you'll find me at the corner of Good News & Fun Times as publisher of The Fun Times Guide (32 fun & helpful websites). To date, I've personally written over 200 articles about cleaning, organization, DIY repairs, and household hacks on this site! A few have over 2M shares; many others have over 100K shares.