This post may contain affiliate links. If you buy thru these links, we may earn a commission at no additional cost to you.
---
Travertine. You can hardly beat the look of this natural sedimentary rock.
It adds a unique feel and texture to almost any room in the house.
We have it in our kitchen — along the backsplash area of our countertop.
However, I've learned firsthand that keeping your Travertine surfaces looking their best requires some extra attention when it comes to cleaning… and sealing.
These tips will help you keep your Travertine looking great for years…
Do You Really Want Travertine?
Stone countertops, shower tiles, and flooring are attractive options in homes these days.
Just keep in mind — particularly when it comes to countertops — that Granite is much denser and harder than Travertine.
In terms of hardness, Travertine is about as hard as Marble, but not as hard as Granite.
Since Travertine is so much more porous than Marble or Granite, its use as countertop material isn't nearly as common. Still, when cared for properly, Travertine countertops can, indeed, add a beautiful touch to a modern kitchen or bathroom.
I absolutely love it for our kitchen backsplash, but I'm glad that we started small and didn't go all out with Travertine just yet. (Maybe in our next home!)
Travertine is highly susceptible to heat, scratching, staining, and acidity, and is not recommended for kitchen projects. Source
Travertine is also an extremely popular choice for walls and floors. It comes in tiles of various sizes, shapes, and colors specifically for that purpose.
The point here is to simply choose your stone materials wisely. Travertine may not be the best option in all cases.
Caring For Travertine
When you own Travertine, regular and intensive maintenance is required.
Travertine has pits, depressions, and craters — all characteristics that make the look of Travertine so appealing.
The downside is these irregularities tend to collect dirt, dust, and grime.
Since Travertine is a porous stone, it's also sensitive to acidic products like citrus, soft drinks, coffee, and wine. Oils, juices, and even abrasive cleaners will absorb very quickly into Travertine and can leave a permanent stain.
To keep Travertine looking good, it's important that you:
Come up with a regular cleaning schedule for your Travertine surfaces… and stick to it.
Protect the surface at all times: use placemats, coasters, and trivets to protect the surface from hot and cold items.
Clean up all spills immediately. Blot, don't rub, in order to prevent pushing the spill further into the pores of the material.
Use a cleaner that is safe for Travertine — not ammonia, bleach, or other general household cleaners. Cleaners must be "safe for natural stone".
Make sure that the entire Travertine suface is well sealed… and repeat the process annually.
As odd as it may seem, when learning how to clean Travertine — shower or kitchen-installed — a vacuum cleaner is a major component of the process. Consider the minute and sometimes not so small pores of the stone, and it only makes sense that suctioning out debris, dust and even skin flakes is a necessary first step. Source
Best Travertine Cleaners
First, determine whether your Travertine surface is:
Polished Travertine (shiny) – The glossiest finish with the most color choices. It's also the most resistant to stains and usually does not need to be re-sealed.
Honed Travertine (matte) – This is the most common Travertine finish in homes. With honed Travertine, those etch marks that you hear can be so troubling aren't such a concern — thanks to the dull, matte texture.
Tumbled Travertine / Brushed Travertine (textured) – Small pieces of marble or granite are tumbled against the Travertine to create a unique texture. With textured Travertine, you typically need a color enhancer to bring out the shades and tints.
Then, use that as a guide to determine which pH neutral natural stone cleaner you should be using.
WARNING:  You may have heard that it's safe to clean practically anything around the house with vinegar. With Travertine, that is definitely NOT the case! Do no use vinegar or other citrus-based or acid-based products to clean stone surfaces like Travertine. No matter how 'natural' they may seem, those products will destroy natural stone surfaces.
Sealing Travertine Tile
Sealing Travertine — like any natural stone — protects it from staining by making it less absorbent from the inside out.
Despite what you may think, applying a natural stone sealer will not alter the look or texture of Travertine tile.
Natural stone sealers work below the surface, rather than on top of it. The sealer is absorbed into the Travertine to the point that it seals up the crevices and clogs the pores of the stone — preventing any further liquid from being absorbed.
TIP:  Sealing your Travertine will guard against staining, but it won't prevent etching. Etching is when the finish becomes dull due to an acid having eaten (or neutralized) the porous stone. Etching looks similar to a watermark. It is most common with honed or tumbled Travertine.
To determine if a stone surface has been sealed, 
test it first
. Apply a small amount of water and watch to see if it soaks in and creates a darker wet spot in the stone. If it beads up and doesn't absorb, then your Travertine has been sealed and is properly protected.
You should apply a natural stone sealer to your Travertine surfaces annually. It's a simple process where you wipe it on with a soft cloth, and then wipe off the excess.
More Travertine Care Tips
wh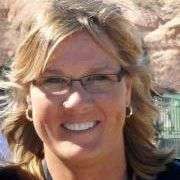 I like to help people find unique ways to do things that will save time & money — so I write about "outside the box" Household Tips and Life Hacks that most wouldn't think of. I'm super-organized. And I LOVE to clean! I even enjoy doing laundry (but not ironing). I'm also a lifelong dog owner — so I often share my favorite tips for living with dogs inside your home (like smart home design choices and dog-friendly cleaning & decorating ideas). Career-wise, I've been sharing my best ideas with others by blogging full-time since 1998 (the same year that Google started… and before the days of Facebook and YouTube). Prior to that, I worked in Higher Ed over 10 years before switching gears to pursue activities that I'm truly passionate about instead. For example, I've worked at a vet, in a photo lab, and at a zoo — to name a few. I enjoy the outdoors via bicycle, motorcycle, Jeep, or RV. When I'm not cleaning, organizing, decorating, or fixing something… you'll find me at the corner of Good News & Fun Times as publisher of The Fun Times Guide (32 fun & helpful websites). To date, I've personally written over 200 articles about cleaning, organization, DIY repairs, and household hacks on this site! A few have over 2M shares; many others have over 100K shares.