This post may contain affiliate links. If you buy thru these links, we may earn a commission at no additional cost to you.
---
We all know that it's smart to stage your home when you're preparing to sell it.
What many people fail to think about when staging their home is first impressions. I'm talking about the impression someone has of your home before even stepping foot inside.
That's why it's so important to make the entry to your house extra enticing. It's one of the most important things you can do when it comes to home staging.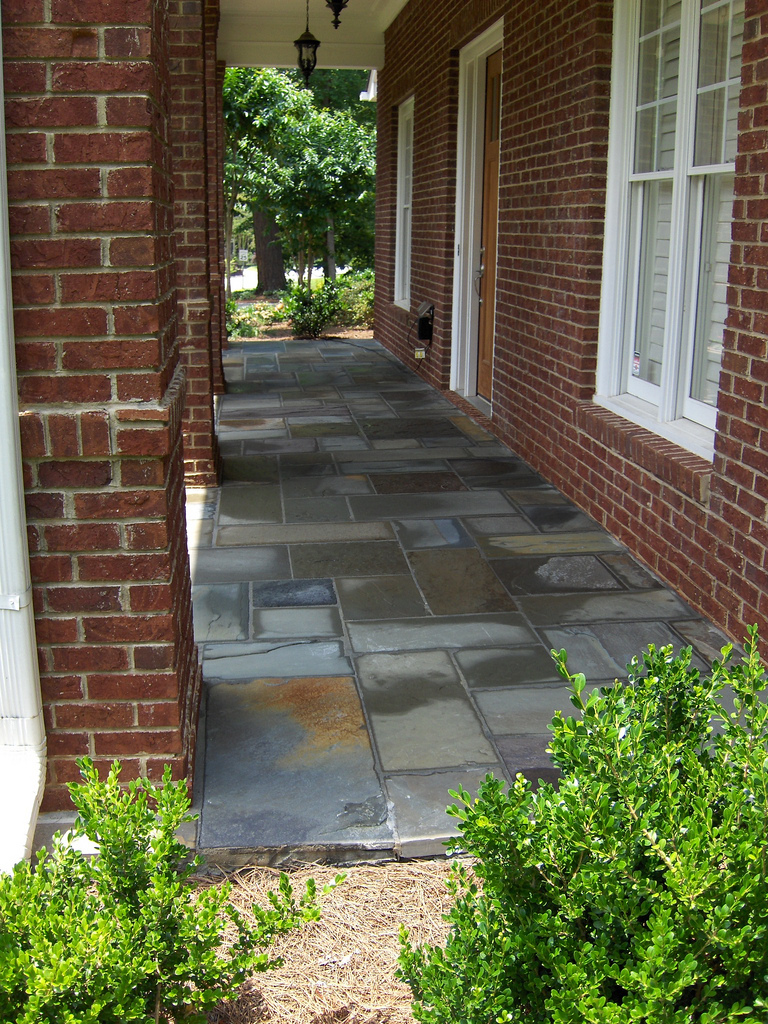 That means you should take some time to dress up the exterior of your home — including your yard — and the front entry way, so prospective buyers will get excited to see inside before they even enter your home.
Here are some things you can do to make a great first impression — from the outside in — when staging your home…
#1.  Make sure your house numbers are visible.
The first thing a prospective buyer will (or will  not) see is your house numbers.  You don't want your house to be hard to find or cause any extra anxiety trying to figure out which doorbell to ring.  Make sure you have easy-to-read numbers on the front of your home.  Then test it. Ask a friend to drive by and see if they can spot your house number easily.
#2.  Manicure your yard.
According to Pat Vredevoogd Combs, past president of the National Realtors Association, "Buying a house is psychological. The very first look — the first impression — is the impression you stay with. A well-maintained yard gives the impression that the inside of the home is cared for as well."
#3.  Paint your font door.
If your house won't sell, trying painting your front door.  The color of choice is bright red with a high gloss finish. Glossy black is a good second choice.
#4.  Get your walkway and porch in tip-top condition.
Every step a prospective homebuyer takes toward your home is an important one.  The front walk and driveway should be clean and in good shape with no visible cracks, or damage. The same goes for the front porch and stoop. "Potential purchasers will pause at the door while the agent knocks and then lets themselves in. Buyers can linger on the stoop for as much as a minute. While buyers are not likely to form a decision on the stoop, they do develop a sense of how well the rest of the home will show and how well the home is cared for."
#5.  Remove all clutter from your foyer.
In the foyer, there should be no unnecessary furniture items. The floor should be immaculate. A potential homebuyer's first glance should be breathtaking. Make the foyer really shine in terms of first impressions. "Besides the kitchen, the foyer is one area that special attention should be made and if necessary, you should investment in upgrades. The foyer is the first thing a prospect sees coming into the house and the last thing they see leaving the house. You want that first and last impressions to be positive — not just positive, but outstanding! Bring in the WOW factor here."
To sum it up, you want to ensure that you will win the buyer's heart before they ever step foot into your home.
From the time the prospective buyer gets out of their car, walks toward your house, and rings the doorbell, you need to capture (and keep!) their interest in your home. So it's imperative that you make these areas of the house as impressive as possible.
More Tips For Making A Great First Impression
I have been a certified tightwad since I became pregnant with my first child and decided to find a way to stay home with him. I enjoy sharing my experiences in my journey back to financial health and planning for a future — which will include sending 2 kids to college and early retirement.