---
This page may contain affiliate links. In addition to sharing our personal experiences, we often write about products and services that we use ourselves or that we believe would be a helpful resource for you. To support our work, and remain a free website, we receive a commission from some of the links we share.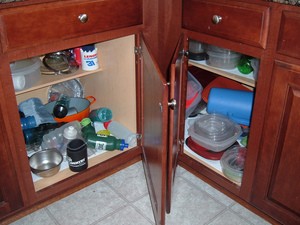 I don't know about you, but if I didn't have kitchen organizers my kitchen would be such a mess!
I love these things, and I've been known to buy extras of my favorites.
Being organized in the kitchen makes cooking so much more enjoyable, don't you think?
And easier too! Not only can you find exactly what you're looking for instead of digging around in cabinet for it, but your recipes come together so much more quickly when you have the right tools in place.
These are the best kitchen cabinet organizers, in my dream kitchen…
So there you have my personal favorites. Which are your favorite kitchen cabinet organizers?
My favorite things to write about are topics that have to do with pregnancy, weddings, saving money, living green, and life with dogs. When I'm not writing, I love to spend time with my husband, read, create 3D artwork and Native American beadwork.