This post may contain affiliate links. If you buy thru these links, we may earn a commission at no additional cost to you.
---
Since my earlier article describing how I fixed our clogged dishwasher myself was such a hit, I thought I'd offer up a few more great tips for 'fixing' your dishwasher and keeping it running smoothly.
For example, did you know that more than 60% of dishwashers have a fungus on the rubber seal around the appliance door? Here's the fix:
Use a regular spray cleaner and a small brush to get into the grooves of the rubber. To sanitize your entire dishwasher, layer of coating of 1 part white vinegar and 1 part water from a spray bottle on the inside walls and rungs in the machine. Run the machine on empty (don't put any detergent in) on the hottest wash cycle to rinse and freshen the whole washer. Source
I've collected the following tips through the years from home magazines and consumer shows on TV…
#1 – Use a powdered dishwasher detergent and use no more than the amount that is called in your dishwasher's manual ("often just a teaspoon").
Who knew? Chances are, you probably thought like I did… to use the recommended amount that's call for on the detergent box itself, right? So I decided to take a look at the manual that came with our GE dishwasher. It says this:
The amount of detergent to use depends on whether your water is HARD or SOFT. With hard water, you need extra detergent. With soft water, you need less detergent.

Protect your dishes and dishwasher by contacting your water department and asking how hard your water is. 12 or more grains is extremely hard water. A water softener is recommended. Without it, lime can build up in the water valve which could stick while open and cause flooding. Too much detergent with soft water can cause a permanent cloudiness of glassware, called etching.
For what it's worth, the experts from the articles & reports I've read tend to recommended Cascade as a 'quality' detergent. That happens to be what we use. I've also read in Consumer Reports that Electrosol works great.
Liquids, tabs, cheap powders, or too much detergent can gum up valves and hoses.
— Dave Brightman, National Service Manager for Bosch Home Appliances
#2 – Before turning on the dishwasher, run cold water through the disposal for 30 seconds first.
They say that food and debris left in the garbage disposal can get sucked into your dishwasher's drain line and clog it.
Makes sense to me.
#3 – To keep the lines clean and free-flowing, fill the detergent AND the drying-agent dispensers with white vinegar. Then, run the dishwasher empty on the pots & pans cycle.
Vinegar is a great de-gunking cleaner. It helps to dissolve that hard-water lime buildup and keeps your dishwasher's parts running smoothly.
They say to do it every month or so. I usually do it 3 or 4 times a year.
#4 – Okay, are you ready for a think-outside-the-box idea now?…
In Martha Stewart's Real Simple magazine (January 2007), they recommended pouring a packet of lemonade Kool-Aid into the detergent cup and run the dishwasher empty. They say that lemonade is the only flavor that works.
Supposedly the citric acid in the drink mix wipes out stains inside the dishwasher itself. Cool!
TIP: If your dishwasher isn't getting the dishes clean, that's a different problem. Here's what to do when your dishwasher isn't cleaning your dishes.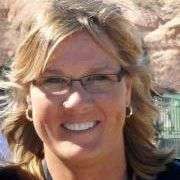 I like to help people find unique ways to do things that will save time & money — so I write about "outside the box" Household Tips and Life Hacks that most wouldn't think of. I'm super-organized. And I LOVE to clean! I even enjoy doing laundry (but not ironing). I'm also a lifelong dog owner — so I often share my favorite tips for living with dogs inside your home (like smart home design choices and dog-friendly cleaning & decorating ideas). Career-wise, I've been sharing my best ideas with others by blogging full-time since 1998 (the same year that Google started… and before the days of Facebook and YouTube). Prior to that, I worked in Higher Ed over 10 years before switching gears to pursue activities that I'm truly passionate about instead. For example, I've worked at a vet, in a photo lab, and at a zoo — to name a few. I enjoy the outdoors via bicycle, motorcycle, Jeep, or RV. When I'm not cleaning, organizing, decorating, or fixing something… you'll find me at the corner of Good News & Fun Times as publisher of The Fun Times Guide (32 fun & helpful websites). To date, I've personally written over 200 articles about cleaning, organization, DIY repairs, and household hacks on this site! A few have over 2M shares; many others have over 100K shares.