This post may contain affiliate links. If you buy thru these links, we may earn a commission at no additional cost to you.
---
My mom was recently talking about try to sell a few things on eBay. This would be her very first attempt at selling something on eBay.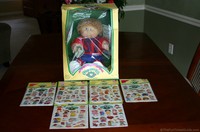 It's a cinch to buy things on eBay, but selling takes a bit more work. So I started looking for some eBay tips & tools that might make the process easier for her.
The good news: If you're not a wiz on the computer and signing up with a credit card (to use PayPal for handling all of the payments associated with your items) sounds intimidating… you're not alone. My mom wasn't crazy about either of those things. But she decided to get with the times in order to take advantage of all that eBay has to offer — in terms of helping you sell your unwanted items in a ziffy.
Here are the best tools we found to make selling items easier when using eBay.
One of the things my mom was interested in selling on eBay was her collection of Dreamsicles. (They're angel figurines. And she thought it might be easier to start with a 'collectible' type of item, than to jump in head first selling old cameras, clothes, and housewares.)
The Best eBay Tools Online

Terapeak is a great program that makes it easy to research how products like yours are currently selling on eBay vs past trends for the same item. They have a free tool that you can use online. It's easy… and loaded with great information, too!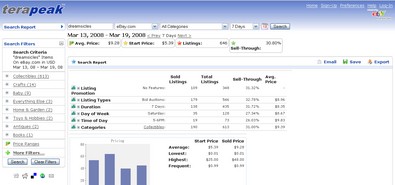 Here's how it works:
Just type in a simple word or phrase that describes the item you're interested in selling (or buying) on eBay.  For example: dreamsicles.
NOTE: There's a spot for your email address, but you don't have to fill that in. Just click enter and you'll get the results right away on your computer screen instead of having the results emailed to you.
From there, you can see the average price that item typically sells for, how many listings for the same type of item are currently on eBay, which category(s) that item is usually listed under, which day and what time eBay autions usually end for that item, as well as the highest and lowest prices the item has ever sold for.
The default is to view all of those stats for the last 7 days, but you can change to view them for the last 30, 60, or 90 days. Pretty cool, huh?!
Terepeak is one of the best tools around for helping you set up your own eBay auction — whether it's the very first item you're selling on eBay, or you're a pro and sell items on eBay all the time.
eBay's Research Labs give you an overview of the items that are most in demand, as well as the top gainers in recent days. If you type in the type of item you're interested in (like Dreamsicles), you'll be taken to all current auctions featuring that item.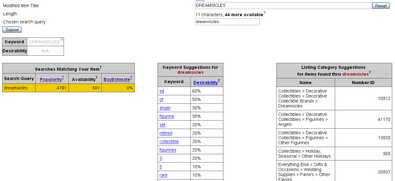 Their BayEstimator tool is a great way to see what keywords people are using to find that particular item on eBay (like Dreamsicles) — which helps you when naming your item on eBay. Plus, it gives you the best categories and subcategories that you might want to list your item in.
David Steiner's Ebay Auction Calendar is a great way to see — at a glance — the best and worst days to list your auction items on eBay. On the day you're planning to list your items for sale, be sure to take a look here first. You can see whether it would be best to have a 3-day, 5-day, 7-day or 10-day auction, based on prior sales on that very day of the month in prior years. (TIP: Sunday is the best day of the week to end an online auction!)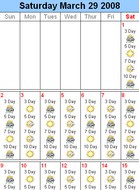 For even greater detail — including the best time to end an eBay auction on each day of the week — check out David's summary by day & time. It's even broken down by category!
If you're selling items, you'll need to determine shipping costs. See how to calculate shipping for eBay items you're selling.
Don't miss these great tips for taking photos of your itemsfor sale on eBay.

 
Other Great eBay Tips From Sellers
13 Steps To Profitable eBay Auctions — "Start your listings on Thursday afternoons and evenings. Run ten-day listings. Time your auctions to end on Sunday evening between seven and ten Eastern (four and seven Pacific). This gives two weekends to attract bids."
7 Tips For Selling On eBay — "Pay as much attention to the writing of your eBay listing as to your picture. For selling on eBay, you need a powerful eBay listing. And the trick to writing a strong eBay listing is to combine search engine friendly phrasing with concrete details about the product in a way that will entice people to bid on your product. Take the time to craft your eBay listing just as you would any ad."
99 Tips for Buying and Selling on eBay — "Use PayPal. Sellers want to be paid quickly and everyone is concerned about fraud. There is no faster or safer way to complete an eBay transaction than PayPal (owned by eBay). PayPal is now used by over 100 Million users around the world and now processes more debit and credit card payments than Citibank. Over 80% of registered eBay users accept PayPal and eBay has fully integrated PayPal into their systems. Take the time to become a verified seller and always give your verified shipping address. This gets you the fraud protection."
A Power Buyer Gives Tips For Selling On eBay  — "When writing a description, give complete information in a logical order. At a minimum, you should describe [1] what your item is, [2] give the title if it has one, [3] give the maker or marketer or artist or author if known, [4] list all marks or other identifiers, [5] specify what it is made of, [6] give its dimensions, [7] give its condition, and [8] list any special features or history. Make sure to include all dates, patent numbers, and other information printed on your item. "See picture" is NOT a substitute for information."

eBay's Own Seller Tips — "Establishing and maintaining buyer satisfaction will help you build a solid reputation as a trustworthy seller on eBay. Ultimately, a good reputation will help drive your sales activity."
Some Policies To Consider For Selling Items On eBay — "I've been selling on eBay for nearly seven years, and I've tried a lot of methods. The fact is, when you allow checks and money orders, many people don't pay. It's not malice; they intend to pay, but they never do. They click an auction as a whim, an impulse purchase; but they procrastinate and they never actually mail the check."
How To Sell On eBay — "Should I use "Buy It Now"? Maybe. This is a neat feature that can benefit everyone involved. What you have to realize, however, is you're setting two different prices for your item; so now, in addition to competing with other sellers, you're also competing with yourself."
9 eBay Selling Tips — "Host your own eBay pictures. By hosting your own pictures, you will save money, and, more importantly, be able to use as many pictures as you need to adequately show eBay bidders your item. This is the simplest thing to do, and yet 70 percent of people selling on eBay ignore this simple tip."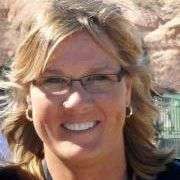 I like to help people find unique ways to do things that will save time & money — so I write about "outside the box" Household Tips and Life Hacks that most wouldn't think of. I'm super-organized. And I LOVE to clean! I even enjoy doing laundry (but not ironing). I'm also a lifelong dog owner — so I often share my favorite tips for living with dogs inside your home (like smart home design choices and dog-friendly cleaning & decorating ideas). Career-wise, I've been sharing my best ideas with others by blogging full-time since 1998 (the same year that Google started… and before the days of Facebook and YouTube). Prior to that, I worked in Higher Ed over 10 years before switching gears to pursue activities that I'm truly passionate about instead. For example, I've worked at a vet, in a photo lab, and at a zoo — to name a few. I enjoy the outdoors via bicycle, motorcycle, Jeep, or RV. When I'm not cleaning, organizing, decorating, or fixing something… you'll find me at the corner of Good News & Fun Times as publisher of The Fun Times Guide (32 fun & helpful websites). To date, I've personally written over 200 articles about cleaning, organization, DIY repairs, and household hacks on this site! A few have over 2M shares; many others have over 100K shares.