This post may contain affiliate links. If you buy thru these links, we may earn a commission at no additional cost to you.
---
A lot of folks (including me!) are installing luxury vinyl flooring — either vinyl floor tiles or planks. And there's good reason for that!
But as a flooring installer, I've been asked the following questions about luxury vinyl flooring:
How durable, waterproof, and scratch-proof vinyl tile and vinyl plank flooring is
How to install luxury vinyl as a DIY project
How to clean vinyl plank flooring
How vinyl tile & plank flooring compare to natural stone and wood flooring
Basically, everyone wants to know the pros & cons… and if there are any problems with luxury vinyl tile in general that would cause me to second-guess putting it in my own house.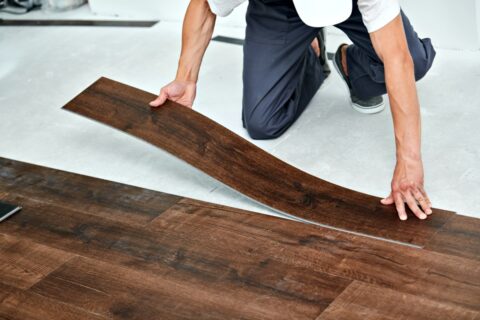 So below, I'm going to try to cover all of the pros & cons from the viewpoint of a flooring installer — based on my own experience working with luxury vinyl plank flooring and tiles.
What Is Luxury Vinyl Flooring?
A quick walk through any big box or flooring showroom will reveal that you have more options than ever when it comes to luxury tile and plank flooring that looks real!
And as a flooring installer, I've discovered that more and more people are choosing LVT (luxury vinyl tile) and LVP (luxury vinyl plank) over ceramic and wood floors these days.
Here's a good description of luxury vinyl plank vs. tile:
LVT is a luxury vinyl product that looks like stone or ceramic tile, complete with gorgeous natural colors and surface texture that feels like the real thing. Some styles are even made to be installed with grout. Talk about realistic! LVP is luxury vinyl flooring that looks like wood planks in everything from color to species. Surface textures often include the look of scraping or embossing, which dramatically heighten the realism. Also like wood, planks may be installed in sophisticated ways — in brick fashion, diagonally, and so on. The result? Stunning. —Shaw Floors
While it may not specifically say LVT or LVP on the box — when you're shopping, you'll know that you're looking at luxury vinyl primarily by the price.
Luxury vinyl costs $3 per square foot on average.
It comes in a click-and-lock (or floating) plank style as well as a glue-down (or dryback) rectangle or square pattern.
What makes it a "luxury" flooring is its thickness and how it is made. The tiles (or planks) are usually composed of 5 different layers of material:
A strong bottom layer
A vinyl core
A print film layer (very often a paper product)
A clear wear layer
A clear protective coating
The All-Important Wear Layer
It's the thickness of the wear layer that determines how long your luxury vinyl flooring will ultimately last.
For example, the average tile flooring on the market for DIY folks has a 3-mil to 8-mil wear layer. (The higher the number, the better the protection.)
The luxury vinyl tile flooring that I've installed a lot of recently has a 6- to 8-mil thickness, is 100% waterproof, and has a lifetime warranty for residential use. It could also be used in light commercial applications — but normally, you would want a flooring that is 12-mil thick or more for  commercial high traffic areas.
The reason the wear layer is so important is that it's the main thing protecting the center paper layer from damage. No wear layer equals a ruined floor in no time!
Waterproof Makes It A Smart Choice In 3 Key Areas Of The Home
Most luxury vinyl flooring will either be waterproof or extremely water-resistant.
That's because the tiles (or planks) are made up mostly of:
PVC
Fiberglass
Other plastic materials
The fact that luxury vinyl is resistant to moisture makes it an excellent choice for bathrooms and kitchens – the 2 areas of a home most often considered for an upgrade.
It's also an excellent choice for a game room in the basement.
Patterns And Colors Of Luxury Vinyl Flooring
Another high-value aspect of luxury vinyl flooring is the wide variety of patterns and colors that are available.
Many of the patterns include a heavy textured grain that simulates the look of wood or stone — so it closely resembles the real thing.
Luxury Vinyl Flooring Pros And Cons
In terms of the pros and cons, these are the most notable advantages of luxury vinyl flooring, as I see it:
Lower cost than most wood flooring (usually half the price)
Easy to install (DIY friendly, can be installed over concrete, wood, or existing vinyl)
Moisture-resistant (good for wet, humid areas like bathrooms, kitchens, and basements)
Easy to clean and maintain (all you need is a damp mop)
Scratch-resistant (good for households with children and pets)
Easy to replace (if you have the click-and-lock style)
How to Install Vinyl Plank Flooring
Now, here are some very specific comparisons between  luxury vinyl and other types of flooring:
Luxury vinyl tile will not outlast stone and ceramic under normal use, but it is easier to install than both of them.
Natural stone will maintain its coloring throughout the tile, whereas luxury vinyl tile's coloring is only as thick as the film layer.
Compared to laminate flooring, luxury vinyl is similar but with better specs — most notably, laminate absorbs water whereas luxury vinyl repels it. Luxury vinyl flooring is thicker, waterproof, and comes in a wider choice of options and colors. For example, luxury vinyl comes in every color from white to black and everything in between. Specifically, grey flooring is very popular today and is often presented in a barnwood pattern in vinyl tile and porcelain planks.
Natural wood is hard to beat for its beauty and resilience — plus it can be refinished if the surface becomes damaged. However, real wood can be very expensive (especially when you start looking at exotic species) — which makes vinyl plank flooring a good alternative.
In the simplest terms: the cheapest hardwood is more expensive than top-of-the-line luxury vinyl tile … Cost is not only a baseline factor, with the average hardwood floor costing between $8–$25/sq. ft. to luxury vinyl's $2–$5/sq. ft., it is also a factor that increases the price gap between luxury vinyl vs. wood flooring. —Parterre Flooring
What About Groutable Luxury Vinyl Tile?
I've installed some glue-down luxury vinyl tile flooring that could be grouted like ceramic — but I was not impressed with the finished job.
I'm partial to the click-and-lock panels over the groutable luxury vinyl tile.
Can Luxury Vinyl Flooring Be Used On Walls?
Some folks have considered using luxury vinyl flooring tiles or planks on the walls of bathrooms and kitchens — because of the beautiful patterns and colors available.
However, you should only use solid surface panels for all vertical applications.
Vinyl tiles and planks are intended for horizontal use on floors.
Is Luxury Vinyl Durable And Scratch-Proof?
Does luxury vinyl flooring scratch easily? NO!
Is it good for homes with pets? YES! (Just be sure to check the label on the box to see if the product is rated as scratch-proof or scratch-resistant — when shopping for luxury vinyl for your home.)
Specifically while installing luxury vinyl tile, I've had to move heavy furniture over the new floor. I'm amazed at how well the LVT holds up under routine furniture movement — no scratches at all!
I'm not recommending that you carelessly drag a heavy chest of drawers across it, but luxury vinyl will handle normal household wear and tear very well.
The 6- to 8-mil wear layer is highly resistant to all scratch marks — including pet scratches.
On the other hand, wood flooring is highly susceptible to scratch marks from pets — and even ceramic tile can have the finished layer chipped off by pet claws.
Luxury vinyl definitely holds its own when it comes to scratch resistance — so if you have a dog, you'll probably want to consider luxury vinyl flooring.
Can You Put Heavy Furniture On It?
This will require a little discernment on your part.
I recently installed luxury vinyl flooring in a game room with a pool table. I told the customer that it would be best if he put some 4"x 4" blocks under the pool table legs — to spread the weight out. He had some pieces of wood flooring leftover from another job and I was glad to cut them down to size and make it look neat and clean.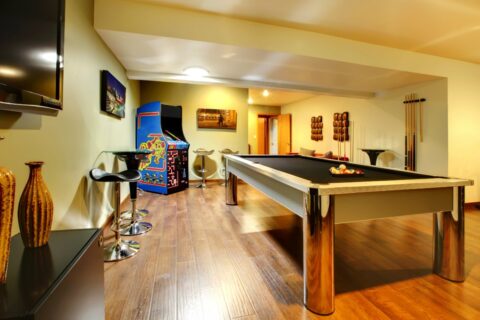 If you feel that a specific piece of furniture is heavy and its normal use would damage a traditional wood floor, then I would put some blocks underneath the furniture — to even out the weight.
Like wood, luxury vinyl will dent if too much weight is concentrated in one spot.
How To Clean Luxury Vinyl Flooring
One of the greatest things about luxury vinyl is that it's super easy to maintain!
For routine cleaning, anytime you have light spills on your luxury vinyl, you should use a damp mop to clean it up. Even though it's waterproof, you don't want to soak it with a drenched mop.
If you that find plain water is not enough, add a little dish soap to the bucket — and maybe add a little white vinegar to make the shine pop!
Deep cleaning can be done with a soft bristle brush. Keep in mind, the shine on your floor is actually a piece of clear PVC that you don't want to damage (similar to a sealant) — so be easy on it.
And above all, never use steam to clean your luxury vinyl flooring! As with using too much water, too much steam can cause your vinyl floor to buckle and warp.
The Bottom Line
Is luxury vinyl the best type of flooring?
Well, that depends on 2 things:
The area you will be installing it in
Your budget
The higher your budget, the better quality material you can afford — plain and simple.
Luxury vinyl won't have the exact same natural textures as wood or stone, but it will resist stains, spills, and scratches better.
Your own needs and priorities for a flooring solution will ultimately determine if luxury vinyl is the best choice for your home.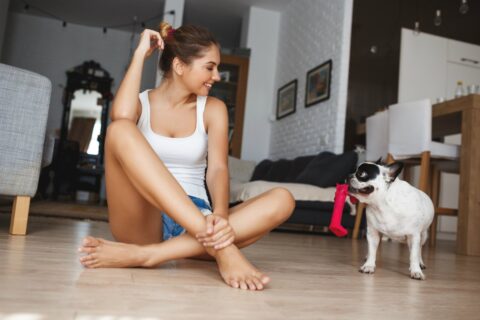 Like this post? Save it to read again later… or share with others on Pinterest!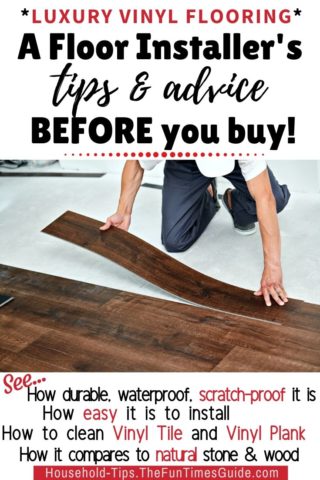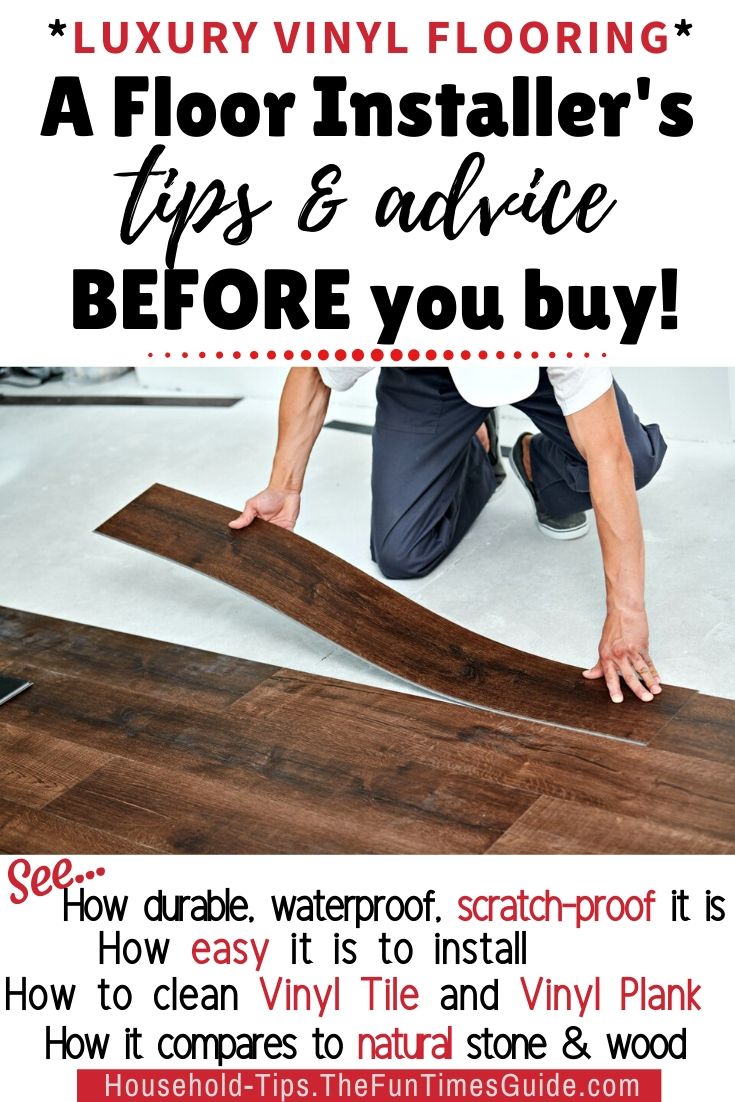 Matt Lee owns the Innovative Building Materials blog and is an expert in the building materials industry. He is focused on helping fellow homeowners, contractors, and architects discover materials and methods of construction that will save money, improve energy efficiency, and increase property value.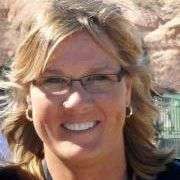 I like to help people find unique ways to do things that will save time & money — so I write about "outside the box" Household Tips and Life Hacks that most wouldn't think of. I'm super-organized. And I LOVE to clean! I even enjoy doing laundry (but not ironing). I'm also a lifelong dog owner — so I often share my favorite tips for living with dogs inside your home (like smart home design choices and dog-friendly cleaning & decorating ideas). Career-wise, I've been sharing my best ideas with others by blogging full-time since 1998 (the same year that Google started… and before the days of Facebook and YouTube). Prior to that, I worked in Higher Ed over 10 years before switching gears to pursue activities that I'm truly passionate about instead. For example, I've worked at a vet, in a photo lab, and at a zoo — to name a few. I enjoy the outdoors via bicycle, motorcycle, Jeep, or RV. When I'm not cleaning, organizing, decorating, or fixing something… you'll find me at the corner of Good News & Fun Times as publisher of The Fun Times Guide (32 fun & helpful websites). To date, I've personally written over 200 articles about cleaning, organization, DIY repairs, and household hacks on this site! A few have over 2M shares; many others have over 100K shares.