This post may contain affiliate links. If you buy thru these links, we may earn a commission at no additional cost to you.
---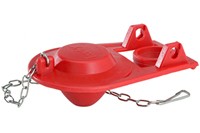 This is all you need to repair a leaking toilet… if the leak is due to a bad seal on the flapper.
Ours was.
You'll recall that we had 2 toilets that were leaking profusely, even though we thought they were only small leaks at first. To give you some idea… our monthly water bill nearly quadrupled during this time!
Here's how we fixed our leaky toilets…
Step #1:
First, turn off the water to the toilet. Then, disconnect the old flapper in the back of your toilet tank.
To do it, simply remove the 2 rubber rings that connect the back of the flapper to the from the drain tube. (Technically, I think it's called the flush valve.) They simply pop right off. Then remove the beaded metal cord that attaches the flapper to the toilet arm (the part you flush).
It seems more fragile than it is — like it could break if you tug too tightly. Ours took some force to disengage the beaded metal cord from the tank, but all it takes it a little arm power — no tools.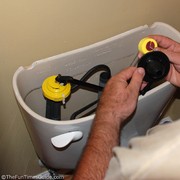 Step #2:

Remove the new flapper from the package. Cut the open rubber circle from the new toilet flapper. I don't know why it's there, but you have to cut it out and throw that part away, per the instructions.
Then hook the metal clip that is attached to your new flapper onto the toilet arm itself. (This is in place of that old beaded metal cord.) Place the two rubber ends of the flapper over the 2 nobs sticking out the sides of the flush valve in the back of the tank.
And wa-lah… you're done!
Turn on the water to the toilet… slowly. Be prepared for wild gushes of water and a few random sprays. That's normal.
What We Learned From The Home Depot Guy
This is the actual flapper we purchased at Home Depot for $4.99:
We did this repair work on 2 of our 3 toilets — two of them were leaking.
The guy who was working in the plumbing department at Home Depot said that this is a popular fix among homeowners. It's also one of the cheapest and easiest repairs you can do to a toilet.
When we told him the type of leak we were experiencing, he was very familiar with the "symptoms" and said he hears that a lot from people who use bleach-tabs in their toilets. He said the bleach just eats away at the rubber.
When we took the old flapper out and looked at it up close, you could see that it had warped a bit. As a result, the seal was not tight enough to keep water from seeping through. When we turned off the water to the toilet, we learned that those "tiny" drips could actually drain a toilet dry in less than one hour!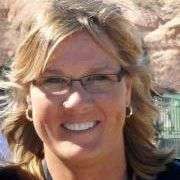 I like to help people find unique ways to do things that will save time & money — so I write about "outside the box" Household Tips and Life Hacks that most wouldn't think of. I'm super-organized. And I LOVE to clean! I even enjoy doing laundry (but not ironing). I'm also a lifelong dog owner — so I often share my favorite tips for living with dogs inside your home (like smart home design choices and dog-friendly cleaning & decorating ideas). Career-wise, I've been sharing my best ideas with others by blogging full-time since 1998 (the same year that Google started… and before the days of Facebook and YouTube). Prior to that, I worked in Higher Ed over 10 years before switching gears to pursue activities that I'm truly passionate about instead. For example, I've worked at a vet, in a photo lab, and at a zoo — to name a few. I enjoy the outdoors via bicycle, motorcycle, Jeep, or RV. When I'm not cleaning, organizing, decorating, or fixing something… you'll find me at the corner of Good News & Fun Times as publisher of The Fun Times Guide (32 fun & helpful websites). To date, I've personally written over 200 articles about cleaning, organization, DIY repairs, and household hacks on this site! A few have over 2M shares; many others have over 100K shares.