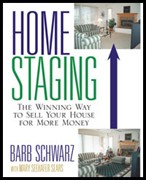 We've got the blueprints completed and printed for our new log home. We are about to sign on the dotted line for the loan. Now we're just waiting for the county's final approval before we break ground.
If all goes as planned, we should close by the end of the month and begin the excavation work to lay the foundation for our log home soon thereafter. With that in mind, it could be anywhere from 6 to 9 months before we move into The Fun Times Lodge (…wait til you see all the other fun names I've come up with for our log cabin home!).
Let The Home Staging Begin…
At this point, I'm getting into the "packing" mode… doing a lot of cleaning, purging, and donating in order to lighten our load for the upcoming move.
At the same time, I'm also trying to "de-personalize" our current house a bit — which, they say, is one of the most important steps in "staging" your home.
I like at least 10% of a display space, such as a bookcase, to be empty. A coffee table and other practical surfaces should be only 10% full."
— Maxwell Gillingham-Ryan, makeover expert on HGTV
With that in mind, following are some tips from the pro's about staging your home for resale. Hopefully, these staging tips will help you get top dollar for your home…
Staging Your House For Sale
I heard on some show on HGTV… if the home you're selling is brand new (or a flip), you should count on spending 1% of your home's asking price on "staging".
In return, you can expect to get 10 times that back!
On the other hand, if you've been living in your home for awhile, then you can probably stage your home for free. But, there are times when you might want to invest a couple hundred dollars (or even a couple thousand dollars) to have professional stagers arrange and decorate your home. It's one of the quickest and easiest ways to ensure a higher selling price for your house.
As an example, here's a company in my area that specializes in "the 5-hour makeover" for $195 or $45 an hour.
Tips For Staging Your Home
Staging Your Home To Sell
Frequently Asked Questions About Home Staging
Reasons To Stage Your Home
Checklist For Staging Your Home
10 Reasons You Should Professionally Stage Your Home (.pdf)
Room By Room Staging Tips
Staging On A Budget
International Association of Home Staging Professionals
13 Home Staging Secrets
How Professionals Stage Your Home For Sale
According to a StagedHomes.com survey, homes listed for sale without staging spent an average 4.5 months on the market; homes staged before listing spent less than 1.5 months on the market. The average time for a staged home to reach a 'sales pending' status was about a week. And staging boosts the estimated sales price by 3%. Source