---
This post may contain affiliate links. If you purchase through these links, we may earn a small commission at no additional cost to yourself.
---
Do you keep extra household batteries in a junk drawer, or in a bag?
If so, you need to see this!…
9-volt batteries (like those used in your smoke detectors) can cause a fire and destroy your house — just like they destroyed this family's house:
How Can 9v Batteries Cause A Fire?
Any time two 9-volt batteries touch (on the terminals on top of the batteries), they can create a charge, build enough heat, and burst into flames.
Yes, two 9v batteries touching can start a fire!
The Solution
There's no need to stop using 9-volt batteries. They're safe.
As long as two 9v batteries are not touching one another on the positive and negative terminal ends — or positioned close enough to one another to create a charge — they're completely harmless.
To keep your home safe use these battery storage tips:
Ideally, you should keep batteries in their original packaging — because it was designed to keep the battery terminals from touching.
If you store batteries loosely in bags or outside of their original packaging, then put a strip of electrical tape over the battery terminals of each 9-volt battery that's not currently in use. Or, you could put a rubberband around batteries of all one size, making sure that the positive and negative ends are all facing in the same direction.
If you want to be super organized with your battery storage, do something like this to keep all of the various battery sizes separated. Battery organizers have sections that make it easy to keep the battery terminals from touching one another.
Whatever you do, don't leave loose 9-volt batteries lying around — either for future use or waiting to be recycled.
The Proof…
See how 9-volt batteries destroyed this family's house:
Truth is, if any metal items inside your junk drawer happen to bump a 9-volt battery stored inside that drawer, then a fire could happen. Here's more proof:
Don't believe there's enough charge in a 9-volt battery to create heat, and ultimately a fire? I remember, as a child, licking 9v batteries as part of a science experiment. There is, indeed, a sensation! As seen here:
In fact, it's a well-known fact that 9-volt batteries are
recommended as fire-starters
when you're camping, or in a survival situation. A quick search on YouTube will reveal many of the ways that 9v batteries are used in combination with anything metal to start fires.
The Takeaways
Don't keep 9-volt batteries outside of their original packaging.
Especially don't store 9v batteries loosely in drawers or in bags.
If you do store 9-volt batteries loosely, then place a piece of electrical tape over the battery terminals first. Or, secure batteries in a rubberband first. Or, keep your batteries neatly separated in a battery organizer.
As for battery storage in general…
Make sure all the positives point the same way. If the terminals touch each other, the life of the batteries can be shortened. And be sure to put them in a plastic bag so they don't touch metal objects, like keys, which can cause electrical shorting. Source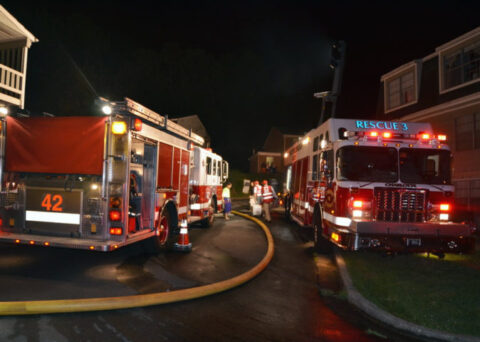 More Home Fire Tips
I like to help people find unique ways to do things that will save time & money — so I write about "outside the box" Household Tips and Life Hacks that most wouldn't think of. I'm super-organized. And I LOVE to clean! I even enjoy doing laundry (but not ironing). I'm also a lifelong dog owner — so I often share my favorite tips for living with dogs inside your home (like smart home design choices and dog-friendly cleaning & decorating ideas). Career-wise, I've been sharing my best ideas with others by blogging full-time since 1998 (the same year that Google started… and before the days of Facebook and YouTube). Prior to that, I worked in Higher Ed over 10 years before switching gears to pursue activities that I'm truly passionate about instead. For example, I've worked at a vet, in a photo lab, and at a zoo — to name a few. I enjoy the outdoors via bicycle, motorcycle, Jeep, or RV. When I'm not cleaning, organizing, decorating, or fixing something… you'll find me at the corner of Good News & Fun Times as publisher of The Fun Times Guide (32 fun & helpful websites). To date, I've personally written over 200 articles about cleaning, organization, DIY repairs, and household hacks on this site! A few have over 2M shares; many others have over 100K shares.