This post may contain affiliate links. If you buy thru these links, we may earn a commission at no additional cost to you.
---
Some of the times when you might want to give your home a deep cleaning include:
Prior to moving

Before guests come for an overnight stay

At the start of each season (fall, spring, winter, summer)

Before putting your house up for sale
That said, sometimes it can be hard to know exactly what to do and where to start.
Here are a few tips to help you deep clean your home — inside and out.
First, gather all of the necessary cleaning supplies that you will needed.
Start by cleaning the windows in your home inside and out — including blinds, curtains, windowsills and window screens. By cleaning the windows first, you won't have to backtrack through the house once it is clean.
After you have the windows done, start inside by removing all of the cobwebs from the corners and behind items that are rarely moved. Some spots that are not usually cleaned during your routine speed-cleaning include: the tops of all cabinets and tall furniture pieces, light fixtures, ceiling fans, and behind bulky furniture.
It's important to clean the tops of everything first, because you don't want dust falling all over an area that you have already cleaned!
Next, wipe down all woodwork in your home including: door frames, doors, baseboards, cabinets (inside if they are empty), and light switches.
If the house is occupied, then you need to straighten out all closets and cabinets. Also, you should try to minimize any clutter in the home while you're at it. To help get rid of clutter, try to determine if there are things that you don't want anymore. If so, then donate those items, or throw them out.
If you have a lot of things you want to keep but they're in the way, then it may be necessary to put some things into storage. In the long run, getting rid of unnecessary clutter will make your house look neat and tidy.
Move along to clean the bathrooms next. You'll want to clean scrub and then wipe down all the showers, tubs, sinks and toilets.
Then clean the kitchen and laundry room. Make sure that you clean out the oven and refrigerator thoroughly. These things aren't done often enough, so the best time to do it is when you're deep cleaning your house.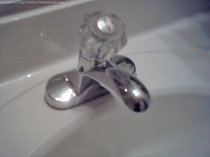 Then, use Windex (or any window cleaner) to shine faucets and appliances and make them look like new again.
Next on the list: dust all furniture and clean all mirrors. After that, vacuum and mop all floors in the house.
Once you have completed the inside deep clean, then move to the outside of the home.
First, clean any porches by removing spider webs and sweeping. Also, wipe down or wash any outdoor furniture.
In the garage, you'll want to remove any cobwebs and sweep it out well. If necessary, wash the garage floor. Then take a few minutes to tidy up all fo the items stored in the garage. Everything should have "a place".
Doing all of these things will give your home a thorough deep cleaning and get it in the proper condition for selling, moving in, or moving out.
I'm a professional house cleaner. I have been self-employed for the past several years, and I thoroughly enjoy cleaning houses for a living. Yes, it can be very tiring, but I find that it can be very rewarding, too.