This post may contain affiliate links. If you buy thru these links, we may earn a commission at no additional cost to you.
---
With spring in the air and the warmer temperatures approaching, I've been daydreaming about how to make the most of our outdoor living spaces at home.
We already had a pretty good, open-air front porch. I figured that would be a great place to start in my plan to create multiple outdoor spaces.
The bones of our porch were already in place:
Trex composite decking
White metal & wood balustrade
Easy access to the interior via the front door
Our small front porch really only needed a few finishing touches to create a baby-friendly and pet-friendly space that is also inviting.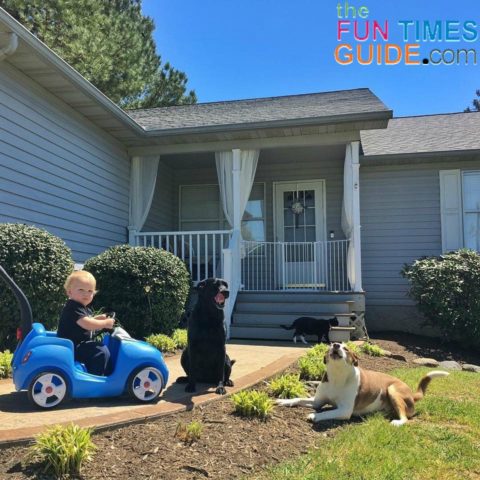 Since we live in the South — and porch sitting is a thing here — it was time to breathe some life into our front porch. Porch sitting will be a great way to spend the day with my baby and furbabies when the weather gets warmer!
Here's how I turned our small front porch into a useful, cabana-like outdoor space…
Small Front Porch Decorating Ideas
These are the items I added to turn our small front porch into a cozy outdoor living space:
Walk-Through Baby Gate
I wanted a walk-through baby gate to close the wide stair opening.
The Regalo baby gate keeps baby and dogs contained while enjoying the outdoor space — yet it still allows easy walk-through access down the stairs.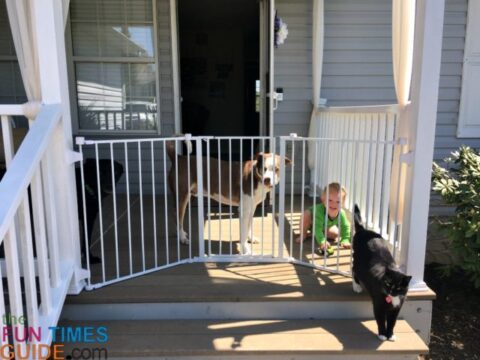 I can keep the gate set up all the time, which allows me to open the front door of the house anytime to get outside without any set-up.
Plus the white metal matches the existing balustrade, so it goes with the overall look. (This baby gate can also be arranged a variety of different ways to fit odd shaped openings.)
Sheer Porch Curtains
I added sheer curtains for a little touch of privacy and some shade from the sun. I wanted the air to still flow through, while being able to see through too.
The sheer curtains give a breezy, airy atmosphere. They also function as a mosquito netting (although I haven't had a chance to really test that theory).
The curtains can easily be tied to the wood posts when not in use.
I decided to go long (instead of short) with the porch curtains — I even allow them to gather on the floor slightly.
Curtain Ties
I use simple white rope to tie the porch curtains to the posts when not in use.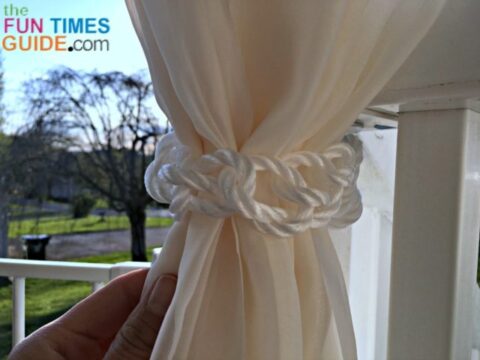 The wind really likes to pick up the curtains — so it's important to secure them in place to avoid having the curtains blow up on the roof and get caught in the gutters. (Speaking from experience)
DIY Curtain Rods
I wanted inexpensive outdoor curtain rods to hang the sheer curtain panels.
So I made the curtain rods myself for about $15 — see how I did it.
Majesty Palm Plant
I wanted a tropical plant in this outdoor living space. The majesty palm is a relatively low-maintenance indoor/outdoor houseplant.
I will bring the plant inside when the temperatures start to drop.
Wireless Speaker
I generally like to listen to outdoor sounds and the normal bustle of our neighborhood, but I added this wireless speaker — so I can stream music or audio that I'm inspired to listen to during the day. (I was able to create a multi-room sound system simply by having a few other wireless speakers in various rooms throughout the house.)
I really love having the freedom to listen to the music streaming as I move about — in and out of the house. This speaker will stream up to 150 feet away and can remain outside too!
Oscillating Fan
Since a ceiling fan wasn't an option, I added an oscillating fan to keep the air moving on hot and sticky days.
I like this one because it's off the ground and away from baby's curious fingers.
Glider Loveseat & Throw Pillows
We have a small front porch. This loveseat glider works great in the small space!
A glider is a fun way to sit and relax. I found ours on Craigslist for a fraction of the price — it came with neutral colored glider cushions.
I added a couple of outdoor throw pillows, to make the glider a little more comfortable and break up the busy pattern of the glider cushions.
Outdoor End Tables
We have an end table on both sides of the patio glider — a great place for a refreshing beverage.
I think eventually I will replace them with storage ottomans — which would serve a dual purpose as side tables and toy boxes!
Plus, they could be used in other ways as well:
Coupled together, they would make an outdoor coffee table.
Separately, they could also be used as extra seating on the porch.
Outdoor Area Rug
I definitely feel like the outdoor rug completes the space and provides a soft place for baby to crawl and play.
DIY Curtain Weights
Instead of buying curtain weights, I pulled braided nylon rope through the bottom seam of the curtains and tied each end post-to-post. This keeps the curtains from blowing everywhere when we're using the curtains for shade or privacy.
When not in use, I simply slide them back — without having to mess with the nylon rope to secure them into place!
The Bottom Line…
We (the dogs, baby, and I) love being outside.
This is the fastest and easiest way to get outdoors and enjoy the fresh air without a big production — baby can literally crawl out as soon as I open the front door.
Ever since I completed this small front porch makeover, we have used the space whenever the weather has permitted.
I also love how this simple outdoor space has increased our usable square footage.
We have a busy neighborhood and I look forward to some porch sitting to get to know more of the neighbors!
I'm a first-time mom. I work from home and I write. Tackling random DIY projects while my husband is at work and my toddler is asleep is how I spend my free time these days. I also enjoy discovering new products and gadgets that will make life easier with a dog, a cat, an active little boy, a Harley-loving husband, and all of our extended family!