This post may contain affiliate links. If you buy thru these links, we may earn a commission at no additional cost to you.
---
It wasn't until I saw this tube door stopper that I realized an empty (or not-so-empty) tube of anything makes a cheap and easy DIY door stop!
Plus-d is a Japanese company that actually sells colorful silicone tubes that are similar to a tube of hand lotion, facial cleanser, etc. and markets them as doorstops to keep your doors propped open.
While those tubes may be more fashionable and modern than your typical door stopper (and even "regular" tubes of stuff, for that matter), I can't help but think that it makes more sense to re-use than buy new sometimes.
After all, don't we all have about a gazillion tubes of something around the house?
Perhaps just one of them could be spared in order to serve as a DIY door stopper the next time the need arises.
For what it's worth, I've tested this theory to see if an everyday tube of something can sufficiently prop open a door.
As you can see, my large half-empty tube of Eucerin body lotion works just fine on a windy day when I have most of the windows in the house open. As does a much smaller full bottle of Neutrogena sunscreen — both seen here: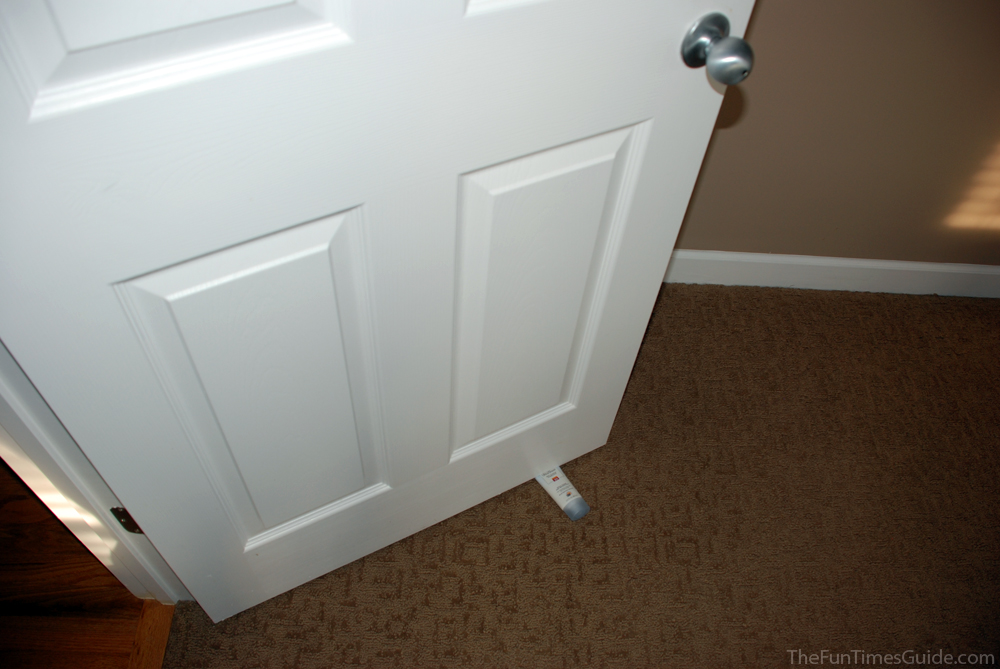 Yes, the fun colors that the official Tube doorstop come in are quite nice. But I'm just sayin'… maybe you could manage this one on your own!
Okay, so that's #1 on my DIY door stop list. Following are the rest:
8 more items I've personally used as homemade door stops
7 DIY door stop alternatives from other clever people who share their tutorials online
16 things to use as a door wedge that you can buy online
8 Other DIY Door Stops I've Made
Using old makeup tubes is my idea #1 for how to make a door stop yourself using items you already have around the house.
Here are a few more homemade door stopper ideas that I've come up with that will help you keep your doors propped open…
A Glass Jar Or Vase As A DIY Door Stop:
Another way that I've made my own improvised door stopper is to take a relatively heavy object and simply place it in front of the door — like this glass jar that I turned into a vase. The clear decorative marbles inside weigh it down, so it won't tip. And I've filled it with eucalyptus leaves — which are a natural room deodorizer. This works great as a DIY door stop!
For a practical solution, I've turned a large pickle jar into a change jar that I then used as a doorstop — and I made some money in the process since we kept tossing all of our loose change in there!
If your glass jar will be placed on a slick surface, just add a piece of felt to the bottom so it won't scratch the floor.
As you can see here, before filling the jar with loose change, I filled it with Mardi Gras beads and used that as a doorstop:
Baskets As DIY Door Stop Alternatives:
For a cozy, homey look I've placed large baskets in front of doors and filled them with interesting things.
For example, in the guest bedroom the basket is filled with things that overnight guests would enjoy (books, towels, magazines, a candy jar, etc).
In the office, I have a basket filled with relevant magazines and 3-ring notebooks.
An Old Boot As A Homemade Doorstop:
For something fun and a bit out of the ordinary, I've taken kids rubber boots and filled the inside with various items to weight them down.
You can use a single boot, or a pair of boots as an improvised door stopper.
You could also turn an old work boot or a cowboy boot into a makeshift doorstop in a similar fashion.
Rocks & Logs As DIY Door Stop Alternatives:
For an earthy solution, I love to bring the outside in by using a large rock as a doorstop (only on carpet, not on hardwood).
For a rustic touch, I've used a wooden tree stump as a makeshift doorstop in these 2 ways: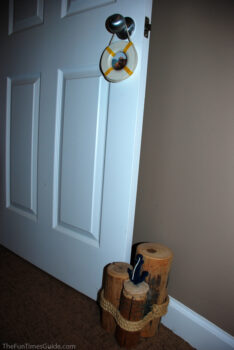 Anything Heavy Works As A Makeshift Door Stopper:
If you can't find an item with some weight to it around your house to use as a makeshift doorstop, you can actually turn any lightweight object into a weighted DIY door stop by simply filling any open cavities with heavy things!
Personally, I've used uncooked rice, river stones, and marbles to add weight to objects. You could also use cement or Plaster of Paris if you don't ever want to use the object for its original purpose again.
You could even use an empty tin can or bucket filled with something heavy and decorated with fabric or (my favorite) wrapped in rope — like jute or hemp:
7 More DIY Door Stop Alternatives
Here are a few more door stop things to use as a door wedge from other clever thinkers — plus their own tips for making a door stop yourself:
1)  20 DIY Draft Snake Doorstops – While intended to be draft stoppers to keep cold air from coming in underneath the door, some of these have some weight to them — so they could also be used to keep a door propped open, too.
2)  How To Make A Door Stopper Out Of A Fork – Of course every home as a fork! Just make sure to only use this on a carpeted or concrete floor — because the tines of a fork could scratch your flooring.
3)  Turn Any Rustic Post Into A Door Stopper – I have several plaster or terracotta columns in various shapes and sizes. These definitely have some weight to them, and you can even put something cute on the top flat part!
4)  How To Make A Fabric-Covered Brick Door Stop – This is a very sophisticated professional-looking fabric cover tutorial for a brick door stopper. Because I'm lazy, I would probably just use rubber bands to wrap a single piece of fabric around the brick — but that's just me.
5)  40 DIY Door Stop Ideas – A great list of things you probably have round the house that could be used to make the fabric covering (old jeans, a painter's drop cloth, leftover upholstery fabric, linen tea towels, burlap scraps) AND the filling (fish tank gravel, kitty litter, sand, pebbles, beans) for your DIY door stopper.
6)  How To Knit A Giant Lego Block Doorstop – Where are all my Lego fans at? If Legos are your thing, but knitting isn't… you could just use regular fabric for the covering, then follow this tutorial to make the Lego bumps (or studs).
7)  For this last one, all you need is a pool noodle! If you really just want for the door not to slam shut, then a small piece of a pool noodle hugging the edge of the door will solve all your problems!
So now you know how to make a DIY doorstop yourself using the tips and tutorials above!
Are you still wondering what to use as a door stopper?
I can see where there are times when it might be quicker and easier to buy one instead of make one yourself.
Next up are some genius door stop ideas that would make great gifts — for yourself or someone else.
16 Interesting Doorstops You Can Buy
If you're considering buying a door stop because you want something a little classier — like for your office. Or, if you're tired of hunting around for something at home that you can turn into a makeshift door stop — you'll appreciate these really unique and fun doorstops that I found online. (I keep adding more of them to this list as I come across them!)
These examples include everything from cute and whimsical to rustic and practical door stop alternatives:
#1 – Sometimes you need to keep a door open part-way. The Jamm door stop works 3 ways — to keep a door fully open, to keep a door fully closed, and to keep a door part-way open: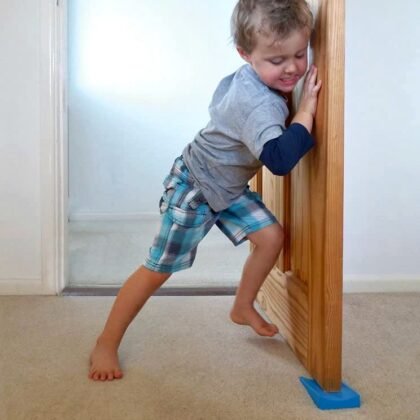 Check out the Jamm Door Stop
---
#2 – A small, fabric doorstop that's weighted, but won't damage your hardwood floors: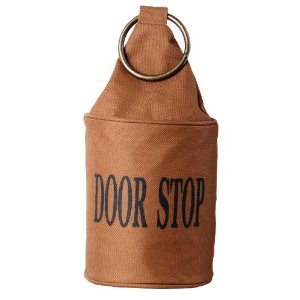 Learn more about this door stop
---
#3 – Dorothy's ruby red slippers door stop… There's another version too — that you can use in a bunch of different ways:
Get your own Ruby Slippers
---
#4 – This set of 4 silicone door stops is versatile… and adorable because they're 4 different colored leaves! When not being used as a doorstop, they can be hung on the handle of the door. And for doors with wide gaps, you can use 2 of them together: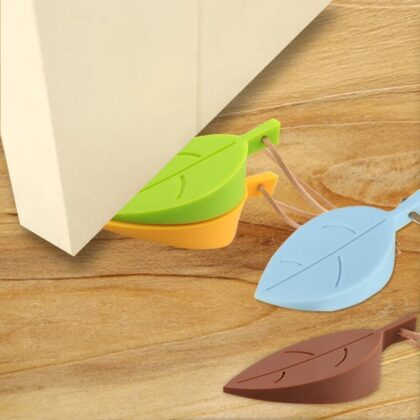 Try these silicone leaf door stops
---
#5 – A large jute rope knot ball that's meant to be used as a door stopper — and it can conveniently hang on the handle of the door when it's not being used: (Hint: This one can also be made yourself.)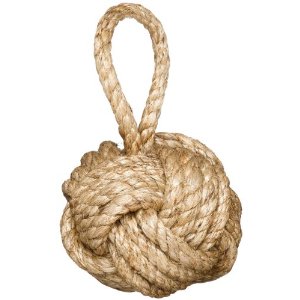 Check out the sailor's knot door stop
---
#6 – A classy red shoe door stop:
The perfect red shoe door stopper
---
#7 – This uniquely shaped door stopper has a brilliant design so that it also works with house windows to keep them propped open: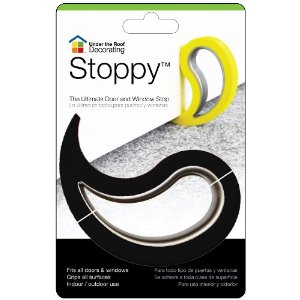 ---
#8 – Cute as a mouse door stop: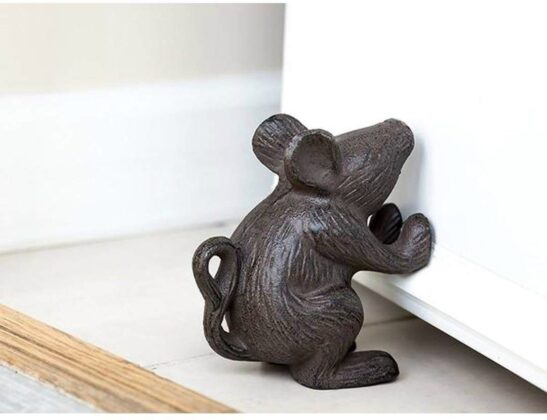 ---
#9 – Looking for a door stop alarm? This door stop makes a noise whenever pressure is applied to it:
Check out the door stop alarm
---
#10 – A banana peel door stop shows your fun personality: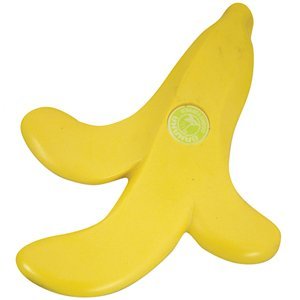 See why this banana peel door stop ROCKS
---
#11 – The Wedge-It door stop is industrial strength. Invented by a fireman, it props doors open exactly 90-degrees and can be used 3 ways: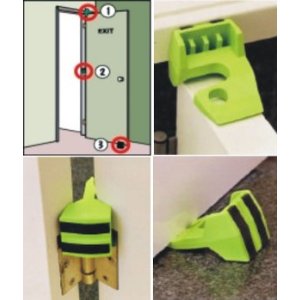 Get the Wedge-It door stopper
---
#12 – Golf anyone? This door stop doubles as a fun golf game. It's a clever time-killer for the home office:
Learn more about this functional door stop
---
#13 – Made of heavy-duty cast iron, this starfish door stop will last for years — and it's available in several colors… even white: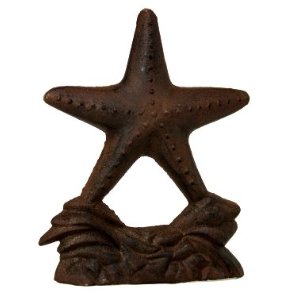 Add this to your beach-themed space
---
#14 – The dog lover in me had to end this post with some fun door stops for dog owners! First, this colorful happy puppy door stop:
---
#15 – Next for dog lovers… the weighted message pillow that serves as a door stopper and a door hanger in one. Except it should say, "A house is not a home without dog fur!":
See all of the weighted door stop designs
---
#16 – And finally, for all the dog lovers in the house… this cast iron dog door stop:
Get your own cast iron dog door stop
---
Like this post? Save it to read again later… or share with others on Pinterest!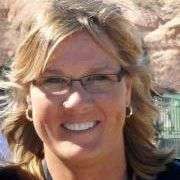 I like to help people find unique ways to do things that will save time & money — so I write about "outside the box" Household Tips and Life Hacks that most wouldn't think of. I'm super-organized. And I LOVE to clean! I even enjoy doing laundry (but not ironing). I'm also a lifelong dog owner — so I often share my favorite tips for living with dogs inside your home (like smart home design choices and dog-friendly cleaning & decorating ideas). Career-wise, I've been sharing my best ideas with others by blogging full-time since 1998 (the same year that Google started… and before the days of Facebook and YouTube). Prior to that, I worked in Higher Ed over 10 years before switching gears to pursue activities that I'm truly passionate about instead. For example, I've worked at a vet, in a photo lab, and at a zoo — to name a few. I enjoy the outdoors via bicycle, motorcycle, Jeep, or RV. When I'm not cleaning, organizing, decorating, or fixing something… you'll find me at the corner of Good News & Fun Times as publisher of The Fun Times Guide (32 fun & helpful websites). To date, I've personally written over 200 articles about cleaning, organization, DIY repairs, and household hacks on this site! A few have over 2M shares; many others have over 100K shares.