This post may contain affiliate links. If you buy thru these links, we may earn a commission at no additional cost to you.
---
This is our review of the World's Longest Yard Sale…
The World's Longest Yard Sale takes place each August along U.S. Highway 127 from Gadsden, Alabama… through the state of Tennessee… and up to Covington, Kentucky, just shy of Ohio.
They get upwards of 100,000 yard sale shoppers each year.
We went to the World's Longest Yard Sale for the first time. So of course, we had to blog this!
And of course, you can expect to find the real "inside scoop" here.
Read on to see:
What the World's Longest Yard Sale is really like.
Whether it's worth making the drive.
Whether it's all that's it's cracked up to be.
The high points (and low points).
What you should know if you go.
If we'd go again, or not.
Hwy 127 Yard Sale Facts
It always starts on the first Thursday in August (see actual dates for each year below) and has been called
"the mother of all garage sales"
the "127 sale"
the "endless yard sale"
"the 127 Corridor Sale"
and plenty of other far-reaching and unbelievable titles
Still, the World's Longest Yard Sale is what it is best known as.
It's so well-known, it has been featured on HGTV, and in Southern Living, Country Living, USA Today, Newsweek, and virtually every major newspaper under the sun!
The "Longest Yard Sale" began in 1987 as a way to lure travelers away from the ever-popular Interstate 40 and I-75 and into the rural communities. It was a way to prove that the back roads have something to offer tourists too. Here's more about the yard sale's history.
Since then, the U.S. Highway 127 sale has grown to also include several side roads, including Highway 58 in Chattanooga — which becomes several different highway numbers before reaching Gadsden.
You can jump right into the World's Longest Yard Sale from wherever you are along the way, or start at either end of the official route.

 
Shop Til You Drop
Even though I would've liked to (…just to say I did it), there's no way we could've done the whole 675 miles of yard sale this weekend — and we like to drive!
So we started in Dunlap Tennessee.
Then in Chattanooga, we jumped on a different route toward our final destination of South Carolina.


NOTE:
The 127 in McMinnville, Tennessee is NOT the 127 you want to be on! We made the mistake of confusing the two — which are both relatively near one another on the map. Fortunately, we noticed it right away and turned around to catch the 127 in Dunlap, Tennessee instead.
In fact, if you go yard sale shopping along the "other" 127, you'll find things like this:

Tips For Attending The World's Longest Yard Sale
Pre-Travel Tips:
Take plenty of CASH! Consider plenty of small bills and a few rolls of quarters and nickels. Most do not accept personal checks or credit cards.
Consider the type of vehicle you'll be driving. You need something with lots of space for "stuff", because most people leave with more than they set out to buy. And you never know, you might find "a great deal" on something big & bulky that you've just gotta have. (We noticed that many people actually pulled a small TRAILER to haul all their "finds!)
The following items might come in handy: plastic bags (like Walmart bags to carry your stuff while you're shopping), boxes (to keep smaller items from rolling around in your car), bubble wrap (to wrap fragile items), large plastic garbage bags (for carrying stuff; protecting the interior of your car from mud/water), bungie cords (for securing things into place), and waterless hand soap (after handling all the "stuff").
Take a camera. From all the unique items you're sure to see at this yard sale to the unique people you run into… you'll find plenty to photograph!
Don't forget to print out a map of yard sale route (…and double-check that it's actually in the car on the morning you set out for your trip!)
Prepare for rain. Whether that means packing an extra umbrella or a rain poncho (yard salers usually prefer these), you don't want to get there and find yourself up a creek without a paddle!
If you're doing the entire route, or planning a multi-day stay in one location, you need to make hotel reservations early… hotels book months in advance for this weekend!
If you don't want to spend big money on hotel rooms for a yard sale trip, then pack a small tent that is easy to set up, pack a few pillows, sleeping bags, and a lantern. Campsites along the way are not difficult to find.
Unique To This Yard Sale
Be prepared to stop a lot. You have to drive fairly slow… for many miles (hours!), and it can also be frustrating to try & find a place to park. Fortunately, there's not a lot of horn honking or road rage. Instead, people are just leisurely strolling in and out of sale after sale along the route.
It's usually quite hot this time of year, so carry water with you every time you get out of the car.
Fill up on gas when you can. You never know how backed up traffic will be, or how far til the next gas station (…or how long you'll be "trapped" in a parking space until someone moves their car).
Many shoppers have had a hard time finding a bathroom (word is, some small shops and gas stations don't welcome the extra traffic), so diehard yard-salers pack a roll of toilet paper… just in case.
A lot of really small town restaurants run out of food, so it's not uncommon to see restaurants closed with notes on the door saying so.
It can be dangerous driving out there along the yard sale route… With vendors on both sides of the two-lane road, traffic can become slow, even come to a standstill, so remember to always use your turn-signals. Avoid sudden stops (like when you spot something you've just gotta have!). Don't make U-turns (ah hem… Jim!). And pull as much off  the road as possible.
General Yard Sale Shopping Tips
Vendors sell from sunrise to sunset (…and beyond). They say there's only one way to insure that the "early birds" don't get the worms: Be an "earlier bird".
NEVER pay the asking price…haggle….they all expect it!
Resist the urge to show any excitement for an item you're interested in buying. Instead, try to look only mildly interested then talk them into lowering the price. Remember, early in the morning they may not go down on the prices much, but come the afternoon of the last day, they sure will.
Here are some great tips on how to be a smart yard sale shopper from the Yard Sale Queen herself.

The Type Of Items For Sale
Jim early on: "I think these people traveled from other places to sell their stuff here — it's not yard sale stuff at all!"
True. It was really more like the "world's longest stretch of flea markets" — which is kind of a good thing, since you can visit lots of different sellers at one stop.
Some are even starting to call the world's longest yard sale "a vendor's paradise". Over the years there have been more and more dealers (especially antique dealers) setting up shop along the road. And many offer dealer prices, rather than the typical yard sale prices that most are expecting.
From the Jamestown Tennessee website — Home & Headquarters of the World's Longest Yard Sale: "We strive to make this a sale of antiques and oddities, and discourage vendors from selling USED CLOTHING"… but there were plenty of clothes for sale.
We met a guy from Leesburg, Florida who spent $1000 just to get there. After a half-day of yardsaling, all he had to show for it were 10 carpenter's pencils he got for a buck!
If you're a lifetime collector of "stuff", then you're sure to have a ball! There's stuff you didn't know existed, stuff you just have to have, and stuff you didn't know you needed.
Is This Really The World's Longest Yard Sale?
Wondering if World's Longest Yard Sale is truly the world's longest?
The answer is yes. Even though Antique Alley (which covers 502 miles of yard sales in May each year) is so popular, the World's Longest Yard Sale now covers 675 miles!
For the record, the Antique Alley sale features people having "real" yard sales out in their front yards, rather than so many dealers who have rented a piece of land and set up shop.
Personally, I think the relatively new Coast to Coast yard sale folks are onto something… and they're certain to become "the world's longest yard sale" in no time. For now, until more vendors jump on the bandwagon, they're content to be classified as "the Nation's Yard Sale" and "the Great U.S. 50 Yard Sale."
Psst… it looks like there's even more competition for the World's Longest Yard Sale with the Highway 411 Yard Sale!
Summary Of Our World's Longest Yard Sale Experience
It was fun meeting new people, spotting lots of "weird stuff" and finding some good deals — but the truth is, we probably won't be adding this to our Summertime Fun list of things to see & do each year.
The World's Longest Yard Sale isn't likely to become one of Jim & Lynnette's annual events, so you'll just have to check it out for yourself and find your own great bargains.
For real. If you haven't been there before and seen it for yourself, then by all means… GO. It's worth a visit.
But for us… been there, done that!
2010 World's Longest Yard Sale - The 127 Sale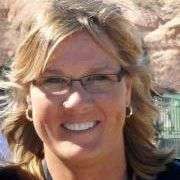 I like to help people find unique ways to do things that will save time & money — so I write about "outside the box" Household Tips and Life Hacks that most wouldn't think of. I'm super-organized. And I LOVE to clean! I even enjoy doing laundry (but not ironing). I'm also a lifelong dog owner — so I often share my favorite tips for living with dogs inside your home (like smart home design choices and dog-friendly cleaning & decorating ideas). Career-wise, I've been sharing my best ideas with others by blogging full-time since 1998 (the same year that Google started… and before the days of Facebook and YouTube). Prior to that, I worked in Higher Ed over 10 years before switching gears to pursue activities that I'm truly passionate about instead. For example, I've worked at a vet, in a photo lab, and at a zoo — to name a few. I enjoy the outdoors via bicycle, motorcycle, Jeep, or RV. When I'm not cleaning, organizing, decorating, or fixing something… you'll find me at the corner of Good News & Fun Times as publisher of The Fun Times Guide (32 fun & helpful websites). To date, I've personally written over 200 articles about cleaning, organization, DIY repairs, and household hacks on this site! A few have over 2M shares; many others have over 100K shares.