This post may contain affiliate links. If you buy thru these links, we may earn a commission at no additional cost to you.
---
The Miele is probably the best vacuum cleaner that I have ever used.
In my business of cleaning homes for a living, I've used many different types of vacuums. But the Miele stands above the rest.
Here's why I choose the Miele vacuum cleaner over the Dyson, the Rainbow, the Oreck, and other vacuum cleaners…
My Review Of The Miele
I like the Miele vacuum cleaner best because:
It's lightweight, very manageable, and easy to use.
It has the option of a true hepa filter.
It's available in many different styles and colors.
It has adjustable power settings.
These are things that mean a lot when you're investing in a vacuum cleaner.
Miele Shapes & Sizes
The Miele comes in a variety of styles and colors.
So if you prefer an upright or a canister, or if red is your favorite color, those types of options are available to you.
The Miele is also available in a lightweight or heavier style.
As far as lightweight vacuums that perform well, the Miele is surprisingly easy to work with.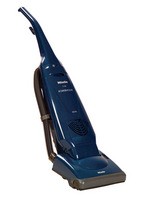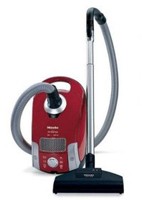 What About Stairs?
The Miele rates high on stairs, as well.
If you have ever tried vacuuming stairs, then you know it can be challenging — trying to lug the vacuum with one hand and vacuum the stairs with the other.
The Miele is not at all awkward when cleaning stairs, because it has a nice handle to grab. And it's not too heavy.
Miele Attachments
The attachments for the Miele vacuum cleaner are also very easy to change, as the job at hand changes.
And the bags are a super quality and easily accessible, too.
There is also an adjustable power feature on the Miele that lets you change the level of suction, depending on whether you are vacuuming curtains, lamp shades, oriental rugs, or carpet.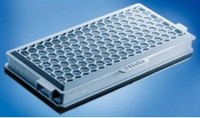 Plus, you have the option of getting a true hepa filter. This is a nice because it keeps bad smells and dust from flying back into the air — which is great for people who have allergies or animals in the home. Personally, I don't want to smell anything that has come out of the carpet (…or any other place that I have vacuumed).
Another unique feature is the blower. This is really handy for cleaning dust from electronics, decks or garages.
Comparing The Miele To Other Vacuums
There are some other vacuums which have the same or similar qualities as the Miele — like the Rainbow, Dyson and Oreck. But none of these is quite as good as the Miele vacuum cleaner, in my opinion.
The Rainbow uses a water bowl instead of a bag to collect dust. It is supposed to clean the air when it passes through the water, but the water is actually full of dirt and dust that would normally go into a dust bag. There is also a little height adjuster on the Rainbow's vacuum head to adjust for different carpet heights; but it's a dummy switch.
The Dyson is a great vacuum, but it's heavy and it can be hard to handle.
The Oreck is alright if the only feature you're looking for in a vacuum cleaner is that it's lightweight.
When comparing the prices of these vacuums, they are all a little more expensive than your standard household vacuum cleaner. But I would definitely put my money on the Miele.
I'm a professional house cleaner. I have been self-employed for the past several years, and I thoroughly enjoy cleaning houses for a living. Yes, it can be very tiring, but I find that it can be very rewarding, too.