This post may contain affiliate links. If you buy thru these links, we may earn a commission at no additional cost to you.
---
The minute I heard about Snap Power night light outlet covers (with the LED lights built into the outlet cover itself), I knew I had to have some.
I bought 5 of them!
Snap Power calls them "guidelights." I got mine approximately 4 years before outlet night light outlets became mainstream and available on Amazon.
Immediately, I knew 3 places that I wanted to use them:
Kitchen
Master bathroom
Garage
When they arrived, I experimented by putting them in lots of different places throughout the house.
That's when I learned just how easy they are to install — all it takes is a screwdriver!
You simply unscrew your current outlet cover from the wall, and then you screw in the night light outlet cover — in its place. That's it. Seriously.
I installed all 5 myself in just minutes.
Here's a great write-up if you want to follow along as Julie installs Snap Power outlet cover night lights in her home.
Best Places To Put Night Light Outlet Covers
I think night light outlets work best in these places:
Above kitchen countertops – to brighten up the shadowy space underneath kitchen cabinets
Just above the baseboards along your floors – so you don't trip walking through the house at night
In the master bathroom – so you can pee at night without turning on the overhead light
In the garage – so you can take out the trash without turn on a light
In the garage (near the walk-thru door) – so your guests can enter and exit that way without it being pitch black
In a child's bedroom or guest room – there's no better night light
Near the dog's food & water bowl – so your dog can eat & drink comfortably even if the room is dark
At the top / bottom of the stairs – so you can easily see the first and last steps at night
In the powder room – so guests can see which room is the powder room "the one with the nightlight on"
Initially, I had planned to only put one of the night light outlet covers in the farthest corner of the kitchen — where it's extremely dark. But after putting one there, things felt uncentered in the room. So I ended up putting 2 more in the kitchen to balance out the "glow" above the kitchen countertops at night. It looks much better than just having one there.
Of the 5 night light outlets that I purchased, I now had 2 left to put somewhere.
I ended up putting 1 in our master bathroom and 1 in our powder room.
3 Things To Know Before You Buy An Outlet Cover Night Light…
#1 – Don't do like I did and just assume that all of your outlets are standard.
Any outlets located near sinks will most likely be GFCI outlets — with reset buttons. Snap Power doesn't make GFCI outlet covers with night lights at this time. (No one does that I know of,)
Unfortunately, the outlet that I wanted a night light outlet cover for the most (the one in our large master bathroom, near the sink) is a GFCI outlet. So that was a bummer.
The second place I was eager to put a night light outlet was in the garage — near the walk-thru door, to light the way for our pet sitter when she comes at night. However, there's only a round 3-prong outlet there for our central vacuum (that we don't use), and Snap Power doesn't make outlet covers with night lights to fit that style of outlet either. (I don't think anyone does.)
I ended up putting one of these in our garage instead: Mr Beams Motion-Sensor Light. It works great!
#2 – In very dark corners, the light will stay on all the time.
That is, unless you turn on an overhead light or have enough natural light that reaches the outlet cover.
Snap Power says it only costs 10 cents a year to operate one of these night light outlet covers — and the lights themselves will last 25 years.
But I'm guessing those figures are based on the fact that the lights are not glowing for at least half the day.
So, even though it won't cost much if the lights happen to stay on, you might only get half the life (12+ years) out of the bulbs themselves if they're glowing most of the time.
In our case, pictured below is the Snap Power night light that tends to stay on most of the time — because the refrigerator is immediately to the right, and it prevents most of the room's natural light from reaching this particular outlet.
#3 – In some cases, it would look better if the lights were shining upwards, rather than downwards.
Or it might be nice to have one pointing to the right, rather than to the left — or vice versa.
However, the outlet covers are constructed in such a way that the direction you put them is dictated by the direction of the ground prongs in your outlets.
Good news #1: You could change the direction of your outlet's electrical box, but you would definitely have to turn off the electricity first. Then, you would simply reverse the direction that the outlets are wired — so the ground plug is closer to the top, rather than closer to the bottom of the outlet.
Good news#2: Depending on how crowded things are on the sides of your outlet boxes (you can tell after you take the outlet covers off), you might be able to get a good enough connection simply by changing the direction of the outlet cover itself. In my house, it didn't work for 2 of the outlets that I tried. But it did work that way for 1 of the outlets and I've kept it that way ever since.
In my opinion, when the light is shining upwards on the outlet cover, it's a brighter light that reflects differently — and it covers a slightly larger area. The reason? There are more surfaces for the light to bounce off of, as opposed to when the light is simply shining straight down onto the countertop or floor below it.
In our case, (pictured above) I wanted the light to point in the direction that we walk into the kitchen — rather than having it point toward the kitchen sink.
Why Night Light Outlets Are So Great
This photo of our master bathroom (before we got the Snap Power night light outlet covers) shows why these night light outlets are a lifesaver:
As you can see, we were using traditional auto sensor night lights in the 2 outlets in our master bathroom.
For what it's worth, I do like the power failure night lights a lot — because they have one unique "extra" feature. Not only do they automatically turn on at night and off in the morning, but they also have a flashlight beam that shines automatically when you unplug them from the wall! I have a few of these Sylvania power failure night lights. I put them where it would be most useful to have a flashlight handy.
But we've become frustrated that the plugs in both master bathroom outlets are used up with night lights all the time! So we always have to unplug a night light before we can plug in Jim's razor or my hair dryer — or whatever.
With these nightlight outlet covers, you don't have to unplug anything! The night light shines from 3 LED bulbs on the bottom of the outlet cover itself.
Plus, Snap Power's outlet cover night lights are the most energy-efficient night lights in the market.
Here are some other reviews of Snap Power night light outlets.
For what it's worth, I also installed 2 of the SnapPower USB wall charger cover plates.
They're great for the following reason:
USB wall outlets have been done before. Take the U-Socket for example, a device that replaces a standard receptacle and wall plate. What makes the SnapPower so appealing is that it requires no wiring work. You remove the old wall plate and snap the new one into place. You don't have to fiddle with any wires. The USB port sits at the bottom of the coverplate and draws power from the screws inside the outlet. Source
Like this post? Save it to read again later… or share with others on Pinterest!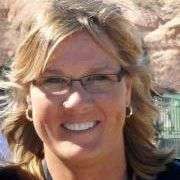 I like to help people find unique ways to do things that will save time & money — so I write about "outside the box" Household Tips and Life Hacks that most wouldn't think of. I'm super-organized. And I LOVE to clean! I even enjoy doing laundry (but not ironing). I'm also a lifelong dog owner — so I often share my favorite tips for living with dogs inside your home (like smart home design choices and dog-friendly cleaning & decorating ideas). Career-wise, I've been sharing my best ideas with others by blogging full-time since 1998 (the same year that Google started… and before the days of Facebook and YouTube). Prior to that, I worked in Higher Ed over 10 years before switching gears to pursue activities that I'm truly passionate about instead. For example, I've worked at a vet, in a photo lab, and at a zoo — to name a few. I enjoy the outdoors via bicycle, motorcycle, Jeep, or RV. When I'm not cleaning, organizing, decorating, or fixing something… you'll find me at the corner of Good News & Fun Times as publisher of The Fun Times Guide (32 fun & helpful websites). To date, I've personally written over 200 articles about cleaning, organization, DIY repairs, and household hacks on this site! A few have over 2M shares; many others have over 100K shares.