This post may contain affiliate links. If you buy thru these links, we may earn a commission at no additional cost to you.
---
I've always wondered how those PODS storage rentals work.
For example, these are some some questions I have:
How long can you have them to load/unload?
How quick is the turnaround time to pick-up and transport your stuff?
Where do they deliver?… which states?… cities?
Are they cheaper than a moving van?
Do past customers recommend them?
Well, the other day my neighbors across the street moved out, and they used the PODS moving and storage system. Fortunately, on the day the PODS truck came to transport their stuff from their "old" house to their "new" house, I was there to watch!
Armed with my notepad & pen in one hand, and my camera in the other, I set out to discover the Pros and Cons of using PODS storage containers during a move…
What Are PODS?
PODS (portable on-demand storage) is a moving and storage system where they drop off, pick up, and transport your stuff — virtually anywhere you want. Basically, it's a combination moving truck and storage unit in one.
They make a great alternative to renting a moving van for the following reasons:
They alleviate some of the legwork by physically transporting your "stuff" from one location to the other.
You don't have to drive a massive truck around town, maneuver it into tight spaces, back it up into your driveway, and fill it up with gas when you're done.
The PODS storage containers themselves remain at ground level for easy loading and unloading.
You're not on any time constraints, so there are no "late fees" or "overage charges" for taking longer than you thought.
Only you have a key to your POD storage container — which means you are always in full control of your possessions.
They're cost-effective.
How A Storage Pod Rental Works
First, you get a FREE quote online:
Enter your current Zip Code
Pick an approximate date you plan to move
Enter the Zip Code for the place you want them to move it to
Then click "Get Rates" and you can see right away how much it would cost to use a 16ft POD. Or, you can change the dropdown to 12ft and see what it would cost to use the smaller POD.
It's quick!… so you know right away whether this is a feasible option for you or not. There's no obligation, and you don't even have to talk to anybody to determine exactly what it's going to cost. (Personally, I don't like when you have to fill out all your info online, only for someone to call you back at their convenience… not yours.)
TIP: You can click "Back" at any time. The PODS online form is where you can view the terms & requirements, accessories & options, and all costs associated with your move.
When you're ready to order your POD storage container, simply enter a few details (like exactly where you'd like them to place the container on your property) and they'll deliver a weather-proof storage POD to your home.
You're free to pack at your own pace and load things onto the storage POD at your leisure. You never have to worry about time constraints or deadlines. You can take up to one month to pack the POD with no additional fees.
Whenever you're done packing, just call them to have your container scheduled for pick-up on the next available day. They will deliver it anywhere you'd like — across town, or across the country — from coast to coast.
How Much Do Storage PODS Cost?
As an example, I got a quote for one 8'H x 8'W x 12'L POD to move across town here in Nashville (from Zip Code 37064 to 37211). The price: $231.60 including tax.
The best part: Instead of a 1-day rush job to get packed and loaded and delivered to your destination, you can use the container for as many days as needed to complete your move. You can take your time (up to 1 month), without incurring additional fees. Most people keep them 2 to 4 weeks.
The 8x8x12 POD accommodates an average 1,200 square-foot home.
The 8x8x16 POD accommodates an average 1,500 square-foot home.
Here all of the different sized POD storage units and how much "stuff" each POD will hold.
How Are PODS Transported?
Following are the photos I took — which show exactly how PODS moving and storage containers are transported from one location to another.
This is exactly how things went at my neighbor's house:

One thing that surprised my husband and I was the fact that the POD is never actually tilted at all during the process of loading the POD storage container onto the truck. Instead, their patented hydraulic lift system picks up the POD level and sets it down level.
This video shows what the POD container itself is like — and how their patented Pozilla lift & transport system works:
---
Since the POD itself remains fully upright the entire time, you don't have to worry about your stuff that's packed "on top" ending up tossed into the corner, or eventually making its way to the bottom!
There is virtually no shifting of the contents inside. That's a huge plus!
What About The Competition?
PODS isn't the only self-storage container on the block.
There are competitors, but PODS seems to have cornered the market at this point. PODS has been in business since 1998.
PODS was founded in 1998 by Peter Warhurst who was looking to expand his family's storage business. He invented PODS containers, as well as a hydraulic lift system that enables operators to easily deliver and transport the units, which he named Podzilla.

~ Source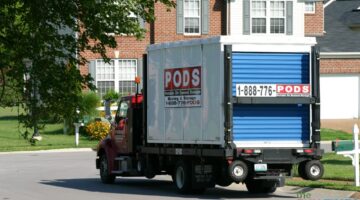 PODS are so durable and reliable that they are actually used in a number of different situations — outside of moving and storage situations. For example, PODS often serve as emergency shelters and workstations during storms and at other times of emergency.
And business owners often find PODS useful at job sites to maintain excess inventory, storage, and safekeeping.
See what people are saying about PODS after using them to move. (Nearly 1,000 pages of testimonials!)
The Bottom Line
Overall, I think PODS are really great for short-term or long-term storage needs — whether you're moving or not.
And the PODS storage containers themselves provide the ultimate in convenience, safety, and affordability — for your family or your business.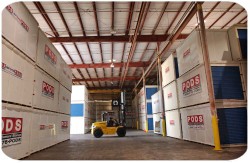 If you like, they'll even store your POD storage container at their secure warehouse facility, where you can have access within 24 hours with a just phone call.
Personally, my husband and I think PODS are a great alternative to traditional moving vans — when you're moving things yourself.
The only downside is not having the strength of additional moving men to help you carry the heavy items from your driveway into your new home — especially if there are stairs involved!
But that's what friends are for, right?
Looking For A PODS Promo Code?
Use this link to save 10% on local moves and 5% on long-distance moves with promo code TFTG.
Like this post? Save it to read again later… or share with others on Pinterest!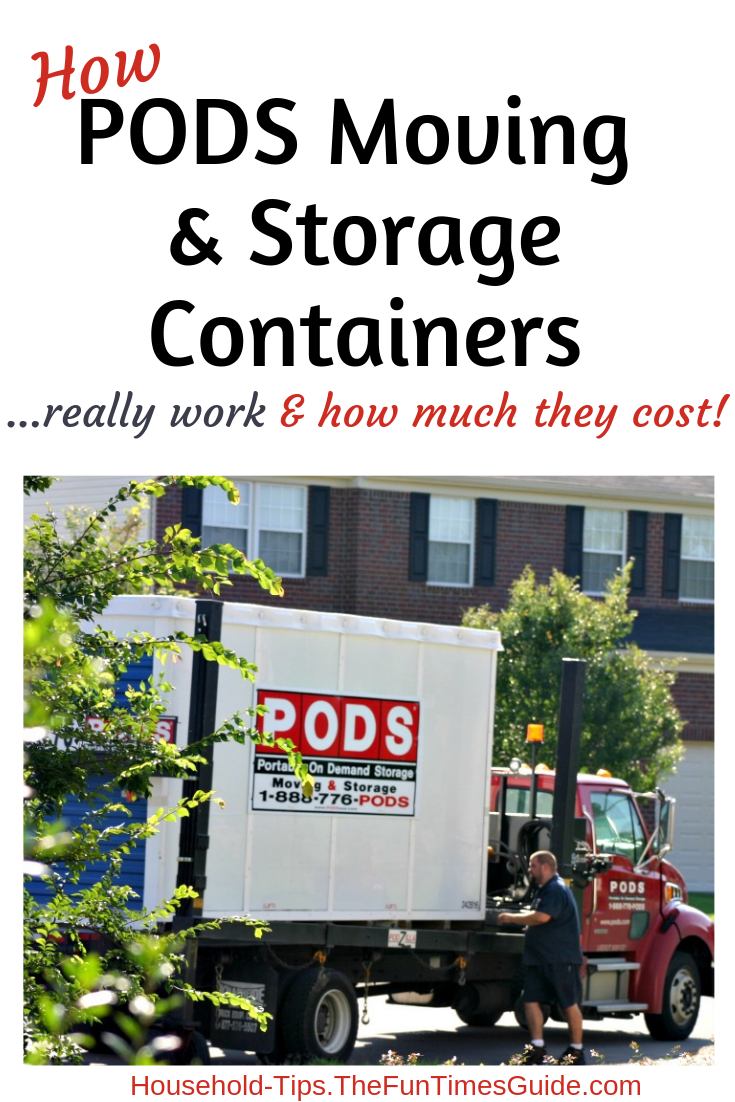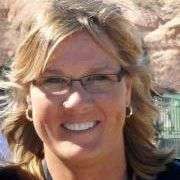 I like to help people find unique ways to do things that will save time & money — so I write about "outside the box" Household Tips and Life Hacks that most wouldn't think of. I'm super-organized. And I LOVE to clean! I even enjoy doing laundry (but not ironing). I'm also a lifelong dog owner — so I often share my favorite tips for living with dogs inside your home (like smart home design choices and dog-friendly cleaning & decorating ideas). Career-wise, I've been sharing my best ideas with others by blogging full-time since 1998 (the same year that Google started… and before the days of Facebook and YouTube). Prior to that, I worked in Higher Ed over 10 years before switching gears to pursue activities that I'm truly passionate about instead. For example, I've worked at a vet, in a photo lab, and at a zoo — to name a few. I enjoy the outdoors via bicycle, motorcycle, Jeep, or RV. When I'm not cleaning, organizing, decorating, or fixing something… you'll find me at the corner of Good News & Fun Times as publisher of The Fun Times Guide (32 fun & helpful websites). To date, I've personally written over 200 articles about cleaning, organization, DIY repairs, and household hacks on this site! A few have over 2M shares; many others have over 100K shares.