This post may contain affiliate links. If you buy thru these links, we may earn a commission at no additional cost to you.
---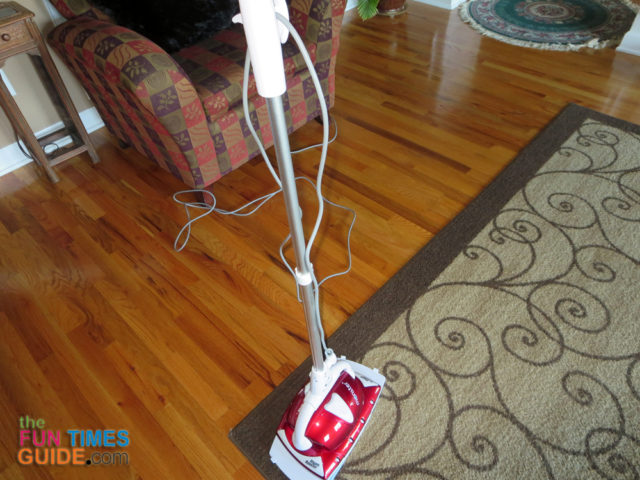 Ever since we moved into a home that has hardwood flooring throughout, I've used the Bona spray mop to clean my hardwood floors.
It's been over 5 years now. I'm very happy with the Bona spray mop itself and the Bona hardwood floor cleaner. My floors look great!
But I've often been asked about — and wondered myself about — using steam to clean hardwood floors. Mostly because it's generally a safer, greener, kid-friendly way to clean. (Who doesn't want "sanitized" floors?)
Since my hardwood floors have always looked great after using the Bona cleaner on them (Bona is environmentally friendly, by the way), I've never thoroughly researched the pros & cons of steam cleaning hardwood floors… until now.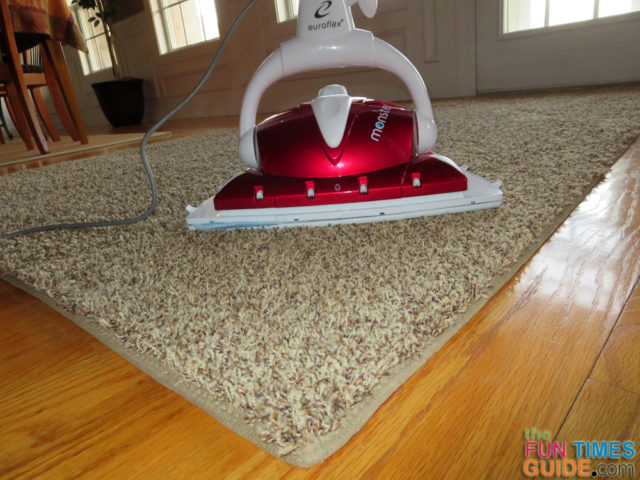 Why now? Because I was given a Monster steam mop that was designed for use on wood floors, tile floors, rugs, and carpets.
So, in order to assist others who might be considering using steam on hardwood floors (and tile floors, rugs, and carpeting), I thought I'd try it and share what I've learned here.
Here's a summary of my experience after using steam to clean hardwood floors vs. using the Bona spray mop…
Expert Opinions About Using Bona Hardwood Floor Cleaner
I know for a fact — from personal experience (5 years and counting) and from flooring experts (after decades of using Bona floor care products) — that the Bona spray mop and hardwood floor cleaner I've been using are 100% safe and effective on hardwood floors.
Here are some expert opinions about using Bona products on hardwood floors:
Expert Opinions About Steam Cleaning Hardwood Floors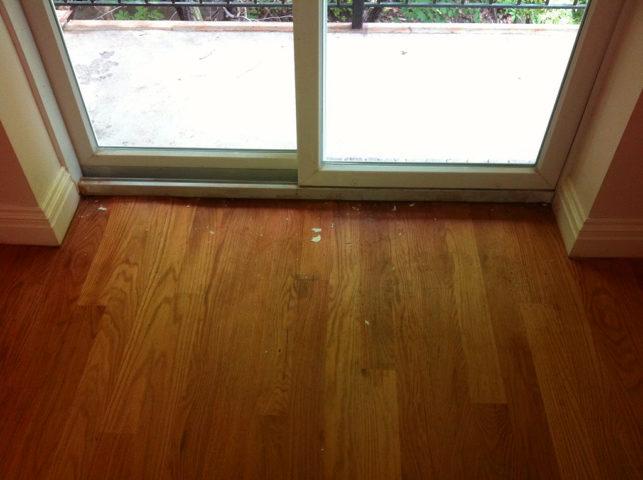 Up til now, I've been reluctant to use a steam mop on my hardwood floors because I've seen a lot of warnings — from flooring experts — about how steam can damage hardwood flooring.
Here's a sampler:
Needless to say, I am thankful that I have avoided using steam on my hardwood floors all these years!
Still, like others who dream of having sanitized floors in my home, I'm conflicted between these 2 things:
Using what I already know is safe for hardwood floors: the Bona spray mop and Bona liquid hardwood floor cleaner; and
Using a steam mop on my hardwood floors — at least once — to see for myself how well steam cleans hardwood flooring.
My reasoning: As long as the steam is hot enough and dry enough that it only goes onto the floor's topmost surface and dries quickly, then it can't be any worse than the liquid Bona hardwood floor cleaner that I've been using for years that coats the floor with light puddles of cleaner and takes several minutes to dry. Right?
I mean, liquid cleaners can literally seep in between the floor boards too. So even if your hardwood floors are sealed (mine are) and/or the floor boards begin to gap in some areas due to changes in the home's moisture levels at different times of the year (like mine do), then you would technically have the same moisture issues as when using steam. Right?
If you have hardwood floors, you're probably asking the exact same questions right now!
5 Reasons I Wanted To Try The Monster Steam Mop
So when the folks at EuroflexUSA recently asked if I'd be interested in reviewing one of their steam mops, I told them their timing couldn't be better.
This is a product that I genuinely wanted to try and review for myself — not only to test it on hardwood floors, but also to clean my tile floors in the bathrooms and to freshen up my rugs.
They sent me the Monster Steam Jet XL Hi Performance Pressurized Floor Steamer.
While I've always been perfectly happy with the Bona spray mop system on my hardwood floors, I was interested in trying the Monster steam mop for these 5 reasons (in this order):
Finally having the ability to try dry, hot steam to clean my hardwood floors for the first time — so I can see for myself if steam cleaning hardwood floors makes sense or not.
We have tile flooring in the bathrooms, and I'm ashamed to say that I don't clean those floors nearly as often as I should. A steam mop will work wonders in the bathrooms (especially around the toilets).
Using steam for chemical-free cleaning and sanitizing purposes appeals to me, because steam cleaned floors are the closest I'll get to having anything in my house "sanitized" — aside from the dishes that are cleaned in my dishwasher. (They say that the Monster steam mop kills 99.9% of bacteria — including salmonella, e-coli, hepatitis C, black mold, and H1N1 — from hard surfaces in just 1 second! I guess that's because the steam itself is so incredibly hot.)
I like the fact that the cleaning pads are so large on the Monster steam mop. A larger cleaning surface means faster cleaning time.
As a bonus, I like how the Monster has an attachment to steam clean and sanitize your rugs. No, this isn't for deep cleaning of course, but my rugs have never been "refreshed" in this way — so that's a nice little bonus.
Now, let's see how the Monster steam mop compares with the Bona spray mop, after I tried the Monster for the first time…
What Makes The Monster Steam Mop Unique?
Here are some interesting things I've learned about the Monster steam mop:
It has a stainless steel boiler (1,200w pressurized boiler) that creates a drier steam for faster — and drier — cleaning. Most steam mops work by dripping water onto a hot plate. The Monster steam mop works more like a cappuccino machine with a boiler inside.
With the Monster steam mop, you're using the power of pressurized steam. Specifically, a built-in pressurized boiler system superheats the water for a drier steam, making the Monster many times more effective at tough cleaning jobs than regular steam pumps.
There's a thermostat to control electricity flow, so it's as if you're using commercial steam cleaning equipment in a compact design.
After plugging it in and letting the boiler heat up, the Monster steam mop is ready to use in 3-5 minutes.
The steam exits simultaneously from 2 tanks — with jets on the bottom of the mop shooting steam through the cleaning pad (automatically), as well as jets on the sides of the mop shooting steam above the pad directly onto the floor's surface (whenever you pull the trigger). The down-shooting jets are automatically activated as soon as you pull the handle away from the default upright position. Releasing the handle immediately shuts the steam stream off. Another independent set of forward-shooting steam jets are activated when you pull the trigger button on the handle. This angle is perfect for cleaning along the baseboards and in hard-to-reach corners.
It comes with a long (23-foot) power cord — making it easier to reach more floor space without having to keep unplugging and moving to other outlets.
The super-absorbent extra large microfiber pad cleans and dries a 16-inch-wide area in a single pass. The Monster comes with 2 of the extra large cleaning pads, so you can always have one on the mop while the other is in the laundry.

It's a "water-wise" steam mop that uses less water. This is one of the many reasons the Monster steam mop is environmentally friendly.

The carpet attachment makes it possible to steam clean (or "refresh") even high-pile rugs.
It comes with a "parking pad" to set the steam mop on when you're not using it. This prevents floor damage that can result from leaving anything that's hot and steamy in one spot on your floor for too long.This video highlights some of the differences between the Monster steam mop and other steam mops:
My Experience Using The Monster Steam Mop On Hardwood Floors, Tile Floors & Rugs
Now that I've used the Monster steam mop on my own hardwood floors, tile floors, and throw rugs… here's what my experience was like (compared to my experience using the Bona spray mop):
Since the Monster's steam is SO hot and it dries SO quickly, it's supposed to be safe for (sealed) hardwood floors. So I tried it. However, it's not quite as dry as I thought it would be. For example, if you step onto the spot that you've just steam cleaned, it IS wet — like a light misty dew on your deck. My foot left a footprint until it dried. True, it dries faster than the Bona spray cleaner does, but it is still wet to begin with. Combine that with the fact that you're blasting micro-particles of wet, hot steam into the cracks and crevice of hardwood floors… and I personally didn't feel comfortable continuing to use the Monster steam mop on my hardwood floors — especially since I couldn't find any documentation or flooring experts who agreed with steam cleaning hardwood floors at all. So, for the sake of my floors, I decided to use the Monster on everything but my hardwood floors going forward.

It's lighter weight than I thought it would be. Lighter is always better when you have a lot of floors to clean and/or wide surface areas to clean at once. Surprisingly, the Monster steam mop (9 lbs + 2-1/2 cup water tank) doesn't seem that much heavier than the Bona spray mop (3.1 lbs + 4 cup liquid cleaner cartridge that weighs 2 lbs = 5.1 lbs). The Monster glides with ease over your floors and it's easy to maneuver forward and backward with very little effort.
The steam coming out of the Monster seriously ROCKS! It's hot. It's forceful. It's misty & light and not too watery on your floor's surface. It's constant (from the downward-facing jets) until you set the unit in the upright position, as designed. And it's nice to be able to shoot some extra steam from the forward-facing jets at times too. So with the Monster steam mop, there is clearly less accumulation of liquid landing on the floor itself. (The Bona liquid cleaner literally sprays onto the surface of your hardwood floors and remains there until you immediately wipe it off with the cleaning pad that's attached to the mop.)
Likewise, there was no dripping water or pooling of water when I used the Monster. (At times, the Bona spray mop could get a little leaky — if you click the spray button too many times in a row or too rapidly in succession. While a leaking Bona mop has never been an issue for me, it's fair to say that it's kind of easy to make a Bona mop leak.)
A big plus is the fact that there's no need to buy any cleaners, filters, or additional supplies in order to use the Monster on a regular basis. (With the Bona, I have to buy a refill cartridge of the hardwood floor cleaner every few months.)
I like how the Monster cleaning pads can be cleaned in the washing machine. That's super convenient. (The Bona cleaning pads can be washed 300 times!)
Unfortunately, the Monster steam mop was difficult to maneuver in tight spaces — like around the sides of the toilet in both bathrooms. One bathroom is more like a powder room, so the walls are fairly close on both sides of the toilet itself. The other one is a large bathroom, but there's minimal space between the toilet and the tub (on one side) and the toilet and the vanity (on the other side). While there is room to place the Monster steam cleaner in between the toilet and the wall/tub/vanity, it only fits there in the upright position — and that's the OFF position, where the steam automatically shuts itself off. So, basically, I had to resort to using the already damp cleaning pad alone — moving it in straight lines between the toilet and the wall/tub/vanity in order to wipe the area clean. This is far from ideal, since you can't use any steam to clean around the toilet in tighter spaces like these — which I think are fairly common.
  
There's no streaking left behind on the tile floors after using the Monster steam mop…  with this one caveat: At first there were streaks on the first pass while cleaning my tile floors, but I think that's because they hadn't been properly cleaned in years. I've dry dusted them and spot cleaned them, but this was the first time every corner got thoroughly cleaned. Fortunately, after a second pass, the streaks were completely 100% removed. (I've never had streaks after using the Bona spray mop on my hardwood floors — except for the one time I started out using a dirty cleaning pad that hadn't been laundered since it was previously used.)
The Monster steam mop is much easier, faster, and drier than using a traditional wet mop or squeeze mop on tile floors. It takes much less effort too, since there's no bending or squeezing at all.
I absolutely love how the Monster steam mop cleans my rugs! I have several low-pile throw rugs and one thicker shag carpet remnant. My dog tends to hang out on these rugs quite regularly — while chewing his bones, drooling, and sleeping. Needless to say, the rugs have benefited dearly from their very first Monster steam cleaning! This will be a regular routine in our home now. (Obviously, the Bona spray mop can't be used on rugs or carpet.)
  
Overall, my bathrooms are much cleaner now, and I definitely like using the Monster steam mop on tile floors. I just wish there was a better option for steam cleaning in tight spaces.
Although the Bona spray mop has a tile floor cleaner that you can use in the Bona spray mop (in addition to the hardwood floor cleaner) I've never used the Bona on my tile floors. So I don't have any apples-to-apples comparison points between the Bona spray mop and the Monster steam mop when used on tile flooring.
As I see it, now I have the best of both worlds:
The best hardwood floor cleaner – Bona spray mop & hardwood floor cleaner; and
The best tile floor cleaner – Monster steam mop (which also freshens up all of my throw rugs!)
My $.02 About Steam Cleaning With The Monster Mop
Steam cleaning with the Italian-designed Monster mop is an environmentally friendly way to clean and sanitize your tile floors, carpets, and rugs.
I'm happy to report that the pressurized steam does, indeed, dry quickly — which is super important to me.
When it comes to cleaning my hardwood floors, I've chosen to take the overly cautious route and only use the Bona spray mop & hardwood floor cleaner as my everyday hardwood floor cleaner — at least until I can find enough supporting documentation which proves that even super hot, dry steam is safe enough for regular use on hardwood floors.
Home inspectors are starting to come across floors that appear to have been destroyed by repeated steam cleaner use. Peeling finish, whitening finish and cloudy finish are just some of the side effects being reported by people looking at floors after steam cleaning. In general, the oft-repeated industry saying "Water and wood don't mix" holds true. Source
I'm super thrilled with the results from steam cleaning my throw rugs — and even a thick pile shag carpet remnant! Next time, I'm going to spray a little bit of lavender or eucalyptus essential oil onto my rugs first before steaming them. That will deodorize them even better than the steam alone. (NOTE: They clearly say not to add any detergents, perfumes, oils, or other chemical substances into the water tank itself.)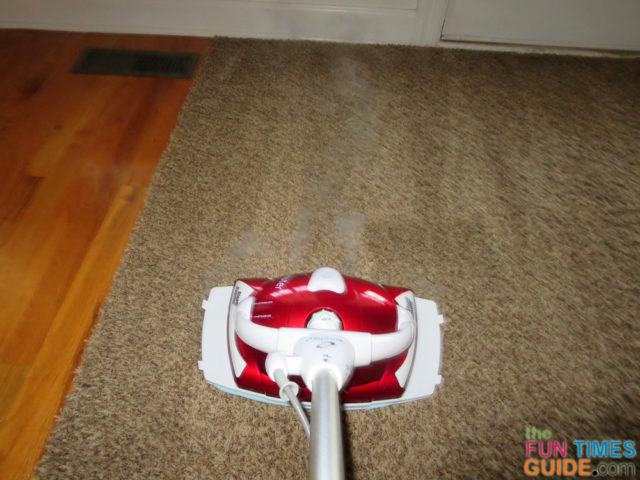 I love the fact that the Monster steam cleaner kills 99.9% of bacteria — including salmonella, e-coli, hepatitis C, black mold, and H1N1 — from hard surfaces in just 1 second. Now I'm just wishing there was an attachment that enabled me to use it on my granite countertops in the kitchen!
By the way, one sales rep said the Monster steam mop kills dust mites, so you're encouraged to use it on your mattress and fabric furniture. I look forward to trying it on my mattress next. Again, I might add a few spritzes of essential oil spray to the mattress surface first for even better deodorizing.
Interestingly, they say that using a steam cleaner — like the Monster steam mop — can significantly help to "eliminate odors caused by fire, smoke, and tobacco smoke, as well as musty and stale cooking odors."  Who knows?… That could be useful some day.
Oh, and for what it's worth… since we have extremely hard water here, I decided to use distilled water in the Monster mop. Even though regular tap water is what's recommended, they do state in the manual that distilled water is a good alternative.
Overall, I had a good experience with my first Monster steam mop and I appreciate the technology behind Euroflex's steam cleaning products.
In my opinion, if you have a lot of wide open tile surfaces (like homes in Florida and other beach communities often do), then you'll get more use out of this than someone with a lot of hardwood floors. Though I like how it refreshes all of the throw rugs I have on my hardwood floors!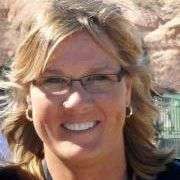 I like to help people find unique ways to do things that will save time & money — so I write about "outside the box" Household Tips and Life Hacks that most wouldn't think of. I'm super-organized. And I LOVE to clean! I even enjoy doing laundry (but not ironing). I'm also a lifelong dog owner — so I often share my favorite tips for living with dogs inside your home (like smart home design choices and dog-friendly cleaning & decorating ideas). Career-wise, I've been sharing my best ideas with others by blogging full-time since 1998 (the same year that Google started… and before the days of Facebook and YouTube). Prior to that, I worked in Higher Ed over 10 years before switching gears to pursue activities that I'm truly passionate about instead. For example, I've worked at a vet, in a photo lab, and at a zoo — to name a few. I enjoy the outdoors via bicycle, motorcycle, Jeep, or RV. When I'm not cleaning, organizing, decorating, or fixing something… you'll find me at the corner of Good News & Fun Times as publisher of The Fun Times Guide (32 fun & helpful websites). To date, I've personally written over 200 articles about cleaning, organization, DIY repairs, and household hacks on this site! A few have over 2M shares; many others have over 100K shares.