This post may contain affiliate links. If you buy thru these links, we may earn a commission at no additional cost to you.
---
Gutter guards are advertised as being able to prevent your gutters from clogging with leaves, as well as water and debris — thus saving you from what could be a dangerous household task.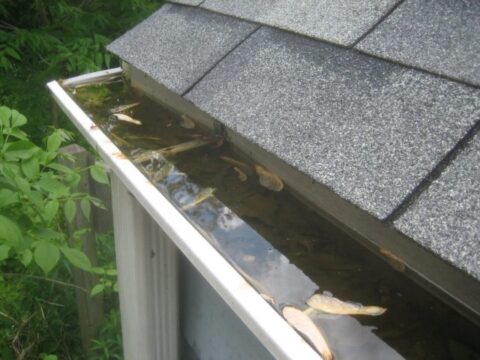 Cleaning gutters is no fun at all!
However, not everyone agrees that gutter guards are worth the cost, time, and effort to get them installed. 
I did the research — so you don't have to!
Following are the pros and cons of installing gutter guards (or leaf guards, gutter covers, gutter screens, etc.) on your home…
Types Of Gutter Covers
There are 5 main types of gutter guards:
Mesh gutter guards – these metal sheets (filled with tiny holes) attach to the roof shingles and cover the gutter.
Reverse curve gutter guards – these position the water downward while directing the leaves to fall to the ground.
Bottle brush gutter guards – these are made of bristles that face upright inside the gutter. The debris rests on top while the water flows away.
Nylon gutter guards – these work exceptionally well in the winter due to their unique design which prevents snow from building up and freezing.
Foam gutter guards – these are actually made of plastic that fits directly into your gutter, helping to block the debris from going into the gutter.
Gutter guards fall into 2 categories: gutter covers and gutter screens. Screens are usually made of wire mesh, nylon or foam, and are simpler and cheaper to install, but usually don't last as long. Gutter covers sit on top of your gutters, so appearance is something else to consider. Also, they limit the waterflow into your gutters because… well… they cover the gutters. They can be made out of a variety of materials, including copper, aluminum, plastic, wire mesh, nylon and foam. — Heritage Home Inspection Services
Home Experts Weigh In On Gutter Guards
HGTV says you should definitely use gutter guards. They give instructions on how to install the mesh type and keep them clean… but I thought the idea was to not have to clean them!
Tom Kraeutler discusses whether or not gutter guards are worth the cost. While they are not necessarily maintenance free, he feels that they can lessen the amount of labor and possibly prevent unnecessary falls.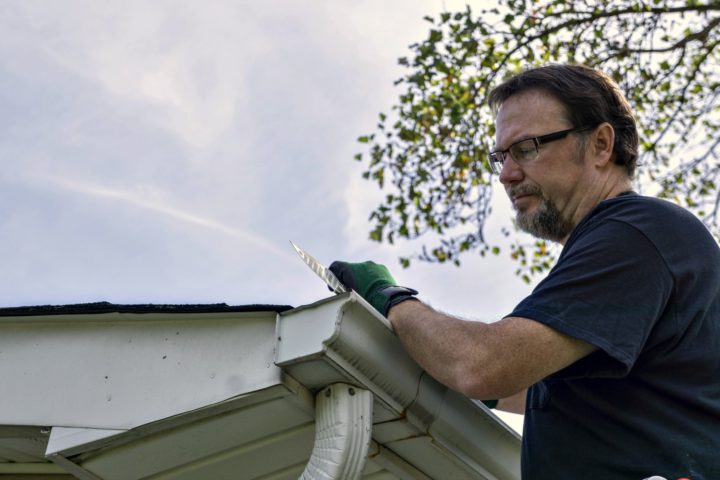 According to Tim Carter at Ask The Builder, the effectiveness of gutter guards is questionable at best:
All of the products do an excellent job of prohibiting full sized leaves from entering your gutters. That is a simple task. However, many of the gutter cover products fail to stop tiny tree flower buds, seed pods and evergreen needles from entering gutters. — Tim Carter, Ask The Builder
The good news is that after 10 years of research and lots of personal trial and error, he has finally found a gutter guard that he feels comfortable recommending.  His pick for the best gutter guard system is MasterShield.
Pros & Cons Of Using Gutter Covers
So, what should you do?
If you want to spend less time cleaning gutters, then yes — gutter guards are definitely something that should be considered.
Just don't expect that they will be maintenance free.
Some debris will inevitably collect on top of the gutter guards themselves. However, it should be much easier and quicker to clean it off the top than to dig into clogged gutters to remove handfuls of leaves, seeds, and twigs.
That said, some gutter guard systems are harder to clean once they become clogged — so choose your gutter guard system wisely!
In some cases, the cost of the gutter guard system can cost more than several years' worth of professional gutter cleaning. Therefore, depending on your situation and how many trees are around your home, it may make more sense to pay a professional to clean your gutters annually instead of paying for a gutter guard system that may fail.
Also, if you have a house with gutters that are 2 or 3 stories tall, you should consider hiring a gutter cleaning service for once or twice a year cleaning anyway — whether you have gutter guards or not. It's too dangerous to clean gutters that high off the ground.
PROS:
They can be added to existing gutters.
Gutter covers prevent birds and rodents from building nests in the gutters.
They eliminate the need to clean your gutters frequently.
Gutter guards prevent the build-up of stagnant water in your gutters, which could otherwise back up and overflow into your home or serve as a breeding ground for insects.
Your gutters will last longer, since they won't prematurely rust and rot from the moisture and debris sitting in them.
Gutter covers enable more efficient rain water harvesting by improving the flow of water and filtering out some contaminants.
You can even get heated gutter guards that will melt icicles, ice dams, and snow.
Here are 5 reasons to install leaf guards on your home.
CONS:
Gutter guard installation can be expensive. They can cost anywhere from $700 to several thousand dollars.
They are not 100% foolproof. Gutter covers still need occasional cleaning.
Exaggerated ice issues are common, since melting snow and ice build-up react differently with gutter guards.
Some gutter guard systems are practically ineffective, so you must shop carefully. Beware of the hype of high-pressure salespeople.
If you ever lean a ladder against your gutters (when cleaning them or hanging Christmas lights, for example), the gutter covers will become dented. This will lessen their effectiveness from that point forward.
The additional weight of gutter guards could cause your gutters to sag in the center.
If you happen to have a steep roof or valleys (where downward-sloping sections of roof meet and water runoff is heavy), the water can overshoot the gutter guard itself.
Tree seeds can get caught in the gutter guard slots and sprout, forming gutter trees — and some types of tree seeds grow rather quickly!
Here are 5 reasons to not install gutter guards.
Gutter Guard Reviews
For more information, check out these reviews of different gutter guards, covers, and screens:
And finally, some good advice to help you choose the best gutter guards for your home:
When shopping for a gutter guard, you should choose one with small holes in it that will still allow water to pass through while blocking the entrance of small debris. Look specifically for products made from vinyl with small diamond-shaped holes for the best results … Since a thorough cleaning will require removing the guards, you will want to choose hoods that are both easy to remove and easy to replace for the utmost efficacy. — Angi
I recommend that you look at the companies that have been carrying their gutter protection product the longest. Not just how long they have been in business, but how long they have been carrying the product. A 50-year old siding company might have just recently picked up the gutter protection product line, and have no track record as far as maintenance on that particular product. They can drop the product line the day after you purchased it, and force you to go to the manufacturer, and trust me you do not want to go that route. Stay away from those guys, unless of course you want to be their guinea pig. Another thing to be cautious of is the one-piece systems. They will charge you a price per foot for the entire gutter system which will include the downspouts which do not come protected. — homerepairexprt-ga
Systems that promise to keep your gutters leaf-free can easily cost thousands of dollars. But our 16 months of outdoor testing show that a low-priced screen may be all it takes to keep out leaves and other debris. We tested professionally installed and do-it-yourself products sold at Home Depot, Lowe's, and other major retailers to see how well they kept out maple leaves, pine needles, and other gutter-cloggers. — Consumer Reports
Like this post? Save it to read again later… or share with others on Pinterest!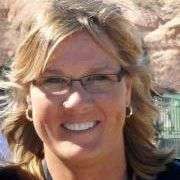 I like to help people find unique ways to do things that will save time & money — so I write about "outside the box" Household Tips and Life Hacks that most wouldn't think of. I'm super-organized. And I LOVE to clean! I even enjoy doing laundry (but not ironing). I'm also a lifelong dog owner — so I often share my favorite tips for living with dogs inside your home (like smart home design choices and dog-friendly cleaning & decorating ideas). Career-wise, I've been sharing my best ideas with others by blogging full-time since 1998 (the same year that Google started… and before the days of Facebook and YouTube). Prior to that, I worked in Higher Ed over 10 years before switching gears to pursue activities that I'm truly passionate about instead. For example, I've worked at a vet, in a photo lab, and at a zoo — to name a few. I enjoy the outdoors via bicycle, motorcycle, Jeep, or RV. When I'm not cleaning, organizing, decorating, or fixing something… you'll find me at the corner of Good News & Fun Times as publisher of The Fun Times Guide (32 fun & helpful websites). To date, I've personally written over 200 articles about cleaning, organization, DIY repairs, and household hacks on this site! A few have over 2M shares; many others have over 100K shares.