This post may contain affiliate links. If you buy thru these links, we may earn a commission at no additional cost to you.
---
Modern technology is a wonderful thing!
While we may not have mechanical maids tending to the dusting and delivering a tray of cool beverages to your recliner yet, the likes of Rosie the Robot (the maid on The Jetsons cartoon series) might be closer than you think!
All thanks to modern electronics and microchips.
Enter robotic vacuums like the popular iRobot Roomba and my personal favorite — the much more affordable iLife Robot Vacuum. I've had mine for awhile now. Actually, I have two — one upstairs and one downstairs!
UPDATE: Since I do a lot of research in order to stay on top of the best gadgets and tech for homeowners, I couldn't resist buying a WYZE robot vacuum recently — watch for my review coming soon. Hint: It blows all the others away (even the Roomba), and it's almost half the price!
These self-propelled vacuum cleaners keep your carpets clean without any real human input or physical exertion on your part.
But how well do they work???
Robotic vacuums are round disk-shaped vacuum cleaners that travel around your room with "bump and turn learning technology."
This allows your self-propelled vacuum cleaner to move around objects that it encounters along its journey — as seen in this video:
---
To activate a robot vacuum cleaner, you simply push a button (or use the remote control) and it takes off on its own. Cleaning your floors — both hardwood and carpet — can't get any easier than that!
How Well Do Robot Vacuums Clean?
You might be wondering… when a self-propelled machine like the iRobot Roomba or iLife Robot Vacuum is left to determine its own path, does it really manage to cover the whole room?
After all, what good is an autonomous device if it misses half the dirt, right?
The most interesting thing to me is the fact that robot vacuum cleaners don't seem to go in any meaningful pattern. As a result, it's easy to think it's probably missing spots.
However, as this video shows, robot vacuums are extremely effective at cleaning every square inch of the floor — in their own way:
---
It's rather impressive how a Roomba really does cover the whole area.
While the cleaning path appears quite random and a bit confusing to the human eye, the effectiveness of robotic vacuum cleaners is quite good. If left alone, they will thoroughly clean the top-most surface of your floor extremely well.
The only downside is the fact that they don't deep clean carpets very well. And that's why I still use my upright vacuum cleaner on occasion — although much less frequently than I used to!
You can see how well various brands of robot vacuums clean in this video:
---
How Do Robot Vacuum Cleaners Work With Stairs?
A robot vacuum cleaner uses many different sensors to determine when there is a change in the elevation of the space immediately in front of it.
So, for example, the robot vac may come to your stairs (or the edge of a workshop table) and appear as if it's going to go over the edge… but it will actually just "peek" over the edge, turn around, and then go a different way!
This video shows how a Roomba can sense things like rug tassels, stairs, and hardwood floors — and adjust accordingly:
---
We have mostly hardwood floors in our house and lots of large and small rugs of various thicknesses.
My robot vacuum cleaners are great at maneuvering over rugs of all shapes and sizes — with or without tassels!
On the other hand, if there happens to be a cord on the floor (either a large power cord like a lamp, or a small power cord like a phone charger), I have found that my iLife vacuums will sometimes go right over the cords without getting caught, tripped up, or tangled in the process. Other times, these vacuums will pause after a cord gets loosely entangled in the beater bar. The cord is never completely sucked up or destroyed — because the cleaning process is halted. (So you have to manually move the cord out of the way.)
Newer models don't have as much of an issue with cords.
RELATED: See How Robotic Vacuums Work – Inside & Out
How Well Do Robotic Vacuums Work With Pet Hair?
Difficult cleaning problems like dog hair and cat fur are not a problem for most robot vacuums.
Dog fur is definitely not a problem for the two iLife robot vacuum cleaners that I own!
Most pet owners say the same for the other robot vacuums — including most of the Roombas.
After dog owners tried some of the first robot vacuums and complained that the original models would sometimes gets stymied by dog fur, the most reliable brands immediately created pet series models that work even better on pet hair.
---
I would guess that pet series models are among the most popular — because they are specifically designed to whisk pet hair and dander away with ease.
Gone is the unsightly dog hair that coalesces into corner-amassing tumbleweeds without your daily, backbreaking ministrations. And as if cleanliness alone isn't enough — you now have a high-tech cat toy to spoil your felines with. I guarantee that any self-respecting, neat-freak pet lover will not look at you and wonder what possessed you to buy them… a vacuum cleaner.

— Dolittler
The Only Real Downside For Me…
Because of the way a robot vacuum cleaner navigates its way around the room, if you pick it up during its run, it will have to re-learn the room's layout after you return it to the floor.
This was part of my confusion with its cleaning path at first — it just seemed so random.
But there's good news for the future of robotic vacuum cleaning!…
Evolution Robotics, a supplier of technology to manufacturers, is working on a navigation system for robot vacuums that would allow them to read infrared light beams transmitted on the ceiling of a room from a transmitter plugged into an outlet.
That way, if you picked it up and took it to another room to clean the floors in there, it would immediately recognize where it is and know how to proceed.
Newer models have seriously improved on this issue.
Which Robot Vacuum Cleaner Is Best?
There are SO MANY different robot vacuum cleaners to choose from these days.
The various manufacturers keep one-upping themselves in an attempt to out-perform the latest and greatest model — while adding new features at the same time.
Some are designed to handle very specific cleaning problems — like wet-cleaning solid surface floors, or removing pet hair with ease, or tackling thick pile carpets.
Most can sense when their batteries are running low — so they will automatically return to their charging stations before continuing their cleaning mission. It's much like watching a dog going to its bowl to get a drink.
Most models also allow you to program them to run at any day or time you choose — when you're at work, for example.
You can also use Bluetooth, or call up your vacuum on the Internet and program it from anywhere in the world (…if you get the urge to vacuum your floors while you're on vacation).
One of the newest features is the robot vacuum's compatibility with AI services like Amazon Alexa and Google Assistant. This makes remote control features a breeze, no matter where you are.
You can compare all of the Roomba models here. And compare the various iLife models here. Yes, there are others — but I don't have any personal experience with other brands yet.
Of course, Dyson released a few early versions of robot vacuum cleaners, but they don't seem to get high reviews — perhaps because their price tag is so high (over $1,000).
---
The Bottom Line
The future certainly looks bright for robotic vacuum cleaners!
Since robots are getting more sophisticated every day, the list of features available in robotic vacuums continues to grow rapidly.
Basically, you can trust that the newest version of any brand will basically do it all for you quite well.
For what it's worth, they say that the effectiveness of a robotic vacuum cleaner is based largely on how frequently and how well you clean it.
In my opinion, cleaning robot vacuums is not an issue. I empty the dust bin and wipe the brush head and rollers after almost every use. It's much easier than cleaning an upright vacuum — for sure!
This video shows how to thoroughly clean an iRobot Roomba, step by step, in 10 minutes. (I can assure you, it doesn't take that long when you're doing it without being filmed.)
---
Like this post? Save it to read again later… or share with others on Pinterest!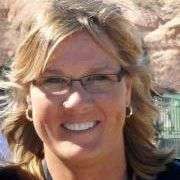 I like to help people find unique ways to do things that will save time & money — so I write about "outside the box" Household Tips and Life Hacks that most wouldn't think of. I'm super-organized. And I LOVE to clean! I even enjoy doing laundry (but not ironing). I'm also a lifelong dog owner — so I often share my favorite tips for living with dogs inside your home (like smart home design choices and dog-friendly cleaning & decorating ideas). Career-wise, I've been sharing my best ideas with others by blogging full-time since 1998 (the same year that Google started… and before the days of Facebook and YouTube). Prior to that, I worked in Higher Ed over 10 years before switching gears to pursue activities that I'm truly passionate about instead. For example, I've worked at a vet, in a photo lab, and at a zoo — to name a few. I enjoy the outdoors via bicycle, motorcycle, Jeep, or RV. When I'm not cleaning, organizing, decorating, or fixing something… you'll find me at the corner of Good News & Fun Times as publisher of The Fun Times Guide (32 fun & helpful websites). To date, I've personally written over 200 articles about cleaning, organization, DIY repairs, and household hacks on this site! A few have over 2M shares; many others have over 100K shares.