How do you store your Scrub Daddy sponge (and Scrub Mommy sponge)?
In the kitchen, I used to put it over the sink faucet handle.
In the shower, I used to put it over the shower faucet handle.
But if you don't have a handle that protrudes enough to slip the Scrub Daddy sponge over… or you'd rather have a real sponge holder for your Scrub Daddy and Scrub Mommy sponges, then what do you do?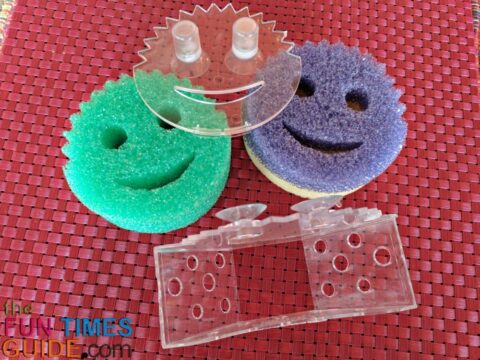 You use the official Scrub Daddy sponge holder!
There Are 2 Different Scrub Daddy Sponge Holders!
When I first voiced my interest in a Scrub Daddy sponge holder on social media (after many years of using Scrub Daddy sponges holder-less), the folks at Scrub Daddy kindly sent me 2 samples to try out.
They're called the Scrub Daddy Caddy and the Scrub Daddy Sponge Caddy.
And I have good news!… They will both be available in the Fall of '17.
Following is my review of Scrub Daddy's 2 smiley-faced sponge holders. But first, a summary:
Scrub Daddy's official sponge holders are a great way to keep your Scrub Daddy and Scrub Mommy sponges out of the way — but still close at hand in the kitchen sink, bathroom sink, and shower area. They also help the smiley face sponge air-dry even faster.
Both of these sponge holders could be used interchangeably in the bathroom and kitchen. Meaning… one isn't more kitchen-y or bathroom-y than the other one.
They're both made of lucite (clear plastic) — like many kitchen, bath & shower accessories are these days.
Both have 2 small suction cups on the back, so you can attach them to a smooth surface.
Due to their unique "smiley face" shape, both make fun gifts and accessories for loyal Scrub Daddy and Scrub Mommy sponge users like me.
#1 – My Review Of The Scrub Daddy Caddy
What makes this sponge holder unique is the fact that it's made uniquely for a Scrub Daddy sponge (or a Scrub Mommy sponge).
The 2 plastic "prongs" perfectly fit the eye holes in a Scrub Daddy or Scrub Mommy sponge — they're large enough to keep the sponge from slipping off, yet small enough that the holder doesn't fall down every time you remove the sponge to use it.
I keep this one in the shower. (I use a Scrub Mommy sponge to scrub and dry our glass shower doors.)
I like the Scrub Daddy Caddy because it's super small, lightweight, and doesn't have any crevices to accumulate soap and water gunk.
The only bummer is it won't suction to the granite tiles inside our shower — so I have to suction it to the chrome around the shower faucet instead. No biggie, but I was hoping to keep it a little more "out of the way" under our built-in tiled corner shower shelf.
#2 – My Review Of The Scrub Daddy Sponge Caddy
This one is more like a traditional lucite sponge holder, in that there are 4 sides that act as a "tray" or a "dish" to hold the sponge in place. However, there is no "bottom" — it's completely open below the sponge.
I like how the sides are shorter and slanted — which makes grabbing the sponge in a hurry quite easy to do.
While the back side is uniquely shaped like a smiley face Scrub Daddy sponge, this sponge caddy could clearly be used to hold any sponge (actually 2 sponges of regular size or 1 Scrub Daddy/Mommy sponge since it's so thick).
There are plenty of holes for air circulation and water drainage, plus 2 small suction cups on the back — so your sponge will get plenty of air and dry quickly in this type of sponge holder.
I keep this one in my kitchen sink. It suctions very securely to the sides of a stainless steel sink.
There aren't any downsides that I can foresee. At first I thought "the bottom part will accumulate a build-up of soap and hard water stains over time — just like my clear plastic shower caddy in the bathroom does"… but there is no bottom in this sponge holder! So that inconvenience is completely avoided.
If you like Scrub Daddy and Scrub Mommy sponges as much as I do, then you'll enjoy my list of 50+ Creative Ways To Use A Scrub Daddy Sponge!
I like to help people find unique ways to do things in order to save time & money — so I write about "outside the box" ideas that most wouldn't think of. As a lifelong dog owner, I often share my best tips for living with and training dogs. I worked in Higher Ed over 10 years before switching gears to pursue activities that I'm truly passionate about. I've worked at a vet, in a photo lab, and at a zoo — to name a few. I enjoy the outdoors via bicycle, motorcycle, Jeep, or RV. You can always find me at the corner of Good News & Fun Times as publisher of The Fun Times Guide (32 fun & helpful websites).
...