This post may contain affiliate links. If you buy thru these links, we may earn a commission at no additional cost to you.
---
Much like the Mr. Clean Magic Eraser's many uses, I've found a number unique uses for Scrub Daddy sponges as well.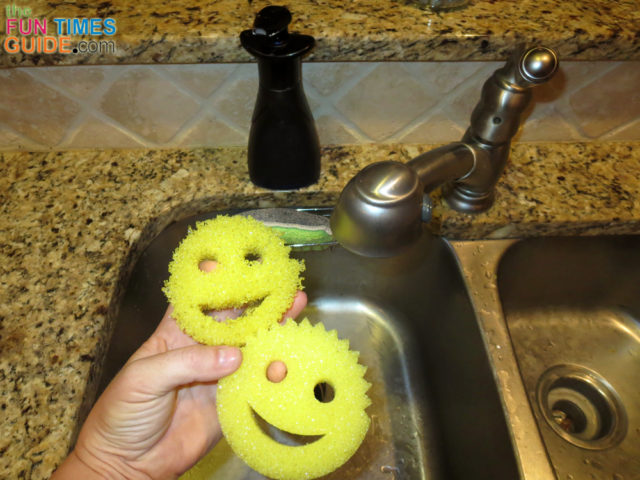 If you're not already familiar with the Scrub Daddy sponge, it's a popular kitchen scrubber that changes texture in hot water vs. cold water:
When it's super-cold or perfectly dry, it's a coarse and powerful heavy-duty scrubber.
When it's warm or hot, it's a soft and pliable light-duty scrubber.
The Scrub Daddy smiley face sponge adapts/converts to the perfect texture — either soft (hot) or hard (cold) — for a multitude of uses!
The material is rough and coarse. It's been lab tested on all kinds of surfaces, including glass, ceramics, plastic, stainless steel, non-stick cookware, all your appliances and countertops, and it won't scratch any surfaces. The material also rinses completely clean. When you use it and get all kinds of debris, like pasta sauce that's totally red, or you scrub some black stuff off the bottom of the pan, you just rinse it under warm water and everything rinses out of it. It's also dishwasher- and machine-washer safe. It always comes back bright yellow and clean. It's been lab tested for 2 months and showed no odors and no aesthetic changes to the product. Source
NOTE: There's now a Scrub Mommy sponge that is "rough" (like the Scrub Daddy sponge) on one side, and "soft" (like an absorbent sponge) on the other side. It's great! Here's my review of Scrub Mommy sponges.
Reasons I Love The Scrub Daddy Sponge
Here are some of the best things about Scrub Daddy sponges, in my opinion:
Each smiley face scrubber has lots of bumps and jagged edges. These work by getting into the deep nooks and crannies of your cleaning surfaces, especially corners.
Scrub Daddy sponges don't scratch any surfaces — whether they're used soft (hot) or hard (cold).
They can be squished to fit inside smaller items. The Scrub Daddy sponge's unique size and shape make it easier to scrub deep inside of things, compared to how difficult it can be to do so with traditional sponges.
The Scrub Daddy's unique shape and feel makes it easy to grab and use in a variety of ways. It's small enough that it fits in the palm of your hand comfortably. The overall texture makes it easy to grip and hang onto while you're cleaning. And you can use the "eyes" and "mouth" of this smiley face sponge as spots to place your fingers while scrubbing (or not).
Scrub Daddy sponges don't "hold onto" food particles the same way that regular sponges do — so they aren't as likely to absorb smells and stains. They rinse out super easily!
Since they air dry so quickly and food doesn't stick them, Scrub Daddy sponges remain 100% odor-free. I have yet to find ONE single person who says their Scrub Daddy started to smell bad.
TIP: Everyone's "cold" water is a different temperature. In my case, the cold water from our kitchen faucet doesn't get all that cold. It's actually lukewarm. So if I want a "hard" scrubber, I usually just use the Scrub Daddy when it's completely dry rather than trying to make it hard with cold water — because dry is harder than cold water wetted, in my case. A dry Scrub Daddy is usually hard enough — especially when it's still relatively new — and the scrubbing power is amazing! I suppose I could use a bowl of water filled with ice to make my Scrub Daddy cold AND wet, but a dry Scrub Daddy almost always works fine for me (even with a little bit of soap), and my hand doesn't get ice-cold from using it.
The Most Common Uses For Scrub Daddy Sponges
When the Scrub Daddy first went on sale (after Laurie Greneir made a deal on Shark Tank with the Scrub Daddy inventor, Aaron Krause) it was advertised with a number of clever uses in cleaning.
These are some of the most common Scrub Daddy uses:
Handwashing dishes – this smiley face scrubber is super handy for quickly washing dishes in the kitchen sink.
Getting into the crevices of sinks & bathtubs – I like how the jagged edges of the Scrub Daddy get into the corners and around the edges of the sink and bathtub. It works especially well on my stainless steel kitchen sink. I also like how the texture is perfect for removing body oils from the bathtub and toothpaste residue from the bathroom sink.
Cleaning grills & grill grates – I prefer to use a grill brush for everyday cleaning of the grill grates. But for one big grill cleaning session each year, I'd consider buying a new Scrub Daddy sponge just for the one-time use of thoroughly cleaning the grill.
Wiping a glasstop stove – works great with everyday cleaning of the stove (but not so great with older set-in stains). For example, once I had a boil-over and since the stovetop was too hot to clean, the mess remained there and dried onto the stovetop. The Scrub Daddy removed all evidence of spills and stains once the surface had cooled. But many (many!) people have not had good luck removing very old set-in stains from the stovetop and burners.
Cleaning pots & pans (even nonstick pans) – this is how I use the Scrub Daddy sponge most of all. Works great with greasy pans and cooked-on food — because it doesn't "hold on" to anything like food and grease.
Getting deep inside coffee pots and pitchers – I use a Scrub Daddy sponge inside my sweet tea pitcher all the time.
Reaching inside drinking cups and glasses of all shapes and sizes – one of my favorite uses for this smiley face scrubber, especially after making homemade smoothies because tiny blended chunks of fruit & veggies always stick to the sides of the drinking glasses.
Scrubbing all corners of muffin pans – I use silicone cupcake liners instead of cooking in the muffin pans themselves, but Scrub Daddy sponges are the perfect shape for cleaning these.
Cleaning silverware, spatulas, and other utensils – Scrub Daddy cleans both sides of the utensil at once using the "mouth" part. I use it mostly for cleaning spatulas — especially when removing cooked on egg after making scrambled eggs.
Shining car & motorcycle wheels – hubby uses Magic Erasers on the white wall tires and Scrub Daddy sponges on the rims.
Loosening sticky glue & adhesives – a Scrub Daddy sponge removes stickers and glue residue from glass and wood surfaces without scratching.
Removing soap scum in the shower – Scrub Daddy works AWESOME on built-up soap scum on our glass shower doors. I use it dry, with no cleaning solution and it takes no effort at all!
My Own Unique Uses For Scrub Daddy Sponges
Personally, I've been using Scrub Daddy sponges for the past several years — ever since they first became available after the Shark Tank episode. In addition to the above uses (most of which I've tried), I've also come up with a number of unique uses myself.
Here are a few of the ways that I use Scrub Daddy sponges:
Remove cooked-on food from the sides of a crock pot. Sometimes I use those slow cooker liners, sometimes I don't. When I don't, the smiley face sponge saves the day.
Clean the surfaces inside a washing machine. The rubbery surface around the washing tub acquires a build-up of soap and body oils over time. After I run the machine through its "clean washer" mode, I use a softened Scrub Daddy sponge to remove the grime that's left behind each time. If you have a front-loader, the same would apply to the rubber door seal. Ideally, you should clean your washing machine monthly.
Scrub all surfaces of a hot tub. We have a hot tub that we use a lot in the evenings. Every few months I use the Scrub Daddy to remove thin layers of grime (body oils) and algae whenever they begin to appear.
Clean refrigerator shelves. Not only does the Scrub Daddy sponge have the right amount of 'grip' to remove all of the old spills and crumbs that  accumulate over time, it really works like a charm in all of the nooks and crannies!
Remove body oils from jacuzzi tub jets. In our master bathroom, we have a whirlpool jetted bathtub. The Scrub Daddy works great at removing soap scum and body oils from around all of the whirlpool jets.
Scrub rubbery dog toys clean. This smiley face scrubber squishes perfectly to fit deep inside a Kong toy, and the jagged edges do an amazing job of removing icky dog treat clumps from the sides of the Kong. I also like how I can use a Scrub Daddy sponge to remove the dog drool and food crumbs from the rubbery bottom of our new favorite dog toy: the PAW5 dog treat bowl.
Put a Scrub Daddy sponge in the kitchen sink drain to prevent the skins of items that you're peeling (like potatoes, carrots, hard-boiled egg shells) from going down the drain — because there are many things that should never be tossed into the disposal.
Clean coffee mugs. A Scrub Daddy is especially handy when a coffee mug hasn't been rinsed out and the residue from hot chocolate or coffee has dried on the bottom, sides and rim of the mug.
Scrub gardening tools. I use a Scrub Daddy sponge to clean my small hand shovel, weed puller, and pruning sheers. I also use one randomly to clean garage shelving, buckets, and the outer parts of our riding lawn mower.
De-grease pots & pans with baked on food. Personally, I like having one single sponge (a Scrub Daddy) for all of the greasy items in the kitchen. That way, I don't cross-contaminate and use a grease-cleaning sponge on anything else in the kitchen, and it gets tossed into the dishwasher for a thorough de-greasing after each use. Yay, no more steel wool soap pads!
Scrub vegetables to remove pesticides and waxes prior to eating. I use the smiley face scrubber in this way mostly on apples & green peppers, as well as to clean potatoes before making baked potatoes.
Clean toilet seat hinges. Much like a Magic Eraser, the Scrub Daddy sponge is great for cleaning all surfaces of the toilet, especially around the odd-shaped hinges that tend to gather a lot of dust and moisture.
Remove dirt, dust, and grime from the grooves and ridges on cabinet doors without scratching. In the kitchen, the grime I found there was a combination of cooking grease and dust. A Scrub Daddy sponge removed it perfectly without damaging the wood.
Refresh outdoor furniture. I like using a Scrub Daddy sponge to clean the glasstop patio table and 2 smaller ceramic patio tables on our deck. It has just the right texture to clean (and remove pollen each spring!) without scrubbing the surface too much.
Clean dirty or greasy hands. A Scrub Daddy sponge adds the perfect amount of scouring (when combined with soap) to remove dirt and grease quickly — even auto grease.
Exfoliate elbows and heels before self-tanning. I've you've never exfoliated your skin in the shower before… you're missing out. Using a Scrub Daddy sponge to do it is similar to using a loofah glove. I've heard that some people even use the Scrub Daddy on their face (softened with hot water), but I think the facial area deserves much gentler exfoliation, so I use my Olay ProX Brush or Clarisonic instead.
Remove self-tanner when you've put too much in certain places — like toes, elbows, wrists, and fingers. Seriously, even the next day!
Scrub dog bowls clean. Almost daily, I add olive oil to my dog's kibble in his food bowl to moisturize his dry skin from the inside out. After a few days, there's a saucy residue that builds up in the bottom of the bowl. A Scrub Daddy sponge removes it quickly & easily without scratching my favorite dog bowls.
Remove fingerprints on stainless steel appliances. I've tried all of the best ways to clean stainless steel in the past. While I mostly use stainless steel spray cleaners and/or microfiber towels to remove fingerprints, a Scrub Daddy sponge works just as well.
Clean inside the microwave. A softened Scrub Daddy sponge works perfectly inside the microwave — especially in the corners!
Scrub food that's stuck on the kitchen countertop. The busy pattern of my granite countertop makes it difficult to see food particles and stains that get left behind. Days later, a Scrub Daddy "finds" them all!
Remove splatters on the kitchen backsplash near the stove and sink. Everything from spaghetti sauce to grease spots find their way on the backsplash, and it's usually not until they've been there for awhile that you notice 'em. A Scrub Daddy sponge has just the right texture to even remove stains that have been there for years!
Clean smaller grill grates that have less burned-on residue than a true fire grill does — like a George Foreman grill or a Nuwave oven. Personally, I think it takes way too much scrubbing and too many Scrub Daddies to effectively clean the larger gas and charcoal grill grates that have had a lot of use.
Dislodge food particles on oven racks & pizza pans — especially from my baking stone. I always place pizzas directly on the top shelf in my oven (without a pizza pan), then I slide the pizza onto a baking stone in order to slice & serve from. So my pizza pans and baking stones don't get that many "cooked on" food particles, but my oven racks sure do! The Scrub Daddy works like a charm because you can "grab" each individual metal grate.
Remove paint from your fingernails, hands, and other body parts. When we stained our deck this summer (barefoot and wearing shorts), my job was to paint the spindles and the railing. After hours of painting, my hands and fingernails were literally coated in dark brown paint — and it had hardened. I took a Scrub Daddy sponge into the shower with me, and with just a little scrubbing, all of the paint came off!
Remove food and spills from textured placemats. Our placemats have lots of ridges (highs and lows — like a weave pattern). The Scrub Daddy removes set-on food spills — even the ones that made their way into the tiny cracks and crevices between each row of my weaved-plastic placemats. And it doesn't scratch the surface.
Remove bird poop from the thick, textured fabric of outdoor patio chairs. This smiley face scrubber is great for textured surfaces that tend to hold onto things like dust, dirt… and bird poop!
Dislodge food particles from cutting boards. No matter how thick or thin the food pieces are (and how long you've waited to remove them from the cutting board), the Scrub Daddy sponge has just enough texture to "rough up" any food pieces that are stuck to the board — without damaging the surface of your cutting board.
Shine bathroom and kitchen fixtures. I use an almost-dry Scrub Daddy smiley face sponge on both chrome and oil rubbed bronze fixtures. It makes them shine like new.
Others' Unusual Uses For Scrub Daddy Sponges
Recently, I've noticed others talking about even more unique uses for Scrub Daddy sponges:
Cellulite remover (Yep, on the Doctors TV show they recommended using a Scrub Daddy in the shower to remove cellulite!)
Tile and grout
Fireplace bricks
Inside glass of oven door
Vegetable peeler (Personally, I use Scrub Daddy sponges to CLEAN fresh vegetables and potatoes, but I don't have the patience to remove all of the skin and literally PEEL vegetables.)
Tree sap
Metal marks on painted walls
Windows
Scuff marks on the floor
Fish tank
Birdbath
Foot pumice for calluses and rough spots (Much like the potato peeler example above, I can't imagine the Scrub Daddy could possibly get hard enough to work as well as a true pumice stone for serious calluses. Plus, your hand and your foot would become uncomfortably cold since ice water would be required to make it firm. I'm sticking to the purple pumice that I've been using for years.)
Bugs on the front of your car
Wallpaper glue residue
Dog bath sponge
Cast iron skillets
Car & motorcycle tailpipes
Blenders and juicers
Tennis shoes
Swingsets
Flower pots
How To Make A Scrub Daddy Sponge Last Longer
Before the Scrub Mommy sponge came around, I used these other sponges for all of my daily dishwashing, countertop wiping, and everyday use in the kitchen. But now, the Scrub Mommy smiley face sponge has replaced those!
I usually reach for a Scrub Daddy whenever I've got something that needs lots of scrubbing (usually greasy, crusty pots & pans). I almost always use a pump or two from my DIY foaming Dawn dishwashing soap dispenser when I'm scrubbing pots & pans. Water alone doesn't "clean" those.
Each time after I use it, if there's no greasy spots remaining in the sponge then I hang the "mouth" part of the smiley face scrubber over my kitchen faucet handle.
Anytime I use it and can't rinse out the grease & grime, then I toss it in the dishwasher for a thorough, sanitized cleaning. (Because the dishwasher is the most effective way to remove germs from sponges.)
TIP: Initially, I thought I'd toss my Scrub Daddy sponge in the dishwasher after every use, but I can tell the fibers become a little weaker each time I take it out of the dishwasher. So now I only resort to the dishwasher when it's greasy.
When a Scrub Daddy sponge gets really old, thin, and stretched out, I use use it one last time to thoroughly clean my stainless steel kitchen sink prior to moving it to a bucket in the garage for outdoor use — garden tools, lawnmower, garage shelving, etc. I heard one person say they toss their old Scrub Daddy sponges into plant dirt for an aerating effect and good drainage.
I have a Scrub Daddy smiley face sponge in these 3 places at all times:
In the kitchen utensil drawer (for scrubbing vegetables)
On the kitchen faucet (for daily scrubbing of pots & pans)
In the bathroom shower (for scrubbing the glass shower doors, sinks, and tub)
Since I primarily use the Scrub Daddy to scrub pots & pans as needed, it doesn't get nearly as much use as my daily kitchen sponges do (which are now Scrub Mommy sponges). For me, each Scrub Daddy sponge lasts about 6 months. Seriously. The above photo is proof. However, most people haven't had as much luck as me. I'd say the #1 complaint about Scrub Daddy sponges is that they start to disintegrate and break apart when used a lot.
TIP: To prevent the Scrub Daddy "mouth" part from stretching out and breaking off (never happened to me, but I've heard it happens to others), try to use the "head" part of the sponge for most of your cleaning. Use the "mouth" part only for special cleaning purposes — like silverware and utensils. The more that thin part of the sponge gets used, the more it will get stretched out and become flimsy… or break off. Just my 2 cents.
These days, I always keep a supply of Mr Clean Magic Erasers and Scrub Daddy sponges in my cleaning arsenal. With these 2 items, I can clean just about everything in my house!
UPDATE:  Now you can store your Scrub Daddy and Scrub Mommy sponges in a smiley-faced sponge holder called a Scrub Daddy Caddy!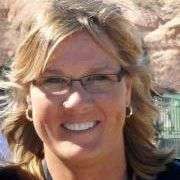 I like to help people find unique ways to do things that will save time & money — so I write about "outside the box" Household Tips and Life Hacks that most wouldn't think of. I'm super-organized. And I LOVE to clean! I even enjoy doing laundry (but not ironing). I'm also a lifelong dog owner — so I often share my favorite tips for living with dogs inside your home (like smart home design choices and dog-friendly cleaning & decorating ideas). Career-wise, I've been sharing my best ideas with others by blogging full-time since 1998 (the same year that Google started… and before the days of Facebook and YouTube). Prior to that, I worked in Higher Ed over 10 years before switching gears to pursue activities that I'm truly passionate about instead. For example, I've worked at a vet, in a photo lab, and at a zoo — to name a few. I enjoy the outdoors via bicycle, motorcycle, Jeep, or RV. When I'm not cleaning, organizing, decorating, or fixing something… you'll find me at the corner of Good News & Fun Times as publisher of The Fun Times Guide (32 fun & helpful websites). To date, I've personally written over 200 articles about cleaning, organization, DIY repairs, and household hacks on this site! A few have over 2M shares; many others have over 100K shares.