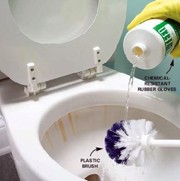 My recent purchase of 3 new toilet seats for our 3 old toilets has led me to now seek out "the perfect" toilet cleaning products.
I'd like to keep these sparkling white toilet seating looking fresh & new for longer than 5-1/2 years this time!
I've found a few interesting things (and one really cool thing!)… but others' opinions on this topic would also be welcomed.
photo via Family Handyman
There are two main things that are important here:
#1 How to keep your toilets clean; and
#2 Which products to use for cleaning toilets.
How To Clean A Toilet
Personally, I don't feel like most of us need too much instruction on how to clean a toilet.
But believe it or not, there's plenty of info about it on the Net. Much more than on how to buy a toilet seat (…which amazes me).
Need some basic tips? Try these on for size:
Which Products To Use For Cleaning Toilets
Okay, here's where it gets good.
The biggest reason we had to ditch our old toilet seats after only 5-1/2 years was the fact that they were stained blue from all the cleaners we've used on them through the years.
And there were actually parts of the seats that were worn down to the bare (brown) wood. And while Jim usually has "toilet cleaning duty", I'm pretty sure he's not an avid scrubber.
I think that's part of the problem, too. To alleviate the need to scrub, we might leave the products on (the bowl or the seat) a few minutes in order to "loosen up the stains". And the fact of the matter is, the cleaning products were sometimes left on for hours (…as in: oops, we forgot we were in "soaking" mode).
The worst part is: Those darned BLUE cleaners!
Up til now, we haven't really found "the best" toilet cleaner, so we've pretty much just been buying whatever is on sale. You hope it's not another blue one… but you never really know until you get it home and try it.
Fast-forward through all the products we've tried and now we've finally found one we love!
Don Aslett's Toilet Cleaning System
It's hard to find. I've only seen it on QVC. It's Don Aslett's Safety Foam Toilet Cleaner.
It happens to be a light green in color and it seems to be non-staining. I've watched it demo'd on QVC for year, and with the new toilet seats, I finally decided now is the time to splurge and get a product that's got a good track record. I like it because it smells great. And it only takes a little bit… it's highly concentrated.
I couldn't be happier with this product.
But that's not the best part!…
The Best Toilet Brush On Earth
The absolute best part about the Don Aslett toilet cleaning products is their unique "bowl swab". That, combined with their whole little "set" (consisting of the cleaner, a bowl swab, a pumice stone, and a swab-holder) makes Don Aslett's the perfect toilet cleaning products around.
In case you're wondering, yes you can find just the bowl swab elsewhere online. It's really inexpensive too. But I've been wanting to try Don Aslett's complete set for so long that now seemed like the perfect time to just order the whole complete set.
Plus, while Aslett's bowl swab (they call it a Johnny Mop) appears to be made better (and bigger) than most of the others found online, if I ever wanted to buy some replacement (non-Don Aslett) swabs later, I certainly could. And now I'll have a way to store it all together — thanks to Aslett's little "toilet bowl caddy".
I'm not the only one who thinks the bowl swab is the best invention ever!
My "Think Outside The Box" Method
On a related note, we gave up the traditional bowl brush years ago.
A friend of ours used to work for a commercial cleaning products distributor. She sent us a few of her favorite products to try out. One was this revolutionary (at the time) "toilet bowl swab". She sent us 3 — one for each bathroom. And I am so thankful she did. We love these things!
The only downside, was there was no way to wring out the excess water from the swab alone. So I made my own. Back in 2002 when I first saw the Don Aslett toilet cleaning products being demonstrated on TV, I realized that I could take a simple (thick & pliable) plastic cup… cut a small hole in the bottom (just enough to fit the wand through)… and then squeeze the cup itself (with the swab inside) to wring out the water!
Worked like a charm. They've lasted a long time. And, believe it or not, bowl swabs don't get nearly as gunky and stained and icky looking as traditional toilet brushes do.
I'll never go back to a toilet brush.
But wait, it gets better!…
A Few Questions I Have About Cleaning Toilets
Regarding the care and cleaning of toilet seats, Kohler says "avoid using aerosol products." What's that all about? They're harsher I guess. But I'm wondering if there's more to it.
Kohler also says, "painted wood seats require special care and cleaning. Use only mild detergent (such as dish washing soap)." I would agree with this. In fact, I'm thinking regular dish soap would probably work just as well as anything else on the planet.
And finally… has anyone ever tried using vinegar to clean toilets?
Okay, Now For Some Funny Toilet Stuff…
Who knew there was a Toilet Seat Art Museum?
News Flash: Toilet seats aren't that dirty!
A toilet so clean you could eat it… Cake Toilets!
Toilet paper: Over or under?
Bathroom Secrets: Do you snoop in others' medicine cabinets?
Check out this annual contest: toilet paper wedding dresses.