This post may contain affiliate links. If you buy thru these links, we may earn a commission at no additional cost to you.
---
Guaranteed, there's been one in your life at some point in time. You may have sworn at it once or twice as you lost your balance and dumped your load at the worst possible moment, but nonetheless, that trusty 'ol wheelbarrow has been the mainstay of many household projects.
Since there are always inventors who are looking to build a better mousetrap, the wheelbarrow has been improved upon in many ways. There are many variations of wheelbarrows these days.
They're not just for construction sites and backyard projects anymore. No way, garden wheelbarrows aren't what they used to be!
Modifications have been made to make the wheelbarrow even more versatile and user-friendly than ever before. For example, some features increase the weight capacity while others improve the stability and maneuverability of the traditional one-wheeled wheelbarrow.
Following are some unique wheelbarrows that are worth considering, as well as creative uses for the wheelbarrow you have now…

Unique Wheelbarrows
Here are a few unique models of wheelbarrows. Each provides improvements or addresses a special purpose:
Fitting the bill for "the wheelbarrow of the future," the NuBarro makes use of a round ball in place of a wheel. This design is intended to improve maneuverability and also increase flotation when working on soft soil. (Does the Dyson vacuum cleaner with roller ball technology immediately come to mind?)
If storage space is an issue and you only need a lightweight wheelbarrow, these folding wheelbarrows might be a good choice. Some are made of a thick, durable fabric. Others are durable plastic. They all save space and get the job done. Plus, if you're backpacking into a secluded camping area, you could even take one of these along to help carry the load!
For the big yard cleaning project, these Smart Cart wheelbarrows are just the ticket. With large wheels they roll much easier. And the capacity is much larger than your standard wheelbarrow.
Of course there is the mantra of Home Improvement comedian Tim Allen, "More power always makes it better!" Heavy-duty self-propelled 4-wheel wheelbarrows can tackle even the most challenging projects.
For example, they're great for carrying wet concrete from the mixer truck to the work site and crossing over difficult terrain. The ability to carry heavy loads without strain makes it possible to finish the job sooner, while hauling a tremendous amount of material in a short period of time.
Some of the more popular motorized wheelbarrows include:
Here are videos showing Muck Truck motorized wheelbarrows in use:
Jeep Wheelbarrows
The Jeep logo can be found on everything from baby strollers to bicycles these days. If you buy a Jeep product, you can bet it's going to be more durable and longer-lasting than most other similar products on the market. It's just the Jeep way. Their specialty is making things "trail ready."
When it comes to wheelbarrows, Jeep has a few different models that bring some wow and durability to outdoor tools.
One Jeep wheelbarrow has a hand brake that acts just like a disc brake on your car to control your speed and stopping ability.
Jeep has a few different wheelbarrows that are great for keeping large, heavy loads stable.
Jeep also puts the front wheel farther back and closer to the center of the wheelbarrow itself for greater stability than other 1-wheel models.
Wheelbarrow Accessories
There are also tons of unique wheelbarrow accessories — all aimed at making your wheelbarrow more versatile.
One of the best is the wheelbarrow screener. Screening black dirt for your garden is a snap with one of these handy devices!
See how to make a wheelbarrow tarp to keep leaves and other loose material from blowing out of your wheelbarrow.
If you want to be able to carry even more in your wheelbarrow, you could build a wheelbarrow shelf so you can carry extra items with each load.
If you're tired of finding the wheel of your wheelbarrow flat (which usually happens right after you loaded the tub), you can replace the standard wheelbarrow tire with a flatproof, flat free wheelbarrow tire. Never again will you be interrupted by a tire that won't support the load!
Unique Ways To Store Wheelbarrows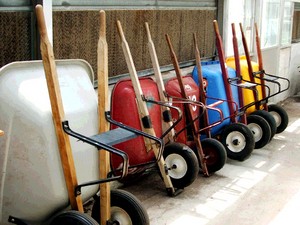 Due to its bulkiness, finding the space to store your wheelbarrow when not in use can sometimes be an issue. As we all know, any time that you can save floor space in your garage, it's a good thing!
Here are some fun ways to hang your wheelbarrow:
The Handy Hooker Wheelbarrow Hanger lets you hang your wheelbarrow on the wall, so it takes up much less space in the garage.
The Crawford Wheelbarrow Holder is a set of brackets that fasten to the wall, allowing you to tip up the wheelbarrow and snap it in place on the wall.
With the Heavy Duty Wheelbarrow Hanger, you can even hang your wheelbarrow from the rafters getting it completely out of the way. A simple rope through a pulley hooked to the bracket will allow you to winch your wheelbarrow as high as you like.
Here's a quick homemade wheelbarrow storage solution that you can make yourself, plus tips for hanging your wheelbarrow on the wall.
Creative Uses For Your Wheelbarrow
You can use a fully functional wheelbarrow to:
Display things in wheelbarrows (like when you're hosting a yard sale).
Carry all the pumpkins you find at the pumpkin patch next Halloween.
Hold leaves that you rake from the yard each fall.
Collect recyclables for easy transport into containers.
Carry pavers to place in your lawn or garden area.
Sit in… yes, even adults can turn a wheelbarrow into a chair!
Display your wares, in place of a more expensive vendor cart.
Transport mulch from one end of the yard to another.
Photograph your kids having fun and being creative.
Haul dirt, rocks, grass, and other yard debris away.
Carry vegetables to the garden for replanting.
Transport your children from one place to another.
Serve as a rack to hold outdoor items.
Transport your dogs from one place to another.
Haul construction things to the job site.
Uses For Old Wheelbarrows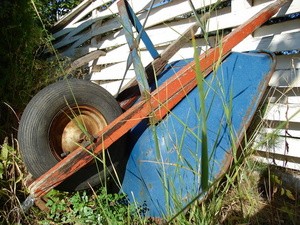 When it's time to retire your old wheelbarrow, after it's seen its last days as a functional tool around the house, you can put it out to pasture in the following ways:
Bathe your dog in an old wheelbarrow.
Simply fill it with potting soil and plant some flowers or vegetables, and you have a portable garden! Not only will it make a nice statement in your yard, but you can also move it around to take maximum benefit of the sun.
Turn an old wheelbarrow into a fire pit!
Re-purpose an old plastic wheelbarrow as a bike seat or cart hauler.
Here are some more creative ways to use an old wheelbarrow.
See how to find a new job for a old wheelbarrow.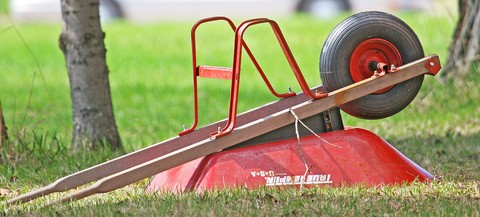 More About Garden Wheelbarrows
I've been involved in RVing for 50 years now — including camping, building, repairing, and even selling RVs. I've owned, used, and repaired almost every class and style of RV ever made. I do all of my own repair work. My other interests include cooking, living with an aging dog, and dealing with diabetic issues. If you can combine a grease monkey with a computer geek, throw in a touch of information nut and organization freak, combined with a little bit of storyteller, you've got a good idea of who I am.