This post may contain affiliate links. If you buy thru these links, we may earn a commission at no additional cost to you.
---
Who knew, that I'd first hear about Mr. Clean Magic Erasers at a conference about blogging?
It's true. When Glenn Reynolds (a.k.a. "The Instapundit" and godfather of the blogging world) mentioned in passing how much he liked this handy household gadget called the Magic Eraser, I knew it must be great. And when he commented on its ability to work on a wide variety of surfaces, rather than just those stated on the box, I knew this product would be right up my alley.
I'm not kidding when I say that Magic Erasers truly work miracles — and they're only about a buck apiece! (You can actually buy them in bulk for less than $10!)
These foam-like sponges are extremely lightweight and resemble pieces of styrofoam.
They're made of a porous melamine material that gets into hard-to-clean surfaces and tiny grooves — like magic!
All it takes is a dab of water to moisten the Magic Eraser. No other cleaning chemicals needed …and no elbow grease.
Must read: Do Generic Melamine Sponges Work As Well As Mr. Clean Magic Erasers?
My Favorite Uses For Mr. Clean Magic Erasers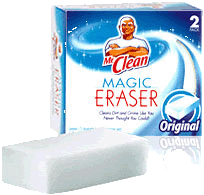 The very first time I tried a Mr. Clean Magic Eraser, I was SHOCKED. It worked so well — but what really sold me was its ability to clean the slightly rough, textured surfaces that the handles of kitchen appliances are made of.
After a few minutes of wiping down our appliances, light switches, and cupboards (also lightly textured), I decided to go all around the house looking for stuff to clean.
These little sponges are great at getting into the tiny cracks & crevices of virtually any surface!
My other favorite uses for a Magic Eraser
In addition to the ideas I've mentioned above, these are some of the other ways I have personally found to use a Magic Eraser around the house:

Cleaning a white phone charger cord (yep, that cord starts looking gray after awhile!)
 Removing soap scum and gunk from around the bathroom faucets
 Cleaning inside the refrigerator (all shelves, including in-the-door shelving)
 Removing scuff marks from floors, doors, and baseboards (…not only scuff marks, but also years of black grime & built-up hairspray on white baseboards in the bathrooms & door panels of cabinets/doors)
 Dusting the top, flat surfaces on wainscoting trim throughout the house

Removing dirt and stains from plastic trash cans
 Cleaning the nooks & crannies around and under the washing machine lid
 Making tennis shoes look like new again
 Removing stains on the underside of the toilet seat and around the toilet seat hinges
 Cleaning white grout effortlessly

Removing soap scum in the tub and shower
Cleaning plastic coolers inside and out (…even dirty grimy ones used by men with greasy hands!)
Removing marks on walls 
Cleaning & shining things up before you sell them in a yard sale
Removing set-in stains inside glass and plastic pitchers

Cleaning the plastic agitator and rubbery pieces inside your washing machine 
Removing hair dye from countertops & floors
Cleaning non-skid surfaces with tiny grooves (bathtub floors, refrigerator handles, pool steps, cooler lids)
 Removing set-in tea stains in the Mr. Coffee Instant Tea Maker (both, the pitcher and the tea holder) or any plastic pitcher
 Cleaning the textured plastic parts of the computer monitor, keyboard, and mouse

Removing set-in stains from drink coasters (…even those ceramic ones)
 Cleaning in the tiny nooks & crannies of the can opener
 Removing muddy dog "splashes" on wainscoting after the dogs shook their wet fur
 Removing coffee & tea stains that remain inside a mug, carafe, thermos even after washing
…But wait, there's more!
Following are dozens of creative uses for Mr. Clean Magic Erasers — from others who've used them.
In general, magic erasers can "remove" or "clean" virtually anything! (For the record, that Magic Erasers warning that's floating around stating they're dangerous is a hoax.)
 Here's what Magic Erasers are made of and how a melamine sponge really works.
Now, onto all the miracles of Mr. Clean Magic Erasers…
If you're enjoying the clever tips & tricks found here, it would mean the world to me if you'd share with others on Pinterest:
Other Things Mr. Clean Magic Erasers Can Do
remove dried paint from door hinges
remove tarnish from silver
remove mold & mildew from anything plastic
clean & polish gold jewelry
clean splatters inside the microwave
remove marks on vinyl siding
clean mirrors in the bathroom (keeps shower mirrors from fogging)
remove adhesive residue after removing stickers
remove waterline mark around the pool
clean light-colored suede
remove black scuff marks from baseboards (where the vacuum cleaner hits)
clean the outdoor side of window sills stained from leaves, dust and dirt
remove rust spots & stains on countertop
remove cooked-on stains in pots and pans
remove soot off the walls near the fireplace
clean within the grooves of lawn ornaments
clean sticky/dusty range hood over the stove
remove nail polish spills or stains
clean airbake cookie sheets & bakeware (the kind with all those tiny grooves)
clean oven shelves & the grates on the grill
remove wet nose marks from pets on the windows (even car windows)
remove toothpaste splashes from bathroom mirrors
remove melted plastic on the side of the toaster oven
remove grimey green algae from cement (bird baths, steps, ponds, etc)
clean stained elbows from dirty work
remove green mildew from siding and gutters
remove paint spills & oversprays
remove toilet bowl rings (cut a piece off & let it set in your toilet overnight; don't flush it; doesn't always work)
remove built-up algae, water deposits, etc from ceramic flower pots
clean dish drainers that are gunked with lime and build-up
remove bird poop from concrete bird bath
clean window screens (even when they are still in the window)
remove built-up baked on grease inside the deep fryer
clean inside the crock pot
remove melted plastic on a glass top stove
clean swimming pool steps
remove baked on brown spots on cookware
clean antiques & collectibles
clean boat & outdoor furniture upholstery
clean vinyl striping on motorhomes, vans, boats
clean car tires, including white walls
remove pet & child vomit from carpet or clothing
remove scuff marks on motorcycle & ATV helmets
remove grass stains from shoes after mowing the lawn
remove scuff marks from hangers/shoes in the walk-in closet
clean oven door


Cleaning

textured handles

on major appliances (dishwasher, refrigerator, stove)

remove pollen from patio furniture, cars, etc.
remove hairspray build-up on countertops and vanities
remove soap scum inside porcelain & utility sinks
clean stained caulking along the kitchen sink & countertop
clean your bicycle, even the tires & rims
remove mildew from tents, vinyl canopies, awnings, fiberglass items
remove paint overspray that has dried

clean pebbled surfaces like the outside of

plastic coolers
remove shoe marks from the kickplate of house doors & car doors
clean inside your car (along the handles, window ledge, arm rests, dashboard)
remove scuff marks and dirt from linoleum floors
remove stains on leather seats, purses, chairs, etc.
remove food stains inside plastic food containers
remove brake dust from tire rims
remove dirt and grime on a vinyl convertible top
remove nail polish from walls, carpets, wooden objects, plastic
remove soil or scuff marks from ceramic tile flooring
clean & shine bathroom faucets & fixtures
remove magic marker, permanent marker, and ballpoint ink from virtually any surface
remove fingerprints and dirt on light-colored kitchen cupboards
remove crayon marks from walls
remove dark paint on light-colored carpet
clean soap scum and oils from hot tub
clean a car's vinyl interior (gets into the tiny crinkles in the vinyl armrest, etc.)
clean white porch railings, columns & pillars
remove bugs from car windshield, grille, and bumper
remove paint scratches on your car from minor fender benders
remove rust and corrosion that's built-up on the outside of pipes (kitchen/bathroom)
remove built-up grime on the car steering wheel
remove finger prints & build-up on the keyboard and mouse
remove oxidized paint from an old car
remove built-up gunk from vinyl seats
remove tar from your car's paint
remove scuff marks from the back of car seats (from kids' shoes)
remove dirt and grime from athletic shoes and shoes with leather uppers
remove fingerprint & handprints from light-colored doors & walls
remove scuff marks from your patio furniture

remove built up dirt & grime from RV awnings and door frames
But wait, there's even more! I keep finding more and more ways to use Magic Erasers around my house. Here are some very unique uses for Magic Erasers that I've personally tried!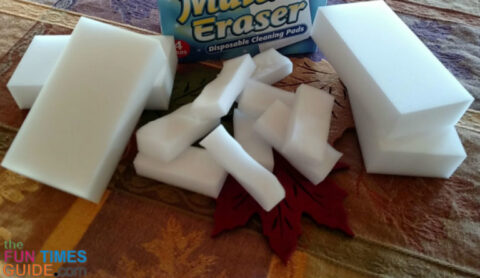 My Best Tip: How To Get The Most Out Of Magic Eraser Blocks
The only downside to Mr. Clean Magic Eraser blocks is that they don't last long. But that's a testament to their cleaning power — their tiny pores get filled with all the gunk that's hiding in small spaces.
To get more life out of your Magic Erasers, try this:
1. Cut each Magic Eraser into 8 or 9 equal-sized pieces — across the shortest width of the eraser, rather than lengthwise. This way, you get 8 to 9 times the amount of cleaning out of 1 single block!
2. Lightly mist 1 small piece of the cleaning block with water (using a spray bottle or the kitchen sink sprayer) rather than saturating it with water (which causes it to shrivel up more).
3. Scrub lightly with the Magic Eraser, then wipe the area with a wet towel to avoid smearing the dirt & grime and remove any residue.
4. When your tiny cleaning block starts to get yucky (after cleaning a few different items), simply spray rinse it again to revive it a bit. Squeeze the excess water out, and continue using it until it physically starts to shred apart.

Like this post? Save it to read again later… or share with others on Pinterest!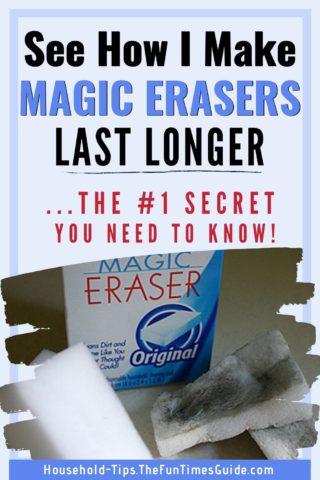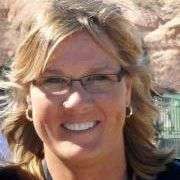 I like to help people find unique ways to do things that will save time & money — so I write about "outside the box" Household Tips and Life Hacks that most wouldn't think of. I'm super-organized. And I LOVE to clean! I even enjoy doing laundry (but not ironing). I'm also a lifelong dog owner — so I often share my favorite tips for living with dogs inside your home (like smart home design choices and dog-friendly cleaning & decorating ideas). Career-wise, I've been sharing my best ideas with others by blogging full-time since 1998 (the same year that Google started… and before the days of Facebook and YouTube). Prior to that, I worked in Higher Ed over 10 years before switching gears to pursue activities that I'm truly passionate about instead. For example, I've worked at a vet, in a photo lab, and at a zoo — to name a few. I enjoy the outdoors via bicycle, motorcycle, Jeep, or RV. When I'm not cleaning, organizing, decorating, or fixing something… you'll find me at the corner of Good News & Fun Times as publisher of The Fun Times Guide (32 fun & helpful websites). To date, I've personally written over 200 articles about cleaning, organization, DIY repairs, and household hacks on this site! A few have over 2M shares; many others have over 100K shares.