This post may contain affiliate links. If you buy thru these links, we may earn a commission at no additional cost to you.
---
We're going to talk about 2 types of yard sale signs today.
In addition to neighborhood and directional signs which tell people how to find your yard sale, you'll also want to hang a number of signs on-site at the yard sale itself to make it easier for people to find the prices and locate similar items by "theme".
You can jump directly to the tips for each type of sign:
#1 – NEIGHBORHOOD & ROAD SIGNS:
Do You Need Signs Throughout The Neighborhood?
Yes! Directional signs through the neighborhood will show people how to find your yard sale — whether they first saw your ad or not.
Post your signs leading up to your house the night before the sale.
Then, the morning of the sale, check to make sure the signs are still there and add some balloons or streamers at this time. (You'll want to take the necessities with you, in case you need to post another sign: staple gun, paper/posterboard, markers, printed sign info, tape, etc.)
Be sure to make a mental note of all the places you've posted signs so you can take them all down after the sale. Leaving garage sale signs up after the sale is tacky and junks up your neighborhood. Plus, the signs tend to shrivel up and fall to the ground anyway. And you don't want to litter!
After your sale is over, TAKE YOUR SIGNS DOWN or else the Yardsale Gods will be mad and cause a thunderstorm for your next yardsale. —The Yard Sale Queen
Before You Hang Signs In The Neighborhood & On Nearby Roads
Keep in mind, some areas (like where I live in Franklin, Tennessee) have ordinances regarding garage sale dates, times, and places.
Some also have restrictions regarding the placement of signs, so be sure to check with local officials in your area first.
For, example, I had to pay a $5 fee to the City of Franklin in order to obtain a yard sale permit. There are some unique privileges & penalties too.
So before you go gangbusters creating some yard sale signs, be sure to check your local ordinances.
Some of the places you'll want to hang your signs include:
local grocery stores
at your church
community centers
gyms & workout rooms
nearby parks
at your child's school
on other "local news" boards
Be sure to look for other areas within your own neighborhood to get the word out about your yard sale. For example, at our community swimming pool, there's an "info board" for people to post notices.
What To Include On Your Yard Sale Signs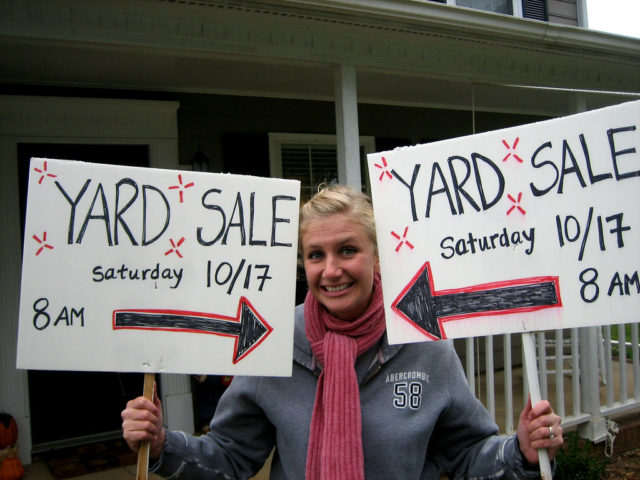 The most important information you need to include on your sign:
The word "SALE" ("Garage sale" and "Yard sale" are used interchangeably)
Street address (or intersection)
Days & times (optional)
Tip: In my experience, "MOVING SALE" has always attracted more people than "GARAGE SALE". (This is true when writing classified ads, as well as yard sale signs.) I think it's because when people see that you're moving, they know that you will be selling more "large" items, and that you'll also be desperate to get rid of things at rock-bottom prices. Shoppers (including myself) generally prefer moving sales to yard sales. (Of course, if you're not moving, you shouldn't be deceitful.)
Additionally, you may want to add an arrow pointing toward the direction of your home. Ideally, you would make the arrows separately so they can be applied to the bottom of your informational signs, as they are being put up.
Use paper grocery bags to draw your signs on then fill the bottom with heavy rocks, stuff with newspaper and staple shut. Ta da! – easy, portable signs that you can just place on the ground. If you use crayon to make your signs, the lettering won't run if it gets wet. I use a permanent marker and make the lettering extra extra wide. The yardsale signs that look like they were written with a ballpoint pen drive me nuts! — The Yard Sale Queen
Remember, you want your sign to be readable from a long distance away, so use very thick lettering and as few words as possible. Also, the larger your sign is, the better. Posterboard size is best. On most roadways, people are traveling too fast to be able to read whatever is printed on a standard 8-1/2″ x 11″ piece of paper.
Tip: No matter the size of your paper or board, try to leave some white space, and only include the "bare necessities" — those few lines of text listed above. Too much information becomes difficult to read.
You could also tape colorful posterboard-sized paper (with the details of your sale) to each side of a cardboard box. This sort of 3-D sign attracts a lot of attention!
Another sign suggestion: Buy the cheap wire landscaping fencing (I often see it for sale at yardsales!), cut sections apart, draw your sign on a paper bag. Put the paper bag over the fence and staple the bag closed at bottom. — The Yard Sale Queen
The best colors for yard sale signs are: neon orange and neon green. Why? Because these are bright enough to be seen from a distance away. Brightly colored backdrops like that attract a lot of attention and are highly recommended.
More great tips for making yard sale signs.
Free Tools For Making Your Own Yard Sale Signs
If you're planning on making the signs yourself, then you might consider using these FREE online tools to print your own yard sale signs (with or without arrows):
One thing I like to do is to reuse old election signs and other for-sale-by-owner signs that you or your neighbors might have placed in the yard recently. They're great because they have the metal step stakes already attached — so they won't whither away or become unreadable on windy days. (You can also buy the signs and metal stakes as a set.)
You can either cover the old signs with posterboard that you write your yard sale details onto. Or re-paint the background a solid color (like a bright neon green!) and write your yard sale message on that. The best part: you can re-paint or re-cover them to reuse these signs year after year… yard sale after yard sale!
TIP: Cover your yard sale signs with thin plastic bags (like drycleaner bags) to make them weatherproof, or run strips of wide clear packing tape over the sign so your inked message won't smear if it rains.
Where To Order Unique Yard Sale Signs
Sometimes it makes more sense to buy yard sale signs instead. Here's why:
They're larger than most signs you could possibly print at home.
They're much more durable and sturdy, therefore, they're likely to be seen by more people.
They're usually weatherproof (rainproof) and wind-resistant.
They'll last for years — so you can use them for more than one yard sale!
There's a good selection of garage sale signs to choose from on Amazon.
Do You Need Price & Category Signs?
Most people don't take the time to make item description signs and larger price signs. But I do.
Just don't put too many words on those signs though, and use thick lettering to make your sign easier to read, especially from a distance.
Make your point in as few words as possible.
Why? Because people generally don't "read" signs… they're just skimming and looking for a word or two that interests them or explains what's being sold.
Some of my on-site signs:
Coin & Stamp Collectors: Ask me, I have rare coins & stamps.
Scrapbooking Stuff… Everything must go!
Disney Items & Collectibles
Also, if you have a bunch of something (like dozens of sports posters that are individually rolled up, or different magazines in one big box), then print-out one sheet that says exactly what's there. That way, people don't have to flip through everything to see if there's anything they're interested in.
I even took things one step farther with the camping tents I was selling…
Since they were all folded up inside tote bags and it was hard to tell the size and unique features of each of the tents, I did this:
Found some pictures of us camping with those same tents.
Printed the digital images onto plain white paper using my home printer.
Slipped the piece of paper into a clear page protector.
Taped the photos onto the camping tents themselves.
How To Make Your Signs Last Forever
One of my best ideas is to use clear see-thru page protectors to hold each of your homemade signs. (I use the kind that have holes as if to go in a 3-ring binder.)
Why? Because they'll stay put!
Paper itself is flimsy, it tears, it curls in the wind, and the ink can smear if it sprinkles.
Page protectors make your signs practically indestructible. On a windy day, they won't blow away. On a rainy day, they won't become soggy and unreadable.
No matter what, a sign that's contained inside a page protector will always lie flat & be easy to read. Page protectors also make your signs reusable — yard sale after yard sale.
Another thing that works great because it "props up" your sign for displaying on a tabletop: acrylic frames!
How To Display Price & Category Signs On-Site
Use a piece of blue painter's tape to tape it to the table top, so it dangles down in front of the table (…with the tape actually showing, because it calls attention to your sign).
Tape the sign to a piece of cardboard or a shoebox lid for stability, then toss it on the table (or blanket) next to the items it's describing.
Use a long piece of blue tape to make the sign dangle from your garage overhang. This way, it will flop around and draw some attention on its own.
Tape a sign onto the wall inside your garage — if you're selling any items from inside the garage.
Use those small posts & signs that lawn care professionals leave in your yard after they've visited. Either prop the stick in a mug or vase on the table next to the items it's describing, or Stick it in the ground next to items on a blanket that the sign refers to.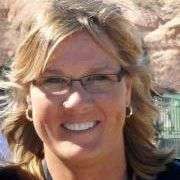 I like to help people find unique ways to do things that will save time & money — so I write about "outside the box" Household Tips and Life Hacks that most wouldn't think of. I'm super-organized. And I LOVE to clean! I even enjoy doing laundry (but not ironing). I'm also a lifelong dog owner — so I often share my favorite tips for living with dogs inside your home (like smart home design choices and dog-friendly cleaning & decorating ideas). Career-wise, I've been sharing my best ideas with others by blogging full-time since 1998 (the same year that Google started… and before the days of Facebook and YouTube). Prior to that, I worked in Higher Ed over 10 years before switching gears to pursue activities that I'm truly passionate about instead. For example, I've worked at a vet, in a photo lab, and at a zoo — to name a few. I enjoy the outdoors via bicycle, motorcycle, Jeep, or RV. When I'm not cleaning, organizing, decorating, or fixing something… you'll find me at the corner of Good News & Fun Times as publisher of The Fun Times Guide (32 fun & helpful websites). To date, I've personally written over 200 articles about cleaning, organization, DIY repairs, and household hacks on this site! A few have over 2M shares; many others have over 100K shares.